Margo feels the mound needs to be moved away from the plate, both to avoid dominant pitching, (no-hitters are a regular occurrence in softball, unlike baseball) but also to avoid a common softball injury -- balls hitting players, especially pitchers, before the players have time to react.
"I think that's the most dangerous injury that's going on right now," he said, noting that many pitchers and fielders now wear special masks to protect themselves. He said two years ago, his pitcher was hit seven times during the season.
Voss noted that much of keeping his pitchers injury free involves common sense.
"I personally, in high school, I try to promote guys doing other sports," he said, noting that it helps avoid burnout in players who play the same sport year-round.
Also, he said, parents and coaches need to be aware of an athlete's limits, and keep them from overusing their arms.
"Sometimes as coaches our ego gets the best of us," he said, adding that coaches need to take their star pitcher out of the game--no matter the circumstances--when they have pitched too much.
Cheerleading
Unlike the other activities on this list, cheerleading is not a sport.
Or at least, it's often not classified as a sport, and that may be part of the reason why its injury rate is so high.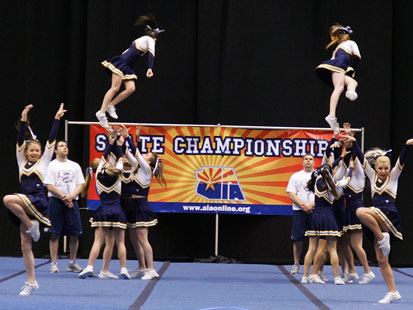 The NFHS does have a listing for "competitive spirit squads" on its participation numbers, but what a cheerleading squad consists of can vary greatly--and that can effect the likelihood of a participant being injured.
"At the high school level, cheerleading is a very varied event," said Comstock.
She noted that in some high schools, the cheerleaders serve as a pep squad, while in others they do the same flips and jumps one might expect in a gymnastics routine.
But while gymnasts may do their acrobatics on a mat, "[cheereladers] frequently perform those types of activities in settings that place them at higher risk than gymnasts," said Comstock.
Additionally, while gymnastics is a solo event, cheerleading has more than one person involved.
"You also have the possibility of person to person contact," said Comstock. "The vast majority of high school sports-related injuries occur in player to player contact."
Kim England, founder of Energized Athletics, agrees that cheerleading is a team sport where more than one person is involved.
"The hardest thing about cheerleading is that they're needed for every piece for that routine," said England, as opposed to other sports where another player from the bench is ready to replace someone who's injured. In cheerleading, when an athlete gets a sprained finger or hurt in some other way, there isn't anyone readily available to take over their position, and so when that happens, a routine may be unperformable until the team member recovers.
England's daughter, Samantha England, has been cheerleading for about 10 years and cheers and coaches for Energized Athletics, as well as cheering for Watertown High School. She has suffered a cyst in her wrist as a result of over-tumbling, as well as floating knee caps.
Samantha has seen her fellow cheerleaders endure the occasional sprained wrist which also occurs due to over-tumbling. However, she insisted that the occurence of injuries during a group stunt is minimized through a group effort.
"If we're doing a stunt, the girl [who's thrown in the air] is caught before she hits the mat," said Samatha. "The basers always catch her."