Divers have a different set of shoulder injuries to be concerned about due to the acrobatic jumps they must accomplish during practice and competitions.
"[Divers] do a lot of upper body stuff," said Clover. Because of the many flips and jumps they do, "they need to be wary of their core stabilization," Clover stressed.
The treatment for these injuries include the run-of-the-mill ice or ice massage right after swimming or diving as well as taping for joint support to increase circulation. Waiting until you get home may be too late, said Clover.
One important preventative measure against injuries can be summarized in one catchy phrase.
"Whatever you do in the front, do to the back," Clover said. This means that any core workouts you do to the front side of your body such as sit-ups, you must do to your back side to prevent strained muscles.
Basketball
Jumping for shots, blocking opponents at the basket and rushing for rebounds make the fast-paced game of high school basketball an arena for injuries.
What Bob Rausch has seen in his seven years as an athletic trainer for St. John's High School includes many ankle injuries on basketball players, several of them caused by opponent players accidentally landing or rolling over their feet.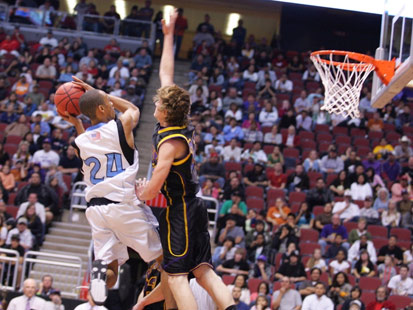 David Hess, boys' basketball coach at Tuscola High School in Central Illinois, can attest to these ankle injuries. According to Hess, sprained ankles are often seen as well. He has also witnessed torn ligaments, jammed fingers and knee injuries caused by the many jumps basketball players do both in practice and in games.
"I would say ankle [injuries] occur most in basketball [due to] contact with a lot of jumping," said Hess.
To strengthen the ankles of his players, Hess emphasizes preparation through warm-ups and strength training. Through this, Hess said, "you're going to turn a four-week ankle sprain into a one-week ankle sprain," therefore ensuring fast recovery of a fallen player.
Through building strength around key ligaments impacted by basketball, injuries are prevented or the seriousness of injuries are diminished, added Hess.
For any injuries that occur in practice or during a game, athletic trainers are usually on the sidelines ready to treat any pain that strikes the basketball players. Taping ankles is one way to relieve the pain during important games.
However, if "you're always taping, the ankle become dependent on the tape," said Hess. To prevent this, players strengthen their ankles and are trained to endure an ankle pain during practice.
Wrestling
The constant thrusts and throws seen in high school wrestling would lead anyone to believe that wrestling is quite dangerous and prone to many injuries.
However, many of the casualties suffered by high school wrestlers are not directly related to the sport itself, but to hygiene.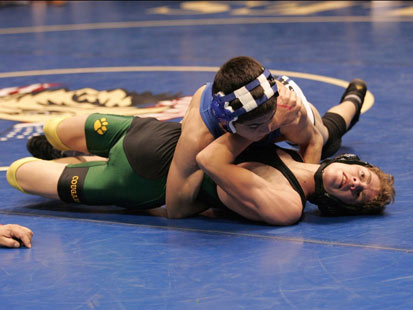 As of late, MRSA bacterial infections among wrestling athletes have been a more common occurrence. According to Clover, these infections are 100 percent avoidable through good cleaning of the mats where wrestling battles take place.
Another cleanliness-related infection that wrestlers get is ringworm, which is transferred either from the mats or from other wrestlers. And like the MRSA infection, ringworm is 100 percent preventable.
The more physical ailments that wrestlers endure include cauliflower ear, which happens because of the repeated hits wrestlers' ears get.