There's no way to predict how much activity the United States will see from the influenza viruses for the rest of the flu season, infectious disease experts say. But some say initial predictions for the winter months suggest that the H1N1 flu may have an unexpected silver lining -- that is, it may have "crowded out" the seasonal flu.
Still, opinions split on whether H1N1 might come back strongly in third wave of disease before the season is over. And experts also couldn't agree on the probability of seeing some activity from seasonal flu viruses, overshadowed so far by the pandemic strain.
Government officials have been taking great pains during the pandemic to say that there's no way of knowing how the rest of the flu season will play out.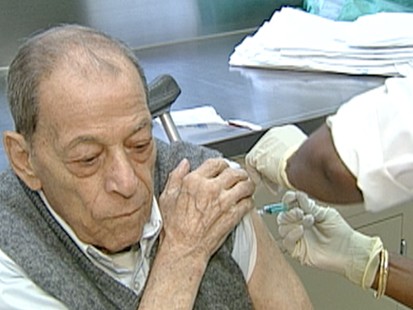 In a briefing by the Department of Health and Human Services on Thursday, HHS Secretary Kathleen Sebelius and U.S. Centers for Disease Control and Prevention Director Thomas Frieden repeated the message and urged people to get the H1N1 vaccine, which is becoming increasingly easier to find.
They said everyone should be vaccinated -- and not just the children, young adults, pregnant women and others particularly vulnerable to the disease who were targeted in the intitial H1N1 vaccine distributions.
Dr. William Schaffner, chair of Vanderbilt University School of Medicine's Department of Preventive Medicine in Nashville, Tenn., said he thinks there will be some seasonal influenza activity, which, in a normal year, doesn't start to pick up until December, peaking in January and February. Some H1N1 infections will be mixed in, he speculated in an interview.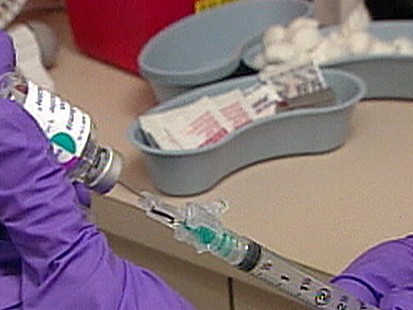 But Schaffner, a liaison to the CDC's Advisory Committee on Immunization Practices, cautioned that "flu is unpredictable, so this is just my cloudy crystal ball."
He said speculation in some quarters that H1N1 has somehow crowded out seasonal flu viruses, limiting the likelihood that they will emerge this year, are based on experience in the Southern Hemisphere, where H1N1 quickly became the dominant strain.
But that can't directly be compared with the situation in the Northern Hemisphere, he said.
South of the equator, H1N1 began to spread at the beginning of the normal winter flu season.
However, in the Northern Hemisphere, the virus took hold in the spring, at the end of the normal flu season.
Bottom line: the rest of the flu season very much remains a mystery.
"Nobody knowns what will happen to a virus that mutates on its own schedule," said Dr. Peter Katona, associate professor of Clinical Medicine at the David Geffen School of Medicine at UCLA.
Katona pointed out that looking at the situation in the southern hemisphere could be useful in predicting what will happen here.
On the other hand, he wrote in an email, the flu pandemic of 1918 -- caused by another H1N1 influenza virus -- had three waves, whereas there have been only two in the current pandemic.
Declining H1N1 activity could leave room for the seasonal viruses to gain traction, but, Katona said, "these are opinions more than theories."
Marc Lipsitch, an epidemiologist at Harvard School of Public Health in Boston, said he thinks the seasonal strains will be crowded out this year, citing historical precedent.
Both the 1918 and 1957 pandemics began outside the normal flu season. Yet the pandemic strain effectively crowded out the seasonal viruses, even though there was not much pandemic flu present at the start of the normal flu season.
Hence the uncertainty.
"Because we don't know the mechanism by which this happened in the past, we can't be sure it will happen again," Lipsitch said. "But if I had to guess, I would say that other influenza A strains -- seasonal H1N1 and H3N2 -- will be crowded out this year."
Seasonal influenza B, however, will likely persist, he said.
Dr. Howard Markel, infectious disease expert and medical historian at the University of Michigan at Ann Arbor, said he thought there was a possibility pandemic H1N1 would crowd out seasonal influenza.
"This may be the case given that H1N1 is so hearty in its spread," he said. "But influenza, be it seasonal or novel, is a stealthy and cunning foe, so I would not count out either yet.
"The message I am giving to all my patients is still: make sure you are vaccinated against both H1N1 and seasonal influenza."
Dr. Gregory Poland, director of the Mayo Vaccine Research Group at the Mayo Clinic in Rochester, Minn., said "the most likely scenario, based on history, is little seasonal activity but a third 'wave' of H1N1 this late winter/spring."
But he added that scientists still don't know whether the mass vaccination program against H1N1 has been effective and whether seasonal influenza activity will remain low.
"Time will tell," he said. "Lack of transmission this week or even this coming month doesn't predict what may happen the following month."
"If a late outbreak occurs, and people haven't been immunized, it will be too late to protect them," he warned.
Dr. John Treanor, a professor of medicine and immunology at the University of Rochester in Rocherster, N.Y., said the questions of why flu pandemics stop and how one strain replaces another are among the most interesting in influenza epidemiology.
"The practical application of those two questions is trying to guess what's going to happen next," he said, "and the story illustrates that no one really knows, as experts in the field have widely differing opinions."
Treanor came down on the side of little seasonal influenza activity for the rest of the season.
This article was developed in collaboration with ABC News.