It's a new year and you're finally at the gym or outside, exercising, moving around and, generally, feeling good about what you are doing.
Days, weeks, months go by and ... nothing happens. Or you are in pain. Or you hate your routine so much you break out in hives at the sight of a rowing machine.
As it turns out, there are lots of little -- or big -- mistakes that you can make at the gym that can lead to an ineffective workout, or even injury.
Many of the problems come from being distracted and not paying attention to what is going on.
"On a gym floor, you could get in the way of someone if they're not paying attention," said Miki Carey, assistant director of U-Move Fitness at the University of Michigan. "I've seen people who have fallen over [fitness] balls."
And people may not be making the best use of the time they set aside to exercise, although that time doesn't add up to very much. The U.S. Department of Health and Human Services reports that only three out of 10 adults get the recommended amount of physical activity, which is 30 minutes five times per week.
If a person does not know how to program an effective regime, the few hours they have spent in the gym are not as beneficial as they could be.
"Exercise is analogous to medications in medicine. You can overdose on exercise," said Barry Franklin, director of the Cardiac Rehabilitation and Exercise Labs at William Beaumont Hospital in Michigan. "Beyond 85 percent of one's capacity, the aerobic benefits level off." And the risks of injury or cardiac problems can increase.
No matter what is taking away from your workout, experts are unanimous in their recommendation to ask for help -- to use a machine, to check for poor form, or to set up an entire fitness routine -- in order to get back on track.
Your Fitness Questions Answered at the ABCNews.com OnCall+ Wellness Center
"Given suboptimal conditions, the goal is to get them moving," Franklin said. "Then they move on their own."
Socializing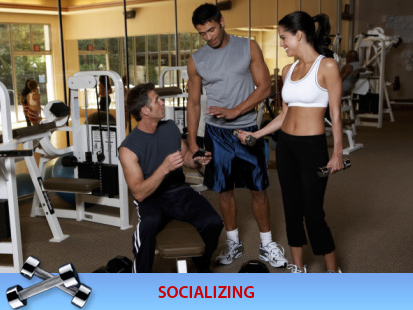 Sometimes, making it to the gym is bearable only because you get to catch up with your gym buddies, take a class or jog together, and grab a smoothie afterwards. And working up the courage to finally talk to your gym crush can be good motivation to work out in the first place.
But too much time socializing can shift focus from what you are trying to accomplish when you exercise.
"It's nice to have the social aspect. It's kind of like your getaway," Carey said. "But it can be distracting."
What should be a brisk jog can turn into a fast walk and 60-second rests between weightlifting sets can turn into two minute mini-chats. Too much socializing can lead to poor gym etiquette as well, with people lingering on machines or having a conversation while an instructor is conducting a class.
Dr. Lisa R. Callahan, medical director of the Women's Sports Medicine Center at Hospital for Special Surgery, New York, said that if you do go to the gym to be social, acknowledge to yourself what you're doing. But do not assume that others are there for the same reason.
"Don't interrupt people who want to get a workout," Callahan said. "It's not good to mismatch your desire for socialization with the other people around you."
Similar to conversation, other distractions, such as reading or watching television, which can slow you down, literally, may lead to a less intense, less effective workouts.
Misusing Equipment