Such a device was what Dr. Stuart Meloy, a pain specialist in Winston-Salem, N.C., accidentally devised while using a spinal stimulator to treat chronic pain. While the idea behind the device was to feed an electrical current into spinal nerves to override pain signals, the device had an unintended side effect on female patients.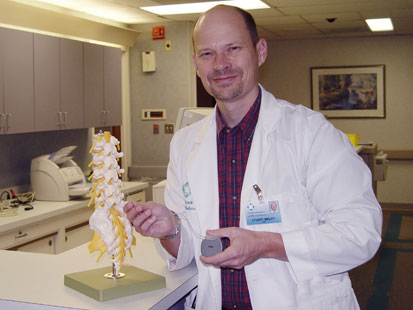 "When we turned on the power in this case, she let out a moan and began hyperventilating," Meloy said on ABC News' "Good Morning America" in 2004. "Of course, we cut the power and I looked around the drapes and asked her what was going on. Once she caught her breath, she said, 'You're going to have to teach my husband how to do that.'"
The technique, which Meloy termed Neurally Augmented Sexual Function, led to hopes that thousands of women who have trouble achieving orgasm would one day be able to take advantage of the device, which has since earned the moniker "orgasmatron" in the popular media.
But since Meloy began work on the technique in 1998, a number of barriers have kept it off the market. For now, Meloy said, development has stalled.
"'Hiatus' is the best way to put it," he said.
Not that the technique doesn't work, or that the patients who have tried it have had much to complain about. Meloy said that the few studies he has completed have yielded overall positive results.
But for most people, even those diagnosed with sexual dysfunction, the idea of surgery to improve their sex lives is too extreme. The fact that the equipment currently carries a $25,000 to $30,000 price tag has also contributed to a slow adoption of the technology.
Meloy said he eventually hopes to scale down the size and power of the device to make it both more manageable and less costly. But this, he said, could take time.
"I'm now on year 11 of this odyssey," Meloy said. "Luckily, I have a day job I like."
Application solely for the purpose of sexual function appears to still be a ways off. Add to that the idea that surgery is necessary to reap the benefits of the device, and the barriers to widespread use of this treatment today become apparent.
"Few people are so far willing to spend that kind of money," Meloy said. And, as for the surgery, he added, "I don't like the phrase minor surgery. If it was by body and a knife, it's a big deal to me."
Still, it's hard to say what buttons society may be able to push in the future to help give stalling sex lives a much-needed jolt.
High Heels
For those who think high heels are sexy, there may be one more reason to support this opinion, at least according to an Italian study published last year.
Dr. Maria Angela Cerruto, a urologist at the University of Verona, Italy, published research that suggests that the posture that women adopt while wearing heels can tone the muscles in her abdomen and pelvic floor.
The small study of 66 women was published last spring in the journal European Urology.
"We now hope to prove that wearing heels during daily activity may reduce the need for pelvic exercises," Cerruto told ABC News' Ann Wise shortly before the study was published.
Could It Help Your Sex Life?
Cerruto said the research would be great news for women who not only struggle with regular exercising, but who are also supposed to remember to do the pelvic floor exercises known as Kegels.