Don't let food allergies scare your family out of suiting up in that nylon Batman costume, or partaking in a jack-o-lantern contest this Halloween.
While an estimated 3 million children in the United States have food allergies, with advanced planning and careful execution, celebrating ghosts and goblins can still be realistic for most.
"Not trick-or-treating is just not an option for us. It would devastate him," says Amanda Higgins-Lekebusch, mother of 7-year old Owen, who is anaphylactic to peanuts. "He doesn't get to eat any of the candies, I have safe candy for him and he's fine with that. It's more just the ritual of going to the doors and ringing the doorbell."
For many parents, it all comes down to rethinking Halloween in the traditional sense of the holiday. Find new snacks, check food packing labels and seek out creative alternatives.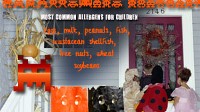 ABC News Photo Illustration
Alice Bast is the founder and president of the National Foundation for Celiac Awareness, a nonprofit organization that works to increase awareness of celiac disease. Bast suggests concentrating on what your children can have on Halloween. For those who live with the autoimmune disorder celiac disease, the consumption of gluten, a protein found in wheat, barely, rye and other grains, is harmful to the intestine and therefore must be omitted from one's diet.
"You tell your child early on, listen you're not going to eat that. Why don't we gather those items and donate them to a homeless shelter, a food bank. Look at it as collecting money for UNICEF. So don't make it all about the candy, make it about the sprit as well."
Bast, who has been on a gluten-free diet for 16 years, recalls NFCA's inaugural event, which was incidentally held on Halloween.
"We had a coffin outside a person's house and her son popped out of the coffin with a loaf of bread, and there was a skeleton that said 'I waited too long for my diagnosis,' and a vampire crying, 'I want to test your blood,' and we made people feel like, yes you can do this," said Bast.
With more than 150 foods that can result in allergic responses in those prone to allergies, monitoring a child's diet can certainly be a challenge. The Food and Drug Administration identifies the eight most common allergenic foods as milk, eggs, fish, crustacean shellfish, tree nuts, peanuts, wheat and soybeans. These substances account for 90 percent of food reactions.
According to the National Institute of Allergy and Infectious Diseases, food allergy occurs in 6 percent to 8 percent of children four years of age or under, and in 3.7 percent of adults.
Dr. Amal Assa'ad, professor of pediatrics in the division of allergy and immunology at Cincinnati Children's Hospital Medical Center says most children with food allergies have at least three allergies, but often kids will outgrow their sensitivity.
"It's well-known that egg and cow milk allergy is often outgrown, but it may take up to the age of 15 years to do that. Peanut allergy as well has been established to be outgrown, maybe 20 percent of children do this," said Assad.
Adults, however, are unlikely to outgrow their allergies and are more sensitive to shellfish and tree nuts than some of the other eight allergens.