Kate Middleton's first journey as a princess will be in the very same carriage in which Princess Diana and Prince Charles rode on their wedding day.
It's called the 1902 State Landau and will carry the newly married couple from Westminster Abbey to Buckingham Palace.
The 1902 State Landau was built for King Edward VII and is most commonly used by Queen Elizabeth to meet foreign heads of state. Prince Andrew and Sarah "Fergie" Ferguson also used the carriage to travel to Buckingham Palace after their wedding ceremony in 1986.
But what if it rains? Not to fear, a backup plan is in place to make sure the future king and queen won't get wet.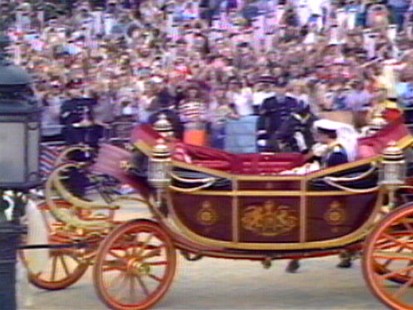 Prince William and Kate Middleton would hitch a ride to Buckingham Palace in the Glass Coach. Built in 1881, it's the carriage in which Diana squeezed her 25-foot train to arrive at her wedding at St. Paul's Cathedral.
The Glass Coach also carried Queen (then-Princess) Elizabeth and her new husband, the Duke of Edinburgh, to Buckingham Palace after their Westminster Abbey ceremony.
Four other carriages will be used to transport the family of the royal couple and their wedding party. Eighteen horses will pull the carriages on the big day.
Per royal tradition, only the queen is pulled by gray horses. But Queen Elizabeth has decided to lend some grays to William and Middleton.
As a modern twist, Kate Middleton has chosen to arrive at the abbey by car. The bride-to-be and her father, Michael Middleton, will drive to the church in the same Rolls Royce Phantom VI that was attacked by student protestors last year with Charles and Camilla inside.