North Korea has launched six missile tests so far in 2017.
Here's what to know about each of the tests that have already occurred this year.
Feb. 11
In February, North Korea successfully tested a land-based KN-15 missile, a new solid-fuel intermediate-range missile, which traveled 310 miles into the Sea of Japan.
Gen. John Hyten, the commander of U.S. Strategic Command, told a congressional panel Tuesday that the February launch marked a significant advancement for North Korea because it was its first successful solid-fueled missile fired from a mobile launcher.
Mobile-launched missiles are harder to track and can be fired at short notice.
Hyten labeled the launch of what is now believed to have been a KN-15 missile as "a major advancement" by North Korea because it was "a new solid medium range ballistic missile off a new transporter erector launcher."
The February launch occurred as Japanese Prime Minister Shinzo Abe visited President Donald Trump at his Mar-a-Lago estate in Florida over the weekend.
Photos taken by the club's patrons and later posted on Facebook captured Japanese and U.S. officials responding in real-time to the incident, sparking criticism about why such important meetings were not conducted in a more secure location.
March 5
In early March, North Korea launched five medium-range Scud-type missiles. Four traveled more than 600 miles, the upper limit of their range, into the Sea of Japan. The fifth took off, but later crashed.

Three of missiles landed in waters in Japan's economic exclusion zone, which extends 200 miles from its shoreline.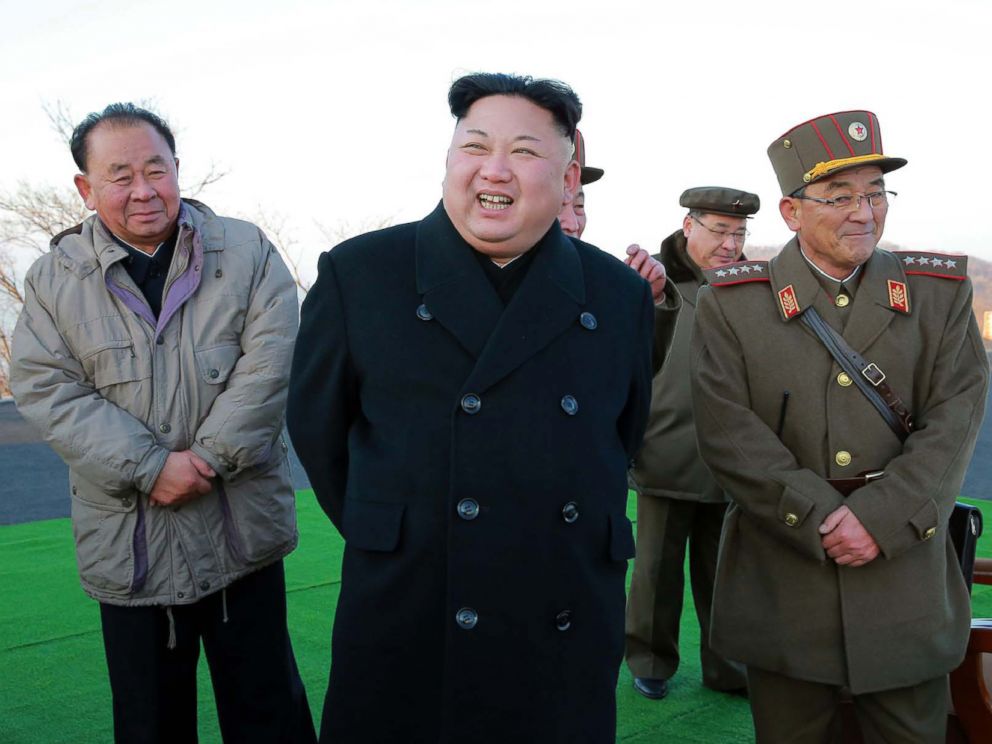 Shortly after this test occurred, the U.S. delivered the Terminal High Altitude Area Defense (THAAD) anti-missile system to South Korea, a process which the U.S. started working on with its ally after the flurry of North Korean missile tests in 2016.
THAAD is a missile defense shield designed to intercept short and medium range missiles.
March 21
Later in the month, North Korea tested a mobile-launched missile which exploded "within seconds of launch," according to U.S. Pacific Command.
The launch was near Kalma in eastern Wonsan province, where North Korea previously attempted to test its mobile-launched Musudan intermediate-range ballistic missile. Last year, North Korea test-fired eight Musudan rockets, but only one was considered a success.
U.S. officials have not identified what type of missile was tested on March 21 since it exploded so soon after launch.
April 4
On April 4, a KN-17 missile launch came just days before Chinese President Xi Jinping met with President Trump at Mar-a-Lago, during which the pair discussed how to curb North Korea's missile and nuclear programs.
The Trump administration is hoping China will exert its economic influence over North Korea since the country controls eighty percent of all foreign trade with the reclusive regime.
U.S. officials said the missile spun out of control and landed in the Sea of Japan after traveling 34 miles. It was being assessed as an in-flight failure.

U.S. Secretary of State Rex Tillerson released a terse statement following Tuesday's test, saying, "North Korea launched yet another intermediate range ballistic missile. The United States has spoken enough about North Korea. We have no further comment."
The KN-17 is a new mobile-launched, single-stage missile that uses liquid fuel. It has not been successfully tested by North Korea, so it's difficult to assess its full range.
April 15
Less than two weeks later, North Korea launched another KN-17 that exploded shortly after launch.
"The launch failed very early on, so that makes it harder to know exactly what they were trying to do," Susan Thornton, acting assistant secretary of state for East Asian and Pacific Affairs, said days later. "But I think that our understanding is that it was not one of the longer-range missiles that they were trying to test there; it was something like a medium-range ballistic missile."
Vice President Mike Pence was briefed on the failed missile launch en route to South Korea on Air Force 2.
While speaking with U.S. members of the military in Seoul, Pence described it as a "provocation."
"This morning's provocation from the North is just the latest reminder of the risks each one of you face every day in the defense of the freedom of the people of South Korea and the defense of America in this part of the world," Pence said. "Your willingness to step forward, to serve, to stand firm without fear inspires our nation and inspires the world, and it's an honor for us to share this meal with you today."
April 28
North Korea fired a KN-17 for at least the third launch in April; this time the missile traveled 21 miles before breaking up in mid-air, according to a U.S. official.
A U.S. Pacific Command spokesman noted that it was "aware of the event" but gave no further comment in the immediate aftermath of the launch.