The ACC's player of the year was one of the most dynamic and versatile players in the country, finishing sixth in the Heisman Trophy voting. He was the MVP of the ACC title game, even though the Tigers lost.
Honorable mention: Jeff Davis 1981, William Perry 1984, Da'Quan Bowers 2010
---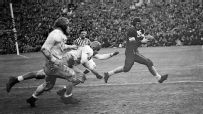 Duke: Dan Hill, C, 1938
All-American center, co-captain
A first-team All-American selection, Hill was the anchor of the "Iron Dukes" dominant offensive line that helped Duke to an undefeated regular season and a berth in the Rose Bowl. He finished 10th in Heisman balloting that season.
Honorable mention: George McAfee 1939, Ernie Jackson 1971, Clarkston Hines 1989
---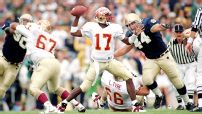 Florida State: Charlie Ward, QB, 1993
3,381 yards of total offense; accounted for 31 TDs
The Heisman winner helped Bobby Bowden break through and win his first national championship by orchestrating a game-winning drive in the waning seconds of the Orange Bowl.
Honorable mention: Deion Sanders 1988, Marvin Jones 1992, Jameis Winston 2013
---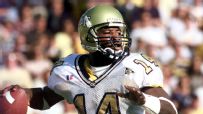 Georgia Tech: Joe Hamilton, QB, 1999
3,794 yards of total offense; accounted for 35 TDs
The Heisman Trophy runner-up led the Jackets to three fourth-quarter game-winning drives in 1999. He was the ACC's player of the year, a consensus All-American and winner of the Davey O'Brien Award.
Honorable mention: Clint Castleberry 1942, Billy Lothridge 1963, Calvin Johnson 2006
---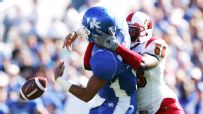 Louisville: Elvis Dumervil, DE, 2005
63 tackles, 20 sacks, 10 forced fumbles
He won the Ted Hendricks Award for a record-setting season in which he led the nation in sacks and also won the Bronko Nagurski Award. He was named the Big East's defensive player of the year.
Honorable mention: Chris Redman 1998, Stefan LeFors 2004, Michael Bush 2005
---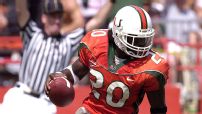 Miami: Ed Reed, S, 2001
9 INTs in 11 games with 2 TDs, 206 INT return yards
The consensus All-American was the heart of the Hurricanes' rise to a fifth national title, and his touchdown off a lateral against Boston College sealed the win and kept the undefeated season alive.
Honorable mention: Russell Maryland 1990, Warren Sapp 1994, Willis McGahee 2002
---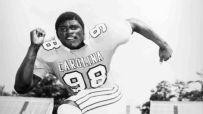 North Carolina: Lawrence Taylor, LB, 1980
69 tackles, 16 sacks, 22 TFL
Taylor arrived at UNC as a DE and left as a force who redefined the linebacker position. He was the ACC Player of the Year, an All-American for the 11-1 Tar Heels and a semifinalist behind Hugh Green for the Lombardi Award.
Honorable mention: Charlie "Choo Choo" Justice 1948, Dre' Bly 1996, Julius Peppers 2001
---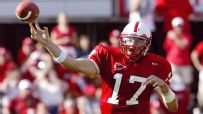 NC State: Philip Rivers, QB, 2003
4,595 yards of total offense; accounted for 37 TDs
Wolfpack fans are fond of calling their school the new "QB U" because of the NFL talent it has produced at the position. In 2003, Rivers set ACC records for passing and TDs and led the nation in pass efficiency.
Honorable mention: Ted Brown 1978, Torry Holt 1998, Mario Williams 2005
---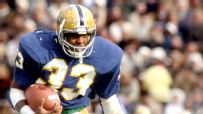 Pittsburgh: Tony Dorsett, RB, 1976
2,217 yards of total offense; accounted for 23 TDs