Honorable mention: John Cappelletti 1973, Courtney Brown 1999, Larry Johnson 2002
---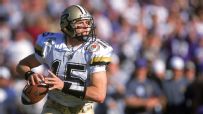 Purdue: Drew Brees, QB, 2000
3,668 passing yards, 26 TDs; rushed for 5 TDs
The Maxwell Award winner capped his record-setting career by leading Purdue to its first Rose Bowl in 34 years. Brees led the nation in total offense, won the Unitas Golden Arm Award and finished third in Heisman voting.
Honorable mention: Bob Griese 1966, Leroy Keyes 1967, Rod Woodson 1986
---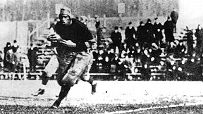 Rutgers: Paul Robeson, end, 1917
Three-sport star; All-American end
He made the first of back-to-back All-American teams. He became a national star after his dominant performance on both sides of the ball in Rutgers' upset win against the Newport Naval Reserve squad at Ebbets Field in Brooklyn.
Honorable mention: Nate Toran 1976, Ray Rice 2007, Kenny Britt 2008
---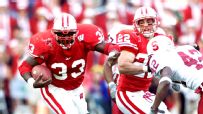 Wisconsin: Ron Dayne, RB, 1999
2,034 rushing yards on 337 carries; 20 TDs
The Heisman Trophy winner had five 200-yard games, including three straight to end his record-setting career. Dayne won his third Big Ten rushing title and second consecutive Rose Bowl MVP trophy.
Honorable mention: Pat Richter 1962, Ron Dayne 1996, Montee Ball 2011
---
BIG 12
---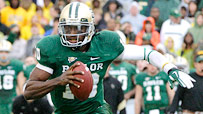 Baylor: Robert Griffin III, QB, 2011
4,992 yards of total offense, 47 total TDs
Baylor's iconic Heisman winner led the underdog Bears to a 10-win season that has forever changed the program. Griffin broke or tied 22 school records, and his Heisman moment to stun Oklahoma was about as good as it gets.
Honorable mention: Don Trull 1963, Mike Singletary 1980, Terrance Williams 2012
---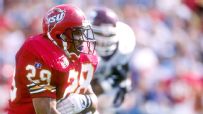 Iowa State: Troy Davis, RB, 1996
2,185 rushing yards; 21 TDs
Davis was consistent and explosive, rushing for at least 130 yards in all 11 games and exploding for 378 rushing yards against Missouri. He took the Cyclones program to another level during his junior season.
Honorable mention: Everett Kischer 1938, Chris Washington 1981, Troy Davis 1995
---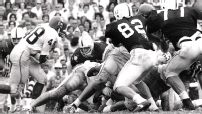 Kansas: Gale Sayers, RB, 1963
1,072 total yards; 8 TDs
Before he starred for the Chicago Bears, the "Kansas Comet" dazzled for the Jayhawks. Sayers set an NCAA record with a 99-yard touchdown run against Nebraska. He was a two-time consensus All-American.
Honorable mention: Ray Evans 1942, John Hadl 1960, Aqib Talib 2007
---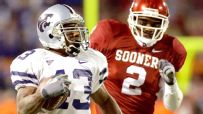 Kansas State: Darren Sproles, RB, 2003
2,735 yards of total offense; 19 TDs
Sproles embarrassed Oklahoma in the Big 12 title game with 235 rushing yards on 22 carries. His exceptional title game was just a glimpse at his superb season that led the nation in total rushing yards and all-purpose yards.
Honorable mention: Chris Canty 1995, Michael Bishop 1998, Collin Klein 2012
---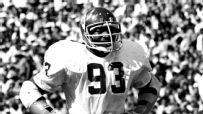 Oklahoma: Lee Roy Selmon, DE, 1975
132 tackles, 10 sacks
The Sooners have had five Heisman Trophy winners but only one Lee Roy Selmon. One of the most dominant defensive players in college football history, Selmon captured the Outland and Lombardi trophies in 1975.