Brows furrowed in intense concentration, noise-reducing headphones, nervous fidgeting — all things you might expect to see at an event called the "USA Memory Championship." What will surprise you is what is actually going through the minds of the 52 participants.
"Gisele Bundchen, Salma Hayek, and Cameron Diaz," says Rahm Kolli, listing the names of gorgeous women whose images he uses to help him remember numbers.
See the full story on "World News." Check your local listings for the air time in your area.
The 12th annual competition, held today in New York City, drew contestants from all walks of life, ranging in age from 12 to 60. They weathered multiple tests, including memorizing the names of 99 random people in photos, memorizing the order of a full deck of playing cards and memorizing an unpublished poem.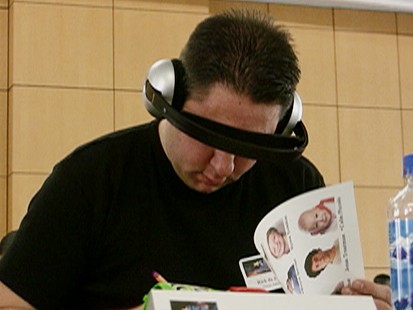 Kolli, like the other so-called mental athletes at this competition, has perfected a technique that, theoretically, anyone can learn. He assigns a strong visual image to different numbers and, in the case of a deck of cards, to each card. For example, for him, the "queen of hearts" conjures the image of actress Salma Hayek. Another male participant said Jessica Alba was his "queen of hearts." The visual association helps with specific recall.
At the other end of the spectrum, Reverend T. Michaels Harty describes using Bible stories to find images that stick, such as the tale of Noah's Ark. The only women he says he thinks of during the memory competition are "older women and grandmas."
Sue Jin Yang is a full-time registered nurse and one of only four competitors who memorized a full deck of cards in less than five minutes. In fact, she accomplished the feat in about half that time. Her arms are tattooed with forget-me-not flowers.
"I work in the neurology unit, which sees the other end of the spectrum," says Yang. "Most of my patients can't remember who they are."
But Yang says practically anyone can learn the techniques employed by the "grandmaster" memorizers that compete at these events.
Frank Felberbaum, psychologist and author of the book "The Business of Memory," says such techniques can help with long-term memory.
"Once it's in long-term memory in a visual format, then you can look at it and see it in your mind's eye," says Felberbaum.