Hotels often offer a sense of security and comfort when on the road, but when ESPN reporter Erin Andrews checked into the Nashville Marriott at Vanderbilt University last September, that was the last thing she got.
Insurance salesman Michael David Barrett allegedly traveled from his home outside Chicago to Nashville and specifically requested -- and got -- a room next to the sportscaster at the Nashville Marriott, according to court documents. He then allegedly used a cell phone to record video of Andrews changing while in her room.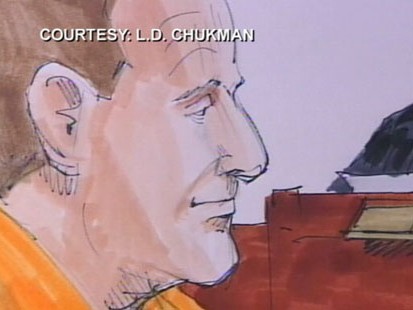 It apparently wasn't the first time Barrett learned the specific hotel Andrews was staying in and recorded her. According to a 35-page criminal complaint filed in a California federal court, in July 2008 he called 14 Milwaukee area hotels until he learned that Andrews would be at the Radisson Airport Hotel. He allegedly got a room there, altered a peephole in Andrews' room and
then proceeded to record her
.
Stay Up to Date on the Latest Travel Trends from ABC News on Twitter
Other Celebs Victimized
Andrews is hardly the first well-known person to have a guest stalk her or try to steal items from a hotel room.
In March, a homeless man tried to force his way into actor Jamie Foxx's room at the AKA Rittenhouse Square hotel in Philadelphia. He allegedly first attempted to get into the hotel by claiming that he was singer Beyonce Knowles' producer.
In 2003, rapper Nelly had more than $1 million in jewelry stolen from his room at the then Aladdin hotel-casino on the Las Vegas strip. Singer Michelle Branch, who also was staying at the Aladdin for an awards show, reported that computer equipment was stolen from her room.
And while the ease Barrett apparently had in pinpointing Andrews' hotel and actually getting a room next to Andrews might seem shocking, several security experts said it came as no surprise to them.
Erin Andrews Video Incident Avoidable?
Christopher Falkenberg, a former special agent with the U.S. Secret Service and now president of Insite Security, said getting such information is easy.
"What I suspect happened: He called around and found out where she was staying and said, 'Oh what room is she in, can I have the room next to her?' Or said something like: 'I'm with her party therefore I want to be next to her,'" Falkenberg said.
Computer records of Barrett's reservation state at the Nashville Marriott, according to the court documents include a line: "INFO GST RQST RM NEXT TO [Andrews.]"
Stephen P. Davis, a former New York City Police Department captain and now head of Davis Investigative Group, said that when an unaffiliated party requests an adjacent room, "That should have set off a question as to why are you asking."
Davis said the hotel industry is now likely to revisit its security procedures in the reservation process.
The Nashville Marriott -- which is not owned or managed by Marriott international -- refused comment, instead referring questions to Marriott's corporate headquarters.
"Our company takes the security and privacy of its guests seriously and we have been cooperating with authorities during the investigation," John Wolf, Marriott International's senior director of public relations said in an e-mail to ABC News.
Radisson said in a statement that: "Guess privacy and security are top priorities for Radisson Hotels and Resorts. The property involved in this alleged incident was a franchised hotel which left the Radisson system in September, 2008. As this issue is currently part of a criminal trial, we are unable to provide additional comment at this time."
The general manager at the hotel, now the Ramada Conference Center Hotel at the Milwaukee Airport, did not return calls seeking comment.
Simple Safety Steps
Most hotel guests probably aren't going to have people following them on vacation. But even non-celebrities can take a few simple steps to protect themselves and their belongings on a trip.
Joseph A. McInerney, president and CEO of the American Hotel & Lodging Association, said that the industry probably isn't going to be able to stop people from calling around to hotels to see if somebody has checked in. Most times, you are going to want such calls to go through to your room.
But he said hotels should not be honoring requests to stay next to certain guests unless they know of a connection.
"There's no reason to do that," McInerney said.
Hotel Safety Tips for Celebrities Work for Everyone
Guests should always use a chain lock, in addition to the deadbolt, to lock the door and protect the hotel room from people who might have master keys. Security experts advise using that extra lock at all times in the room, even when sleeping.
McInerney also said that if you ever question the identity of somebody knocking on your door, call down to the front desk.
But overall, he said, hotels are safe places to stay.
"In light of this incident, people should feel very comfortable in hotels. The guests and the employee safety is the number one priority of hotels and hotel companies," McInerney said. "We don't know all the allegations on this and what might have broken down, but we have roughly a million-and-a-half people every night staying at hotels. The incident level might be very, very, very minuscule."
Camera Recording Equipment Easy to Find
Safety starts in the lobby. When checking in, make sure that the front-desk clerk doesn't announce your room number.
"The lobby itself is a great place to commit a crime but is also a place where it's difficult to have your normal antenna up to be sensitive to crime," Falkenberg said. "Be really aware of people who are around you. You don't want other people in the lobby finding out what room you are in."
Just with that little bit of information, somebody could use a lobby phone, call your room and say the management is about to bring up a welcome gift, then knock on your door minutes later and have a gun in your face.
Today, stalkers can easily buy all sorts of tiny cameras and listening devices Falkenberg said.
For his corporate clients or celebrities worried about spying he suggests switching hotels or at least switching rooms frequently. For high-target clients, his staff will often book the adjacent room for added security. Never stay in rooms with connecting doors unless you know the person in that room, he suggested.
"The Erin Andrews case is an example of how easy it is to pull off crimes that previously had been in the era of James Bond," Falkenberg said. "It's not as though Barrett had access to NSA level equipment. He didn't. You can buy a large variety of items on the Internet. They're very, very small."
Stay on Higher Floors, and Carry a Flashlight
Davis, of Davis Investigative Group, said guests should also take precautions against hotel staff. Many hotel employees have pass keys that give them access to any room. The use of those keys can be traced, but that is often too late.
Consider the recent case of a housekeeping manager at the upscale Jumeirah Essex House hotel in New York who allegedly tried to rape an investment executive as she slept, and then stabbed and strangled her when she apparently fought back.
Davis said that somebody trying to break down a hotel door in a hallway is probably going to be noticed. But if it is an adjoining room, they have all the time and the privacy in the world.
When traveling overseas, Falkenberg said guests should worry about something else: hotel design.
International building codes and fire standards are not the same as in the United States. Try to pick a modern hotel with sprinklers. He said it's better to be high enough off the ground that people can't easily break in but not so high that fire truck ladders can't reach you.
Finally, he said, always carry a flashlight.