Police are investigating a new tip about a missing Oregon woman who has not been seen since late last month.
Jennifer Huston, 38, was last seen at a gas station near Portland on July 24. The mother of two ran errands and re-fueled her car before disappearing. After leaving the gas station, her cell phone went dead and none of her credit cards have been used since she disappeared.
After days of no clear leads, officials from the San Juan County, Wash., Sheriff's Office said they are investigating a new tip that could shed light about where Huston might be.
An unnamed couple told police they thought they saw Huston's green SUV on a ferry earlier this week. According to ABC News affiliate KATU-TV in Portland, the couple could not confirm the car's license plate.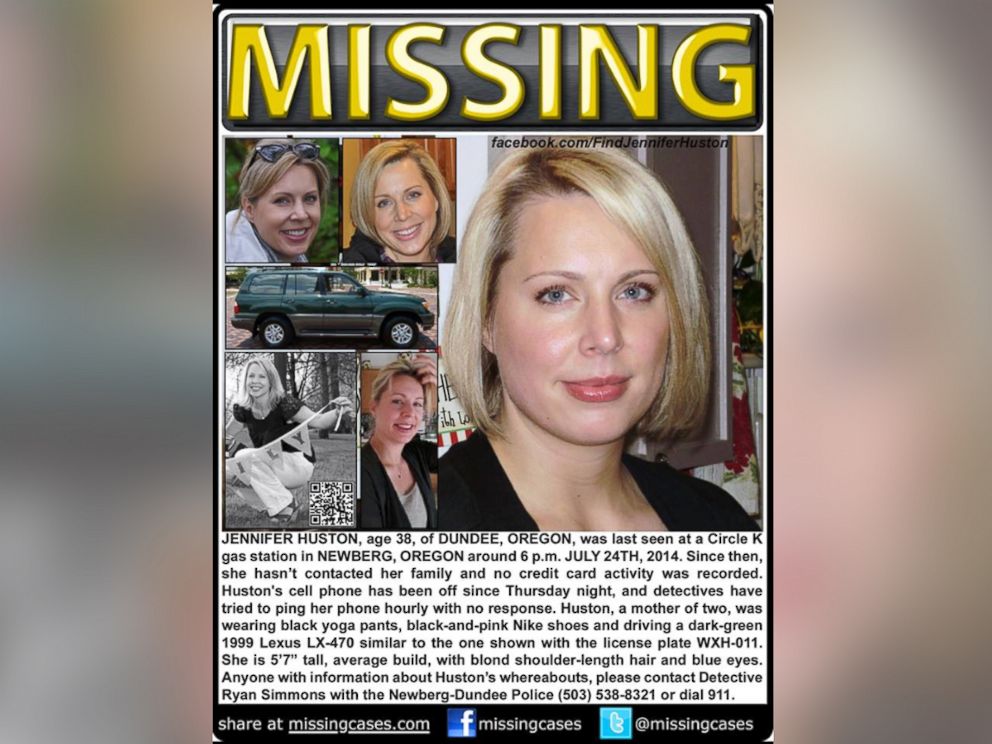 Family Searching for Missing Oregon Mom
Mystery Deepens in Case of Missing Pregnant Teen
Missing Marine Wife May Have Been Having Affair
The San Juan County Sheriff's Office confirmed to ABC News they had reports of the possible sighting, but had no new information and were still investigating.
Huston's puzzling disappearance led to a large search in her neighborhood and surrounding areas, but officials decided to halt the formal ground and air search this weekend. On the day of the final search, Huston's husband Kallen Huston made an emotional plea for his wife to return home if she could.
"Jenn if you can see this or hear this I love you," he said. "If you can come home please do so. The boys need you. I need you. If you can't get away we will continue to look for you. We will never stop. I love you."
Kalleen Huston had taken a lie detector test earlier and has been cooperating with the police in the search for his wife. The family said they would still search as police review ferry footage to see whether Huston was spotted on the boat.
In an appearance on KATU-TV, Kalleen Huston said it was difficult when promising tips ended up leading nowhere and hoped for quick resolution about the latest tip.
"The [San Juan] islands are small and it should not take a long time to search," Kalleen Huston said. "We've vacationed many times there in the past."