Elizabeth Spoon is a math teacher and a mom, but for 22 years the 40-year-old woman described as a "shining star" by her friends, was also a fugitive from the law.
Spoon's quiet life in a middle class suburb north of Boston was shattered last December when police officers showed up at her door with an arrest warrant, alleging that she attacked a man with a knife in 1988.
"She was living a quiet anonymous existence and raising her family and her life was put into complete turmoil based on something that happened when she was 17," said Spoon's attorney, Randy Chapman.
What happened, according to prosecutors, is this. Spoon was seven months pregnant and living with her then-boyfriend, Alan Pullino, in a downscale motel on Route 1 in Peabody, Massachusetts, on June 12, 1988. Pullino got into a fight with the motel owner's son, Mark Paglia. As the fight escalated, Spoon jumped out of a car and stabbed Paglia in the back.
Paglia spent a week in the hospital with a collapsed lung and a warrant was issued for Spoon's arrest on felony charges of assault and battery with a deadly weapon.
The warrant was issued in the name of Elizabeth Pullino, even though his client never married Alan Pullino and did not use his last name, her lawyer said.
Chapman said his client never received the warrant, likely because she was moving from motel to motel and "essentially homeless."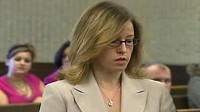 "Homeless, 17 and pregnant is about as rock-bottom as you are going to get," said Chapman, who added that his client had no idea she was wanted for a crime, much less one that occurred more than two decades ago.
Chapman described the relationship between Pullino and Spoon in the late 1980s as abusive.
"He broke her nose," Chapman said. "He was controlling and jealous. He ordered her not to look at other men."
Pullino was eight years older than Spoon and had a long criminal record, the lawyer said.
"He is not somebody I would want to have at the Christmas table," Chapman said.
Spoon's friend, Elizabeth Brownstead of Goldsboro, North Carolina, wrote a letter to the court in defense of Spoon that also described her relationship with Pullino as abusive.
"I recall that Alan Pullino had done grotesque things to her. He drugged her, he beat her," Brownstead wrote.
Pullino could not be reached for comment, although in an interview with the Boston Globe he said that Spoon was "concocting a tale" about what happened that night back in 1988.
According to Chapman, Spoon's family life was dysfunctional as well. Her mother was bipolar and her father was an alcoholic who abandoned the family when Spoon was 13 years old.
Spoon's mother, Patricia Carver of Peabody, Massachusetts, took in boarders to try to support the family and one of those boarders was Alan Pullino, who initiated a relationship with Spoon when she was 17, the lawyer said.
"Everything was stacked against her," said Chapman.
And, yet, shortly after the stabbing incident Spoon managed to get her life back on track.
She got her GED, then a bachelor's degree and eventually a master's degree from Salem State College. She lived in public housing for a while, but eventually moved into a place of her own and worked as a single mother to support her child.
Spoon eventually married and now has three children and also became the legal guardian to her half-brother, who wrote a letter to the court on her behalf.