"GMA" chef and food stylist Karen Pickus sets up each cooking segment you see on the show.
Pickus, who also collaborates on "GMA Now's" cooking segments, shared some of her favorite recipes for switching from summer foods to fall fares.
Here are Pickus' recipes featured on "GMA Now":
Heirloom Tomato and Roasted Peppers
This is a rich accompaniment to the Grilled Chicken Recipe. It contains a variety of sumptuous heirloom tomatoes paired with red and yellow roasted peppers, nicely enhanced by fresh herbs and aged balsamic vinegar.
Ingredients:
1 red bell pepper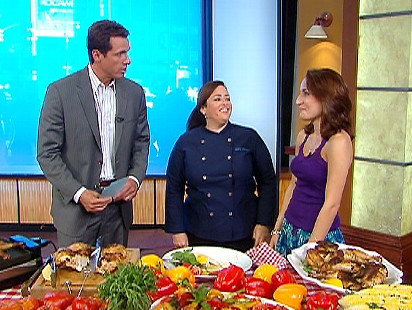 1 yellow bell pepper
½ teaspoon minced garlic
1½ tablespoon aged balsamic vinegar
1 tablespoon fresh basil cut into thin strips
1 tablespoon fresh oregano
3 tablespoons extra virgin olive oil
1¼ pounds heirloom tomatoes cut into wedges
freshly ground black pepper
1/8 teaspoon coarse grain sea salt for sprinkling
Grill peppers over high heat until lightly charred. Place in a paper bag. Close the bag and let cool (about 15 minutes). This helps steam the skin off. While the peppers cool make the vinaigrette. Whisk together the garlic, the vinegar, the herbs and the olive oil in a medium bowl. Cut the tomatoes into wedges and place on a platter. When the peppers are cool, peel off the skin and rub off any remaining bits of skin with a paper towel. Seed and cut each pepper nto 10 strips. Place on the platter along with the tomatoes. Spoon the dressing over the tomatoes and peppers and top with coarse salt and freshly ground black pepper. Serve immediately. Serves 4-6.
Warm Sweet Corn With Herb Shallot Butter
This butter is a wonderful treat to jazz up your sweet corn. The rich butter, punctuated with the shallots and herbs, makes nice friends with the warm crunchy sweet corn. This corn tops off the Labor Day Menu.
Ingredients:
1 stick unsalted butter, softened
1/8 teaspoon coarse sea salt
2 teaspoons minced shallots
1 tablespoon finely chopped fresh chives
1 tablespoon finely chopped fresh tarragon
1 tablespoons finely chopped mint
12-16 ears of fresh corn, shucked
In a medium bowl, stir together all the ingredients except the corn with a spoon or rubber spatula. In a 12-quart pot, 3/4 full of water, bring to a boil. Place the shucked corn in the pot and cover for 2-4 minutes. Remove the corn from the pot and serve immediately. Pass the butter and spread about 1½ teaspoons on each ear of corn.
Grilled Lemon and Thyme Chicken
There is no better way to send off summer like this yummy lemon and thyme chicken. This is perfect Labor Day fare, not too much labor but easy and fun to enjoy with friends and family.
Ingredients:
3½ pound whole free range chicken
Juice and zest from 1 lemon (1/4) cup
2 teaspoons coarse grain sea salt
1 teaspoon coarse ground pepper
1 tablespoon fresh thyme
2 teaspoon minced garlic
1/3 cup extra virgin olive oil
¼ teaspoon coarse grain sea salt for sprinkling (optional)
1-2 lemons cut into wedges
Rinse and pat the chicken dry with a paper towel. Cut the backbone from the chicken and flatten the chicken. Place in a resealable gallon bag or glass 9x13 baking dish. In a medium mixing bowl whisk together the remaining ingredients. Pour over chicken and turn to coat both sides. Reseal or cover with plastic wrap and refrigerate for 8 hours or overnight.
Preheat grill or broiler. Sear chicken on both sides and turn every 10 minutes. Chicken will be nicely charred but take care not to burn. Move chicken to cooler part of the grill if necessary and cover the grill to ensure overall heat. When chicken is cooked through, the internal temperature at the thigh joint is 170 degrees (this should take 45 minutes to 1 hour). Let chicken rest for 15 minutes then cut into 8 pieces. Sprinkle with coarse grain sea salt if desired and squeeze fresh lemon wedges over top.
Recipes courtesy of Karen Pickus, chef, "Good Morning America" 2008.