He was the Midwestern boy. She was the California girl. They met in Missouri, through church friends. For Kelle Jarka, it was love at first sight.
Isabelle Canchola would become his wife. In the end, he would be charged with her killing.
"We were young," said Jarka about their early times together. "We were about the same age. She liked to joke around ... very kind, considerate person, happy ... she liked to laugh. Loving person. Always concerned about others. And, of course, I thought she was beautiful."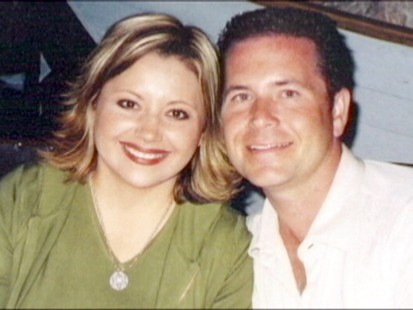 Isabelle's older sister, Laura McGraw, and her husband, Paul, watched the connection grow.
"The major thing that brought her happiness was that Kelle accepted her family and became so close to her parents," said Laura McGraw.
Isabelle's family said she liked being pursued and gradually fell for Jarka's nice-guy ways. Jarka's family said he was good to her.
"Every time Isabelle said, 'Kelle, I need this,' or 'I want that,' he'd be like, 'OK, here, dear, here's the credit card,'" said Jarka's older sister, Aquilla Schafer. "And it was always, 'Where does she want to go out for dinner?' Because he always put her first in his life."
Bill Schafer, Jarka's brother-in-law, saw the same depth of commitment.
"He truly, absolutely loved her to death," Schafer said.
Click HERE to see video of Kelle Jarka's interrogation.
Isabelle and Kelle were not only devoted to one another: They were equally devoted to their church. The Jarkas were devout Jehovah's Witnesses. They attended services four or five days a week and knocked on doors preaching to strangers for up to 100 hours a month each. Kelle Jarka was an elder in the congregation.
"We are very dedicated to God," he told ABC News.
Nearly 20 years of marriage brought the Jarkas two children, a 12-year-old daughter, Allee, and a 6-month-old boy, Jadon. The family lived comfortably on Kelle's salary as a general contractor. They had a new house in the upscale Los Angeles suburb of Murrieta, a city with one of the lowest crime rates in the United States. They had two luxury cars, a pickup truck and, at a nearby marina, a 36-foot power boat.
Then, one spring morning last year, the pious, peaceful world of the Jarka family home was invaded in the worst of ways. In a 911 call April 28, Kelle Jarka sounded desperate.
"I'm reporting a robbery," Jarka, 39 at the time, said on a tape of the call.
It was 8:45 a.m. Jarka told the dispatcher he had returned from a coffee shop to find signs of a burglary at his home.
"I could hear the baby was crying," Jarka told ABC News. "I yelled out to Isabelle, you know, 'Isabelle, what's wrong with the baby?' and then as I proceeded up the stairs is when I found her. ... That's where I found Isabelle, lying on the landing, by the bedroom."
'I Think My Wife Has Been Killed'
Jarka described the scene to the 911 operator.
Jarka: Somebody, I don't know, I just got home, I just pulled inside the house.
Dispatcher: OK, was somebody there that held you at gunpoint? Or were you burglarized?
Jarka: I was not there.
Dispatcher: You weren't there?
Jarka: No.
Dispatcher: OK, your house had been burglarized.
Jarka reported the burglary without mentioning his wife bleeding on the landing. Then, 26 seconds into the call, he dropped a bombshell.
Jarka: I think my wife has been killed.
Dispatcher: What, sir?
Jarka: I think my wife has been killed.
Dispatcher: OK, what are you saying?
Jarka: I think my wife has been killed, also in the burglary. She was home alone with the baby. ... She's lying on the ground and there's blood underneath of her.
The 911 operator strategically kept Jarka on the phone, getting his first reactions to the brutal killing on tape.
Dispatcher: OK, is she breathing?
Jarka: No.
Dispatcher: Is she bleeding?
Jarka: Yes.
Dispatcher: Is there anyone else in the house?
Jarka: No, my kids are at my in-laws next door.
Dispatcher: OK, what happened? You left to take the kids to school? What happened?
Jarka: I left my wife and the baby, I left to go get the coffee this morning. I walked in the house, the baby was crying, I picked him up and I went upstairs to look for my wife and there she was and the house has been, everything's torn up.
Jarka spoke with "20/20."
"I could tell there was a large amount of blood under her," he said. "I tried to move her and shake her to see if she responded. And she didn't."
Isabelle's mother, Tina Canchola, lived across the street from her daughter and son-in-law. Allee, 12, had spent the night with her grandmother. Jarka ran to her house as he was talking to 911.
"He must have been jumping and saying incoherent things," said Tina Canchola. "So I said to him, 'Where is Isabelle? What are you talking about? Answer me!' And he just pointed to the house, 'There.' ... He says, 'You don't want to see that,' and I said, 'Sure I want to see my daughter.'
"I started walking up the stairs and I got to the last stair, I turned around to my left ... there she was. Then I went over and said, 'Isabelle, talk to me, sweetie.' And I touched her hair and I started talk to her. And I said, 'Isabelle, answer me. Can you hear me? Can you hear me?' And she couldn't. She was already dead. But I didn't want to believe it."
'I Know That You Killed Her'
Isabelle's mother was already seething. The police ordered her down from the landing, and in the seconds it took to walk down the stairs, Tina Canchola had identified the murderer in her own mind. Her only evidence was a mother's gut feeling.
"Right away, I figured that he had killed her," said Canchola. "So I tell him ... because he was like, making a funny face. And I knew that he used to do that when he was lying. I say, 'You killed her. I know that you killed her.' ... He didn't say nothing. He just looked at me."
Police thought Canchola might be right. Nearly 20 percent of all female murder victims are killed by their husbands.
It was a vicious killing. Isabelle Jarka was bludgeoned to death. Police said there were 11 blows to her face and head. To lead Detective Danny Martin, it looked like a crime of passion.
"It's obvious her head was on the pillow, that she had to have been asleep when this happened because the blow, it doesn't look like she was able to defend herself from the initial blow," said Martin. "And then it looks like she tried to crawl away from the assault and get away from the assault to save herself. And as she was doing that and crawling, she was repeatedly being struck in the head with a blunt-force object. And when she got to the hallway, she just couldn't fight anymore and the blows became so severe that she just collapsed."
With the crime scene still fresh, Jarka was escorted to the police station. He was put in an interrogation room alone for 15 minutes before some "voluntary questioning" so detectives could observe his behavior. He was not arrested but was held for 10 hours of high-pressure grilling. Phil Gomez interrogated Jarka.
"He's not crying," said Gomez. "He's not emotional in any way. He seems very cold and just emotionless."
Martin said Jarka's demeanor was uncanny. "He's in the interview room 45 minutes after finding his wife brutally beaten and there's no emotion," Martin said. "Kind of just looking at the text messages, you know, moving his arms."
But when the interview got unde rway, Kelly Jarka was firm in his denials.
"I didn't do anything," Jarka tells Gomez on an interview tape. "I came home, that's what it was."
"Why would you want your wife dead?" Gomez asks.
"I don't, I didn't, I don't," says Jarka.
In the interrogation, Jarka repeatedly denied killing Isabelle, the mother of his two children and wife of 19 years. But Gomez was interested in more than a confession.
"I'm trying to lock him into a story," Gomez told ABC News. "I'm watching his body language, his nonverbal indicators. I want to see what his body is telling me when he's giving me this story. You know, is his posture closed? Is he trying to hide something? And that's exactly what I notice was his arms crossed. ... I had a feeling that he was trying to limit his exposure."
"At that point I was in shock," Jarka told ABC News, explaining his stilted body language during his interrogation. "I was concerned about what happened and I didn't know what to think. ... I think our emotional state changes especially under a dire circumstance or a shocking event."
Within an hour Gomez made a decision: no more Mr. Nice Guy.
"I think maybe you had something to do with this," he told Jarka. "What you need to understand is that evidence doesn't lie, OK? ... The evidence tells the truth. You know the evidence on the body, the evidence in the house, the hairs, the skin, things like that."
Not a Drop of Blood on Him
The problem was, detectives at the scene were coming up empty. The evidence Gomez told Jarka about was nowhere to be found.
"This was a completely circumstantial case," said Assistant District Attorney Burke Strunsky. "We didn't have the murder weapon, we didn't have an eyewitness, we didn't have any forensic evidence that directly tied Mr. Jarka to the actual murder itself."
The prosecutor was armed with a lot of motive and little hard evidence.
"She is gushing blood from her head and yet he doesn't have a drop of blood on him," said Strunsky.
"Here the blood was confined to the area of the killing itself, which means somebody prepared for the killing in some ways, had something to put the murder weapon in after committing the murder so that it wouldn't drip blood to other areas," said Strunsky.
In court, prosecutor Strunsky concentrated on the man he considered his best witness: Kelle Jarka in the interrogation room.
Jarka told Detective Gomez he "got up this morning, started calls from work, and then we, I got up with my wife. We were gonna go to the doctor, take her to the doctor. ... Changed the baby and then I gave her the baby back. And I went to get formula and Starbucks."
Jarka's account of how the murder morning began can be documented. Police quickly procured surveillance tapes from Longs Drugs, where Jarka bought baby formula, and from Starbucks, where Jarka bought coffees for himself and for his wife.
But phone records subpoenaed by detectives show Jarka did not spend the early morning on the telephone as he told Detective Gomez. In fact, he didn't make any phone calls.
"I personally spoke to every single person that tried to get a hold of him that morning," said the DA's chief investigator, Rodney Bishop. "And from 6:30 on till beyond 8 a.m., these people did not speak with him, didn't get a hold of him and thought that was odd."
Contrary to what Jarka told police, said Bishop, he not only was not on the phone that morning -- he wasn't taking calls.
Police later duplicated the route Jarka said he took to the drug store and coffee shop, timing the trip. Jarka was seen leaving the Starbucks at 8:33 a.m. Police said the trip home is less than five minutes. But Jarka makes the 911 call 12 minutes later, at 8:45.
That's seven unaccounted-for minutes. Bishop said it doesn't take seven minutes for a truly surprised husband to dial 911.
"What I believe he was doing was going over his crime scene that he staged," Bishop told "20/20." "Mustering up what he was gonna do to call 911. What was he gonna tell these people? What was he rehearsing? And finally when he became, I guess, brave enough to make that call, pick that phone up and begin the process, it took him several minutes to do so."
For Part 2 of the Kelle Jarka story, visit abcnews.com Friday.