From the outside, Isabelle and Kelle Jarka seemed to be leading a storybook life of suburban contentment. They had almost 20 years of marriage behind them and two children between them.
As devout Jehovah's Witnesses, they shared a devotion to God. The Murrieta, Calif., enclave they called home was rated among the safest neighborhoods in the nation.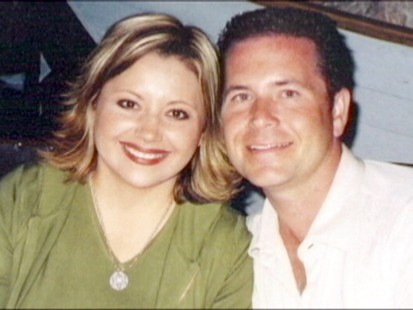 Then, in April 2008,
Isabelle was murdered
at home -- and her husband was arrested and charged.
The police accused Kelle Jarka of having beaten Isabelle to death one morning and then staging a burglary to cover his crime.
They mustered an overwhelming catalogue of circumstantial evidence to incriminate him.
The police did not, however, have a clear motive -- or any physical evidence on Jarka.
Click HERE to watch Kelle Jarka's police interrogation.
Jarka had his own version of events, which he unfolded over a 10-hour interrogation with Police Det. Phil Gomez following the murder. On the morning Isabelle was killed, Jarka said, he got home, pulled into the garage and noticed signs of a break-in.
"The door inside of the house, I saw was open," Jarka tells Gomez on a tape of the interrogation session.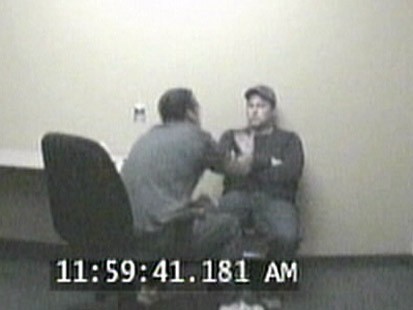 "Open how?"
"Cracked open. And then, I saw the door that comes from the outside into the garage was open also."
In fact, the door to the garage appeared to have been forced open or kicked in. Wood fragments were found on the garage floor. And police found what they say was another key clue to contradict Jarka's story: On the fender of the car Jarka said he drove to the drug store and Starbucks was a small paint chip.
"Which would indicate that when that door was forced open," Gomez told "20/20." "The door jamb falls onto the car that's already parked there, Mr. Jarka's vehicle."
Gomez said that meant the car was in the garage, and Jarka was presumably home, when the forced entry was made.
For Part 1 of the Kelle Jarka story, click HERE.
'This Looks Staged'
The police were especially skeptical of what Jarka said he saw at the crime scene.
"I see everything's torn apart," Jarka says on the interrogation tape. "Drawers were pulled out. ... Her jewelry cabinet was off, thrown around. Other stuff all over."
That's not what investigator Danny Martin saw. He remembered "starting to think, hey look ... this looks staged."
"There were a great deal of drawers in the kitchen and the bedroom that had been taken out and actually removed from their track, and then neatly stacked on the floor, which I don't recall seeing at past burglaries," said Martin. "Typically in the cases that I've investigated, burglaries, the drawers aren't even removed. So it was odd that somebody took the time to actually remove these from their mechanism, place them neatly on the ground."
Police also found it strange that the "phantom burglar," as they called him, left behind $500 cash in a bedside table and two laptop computers, while taking a much heavier and more difficult to sell desktop computer tower.
All that evidence, however, paled in comparison to a discovery police made days after the murder. Prosecutors finally had what they say was a the clear motive for Isabelle Jarka's death.
"Mr. Jarka is guilty of murdering his wife and he did it to make $1.3 million in life insurance," said Assistant District Attorney Burke Strunsky.
Three weeks before Isabelle was murdered, Jarka arranged for three new insurance policies on his wife, whom he had never insured before. He was vague about the policies during his interrogation.
"I don't even know who the policy is. we had a friend who got sick like a year ago and so she wanted me to get life insurance," Jarka said. "Her policy is $300,000, and but that's recently, it's probably not even in effect yet, I don't know."
In fact the new insurance policies were in effect when Isabelle died. Jarka told police he didn't know where his wife kept the relevant documents. They were found in a filing cabinet with his, not Isabelle's, fingerprints on them.
"You would have to be an idiot to take out life insurance on somebody three weeks before," Jarka told ABC. "I don't know how anyone would think that they could do that and get away with it."
But the prosecution claimed Jarka was desperate enough to be reckless. They said he was deeply in debt, two months behind on his mortgage.
"Things were really coming down to the wire as far as foreclosure on the house," said Strunsky.
Jarka had two state tax liens amounting to $40,000 that he was contesting. Isabelle's mother said there was enough stress at home for her daughter to openly threaten divorce. And Isabelle's sister, Laura McGraw, said the Jarkas' 12-year-old daughter, Allie, remembers trouble.
"She told me they were getting really serious, she said that her parents fought all the time," said McGraw. "All the time."
Another Smoking Gun
The night before the murder, Isabelle did call another Jehovah's Witness elder over to the house to complain about Jarka. The three talked until early in the morning , but the elder -- a reluctant witness -- testified that when he left all was well, the rift healed.
Four hours after the meeting, Isabelle was dead.
"It meant the murder had to happen that morning," said Strunsky. "It really just sped up what I think was already his plan... to kill her."
There was another smoking gun. One laptop left behind was jammed with suspicious entries.
Among the Google searches recorded on the computer were "poisons that cause instant death," "how long to medically suffocate?" "how to drug overdose?" "can you suffocate from a pillow?" "cyanide and suicide," "can a BB gun kill you," "how long does it take to suffocate," "the best way to die," and "how long to wait to remarry."
"Chilling," said Strunsky. "What kind of calculated, malignant mind is able to come up with this many unique ways to kill somebody?"
Even Jarka's public defender, Erin Kirkpatrick, was shocked by what was found on Jarka's computer.
"It's very harmful," said Kirkpatrick. "When I saw the computer searches at first, I was very concerned. But you know, the computer searches alone is not enough."
Jarka held to his story, even when Gomez lied -- as police are allowed to by law -- during the interrogation, claiming forensic and direct evidence that didn't exist.
"I'm telling you the evidence is telling me everything opposite of what you're telling me, OK?" Gomez says in the interrogation tape. "Evidence does not lie. All right, I'm telling you there's all kinds of trace evidence out there. There's evidence under fingernails, there's evidence in carpet, there's evidence in beds, there's evidence all over the place."
In fact there was no physical evidence. None of Jarka's DNA on his wife, no hairs or fibers, no clothes with blood on them, no traces of bleach to hide blood, no murder weapon.
"They tested me as soon as I was interviewed for DNA swabs, fingernails, hair, everything. I had no altercation marks or whatever on me, no blood, anything like that," said Jarka.
Countervailing Evidence
But what about all that damning circumstantial evidence? Jarka says the prosecution exaggerated his financial troubles, telling jurors he was on the verge of losing his house to the bank.
In fact, a careful read of Jarka's financial records shows he was not in any danger of imminent foreclosure. He had made a house payment two days before Isabelle's death.
"He'd make a payment and then they might get a little behind, and then he'd make a payment, might get a little behind," said Kirkpatrick. "Not dire."
Jarka additionally denies any serious marital trouble. In fact, Isabelle had never asked her church or a lawyer about divorce. Police were never called to the house for domestic violence. Jarka said his wife was often just being dramatic.
"We never discussed divorce," Jarka told "20/20." "It was maybe mentioned as an irritation. ... Isabelle knew that if she would say that, it would be a cause of irritant to me. We just had a 6-month-old baby. We were happy."
But how does Jarka explain all the computer entries about death, remarriage and insurance payouts?
The computer had no password on it, he said, and while it was his work laptop, the searches could have come from someone else in the family.
Jarka said it might have been Isabelle.
"We did co-sleeping with our baby," said Jarka. "[Isabelle] was concerned whether or not for his safety as far as suffocation and things like that. When to remarry after death ... we had a friend, who lost her husband in death.
"When those searches were asked ... there were searches at that exact same time for things that only a girl, only Isabelle, would search for. On beading, how to make necklaces, stores ... [a] jewelry store."
The prosecution had piles and piles of circumstantial evidence. They filled a three-week trial with it. But they had nothing to connect Kelle Jarka directly to the murder.
"To convict someone of a crime when there's no evidence against them other than a theory is unthinkable, especially with something so serious as this," said Jarka.
Before the jury was sent to deliberate, the judge delivered an important reminder about circumstantial evidence, a powerful message that might have helped Jarka.
"The instruction that deals with circumstantial evidence is very specific, that if there are two reasonable interpretations to that circumstantial evidence, and one of those interpretations points towards innocence, it must accept the one that points towards innocence," said Strunsky.
Lies Added Up to Guilt
The question was whether Jarka's defense had explained the insurance, the debt, the marriage problems and those ominous computer searches reasonably enough to acquit.
The cornerstone of the case against Jarka was that he is a fake. Fake tears, fake burglary, fake alibi.
The jury, according to foreman Ron Fournier, decided the lies added up to guilt.
"Because there was no smoking gun, no eyewitness, no bloody clothes, no bloody murder weapon, it was very difficult to come to that decision," said Fournier. "But after three weeks of day after day after day being exposed to one lie after another, it just kept adding up and adding up that this nice gentleman sitting over there could have done it. He's the only one who could have done it."
It took the jury just three-and-a-half hours to find a surprised Jarka guilty of first-degree murder.
"It was just totally unanimous," said Fournier. "There was no dissension on anything. No one ... not one person said, 'Yeah, but a burglar could have done that.' Not one."
The prosecution strategy worked: Destroy the alibi, and you destroy the defendant. The 10-hour interview Jarka gave beginning 45 minutes after his wife's murder was their best witness.
"He essentially presented, for me as the prosecutor, two possible stories," said Strunsky. "One is the burglary in which Isabelle Jarka is killed. And two, the husband, Kelle Jarka killed her. So if we could disprove that this was in fact a burglary, that would really leave only -- the only other option open at that point would be that Kelle Jarka was the murderer."
At a sentencing hearing early this month, Jarka -- his life in ruins, his ministry shattered, his children taken away and given to their aunt -- made one final plea for judicial mercy. He stuck to his story that he had been wrongly convicted of a crime he could never commit.
"Tragically I've been accused of this horrendous crime, such a horrible thought could not come up in my mind or my heart," Jarka said.
His eyes welling with tears, Jarka professed his love for the wife he will never see again.
"My life can never be the same without Isabelle," he said. "I long for her smile, her touch, her love."
But the last word came from the judge. Unimpressed by the lack of direct evidence in the case, he told Jarka the circumstantial evidence was overwhelming.
"The wounds suggested that this was not a random act of violence," the judge said. "It was deeply personal, the injuries are chilling and disturbing."
Finally, the judge condemned Jarka for showing no remorse in the crime. He sent the convict off to life in prison without parole, these words ringing in his ears:
"[I] can't offer any other explanation than that you are evil. ... People are going to tremble when they hear the name Kelle Lee Jarka."