Jessie was an aspiring model who enjoyed being in front of the camera. "I loved how it made me feel. I loved how I just became a different person," she said.
But it's easy for a young girl with big dreams to get taken advantage of -- as this 18-year-old small-town makeup artist learned when she met a 34-year-old fashion designer Anand Jon.
Jon, born in India, was the toast of New York's fashion scene. Newsweek named him one of the hottest new designers to watch in 2007. With his black mane of curls, he exuded a sense of international mystery, arrogance and sex appeal -- and he was always surrounded by young, scantily clad women.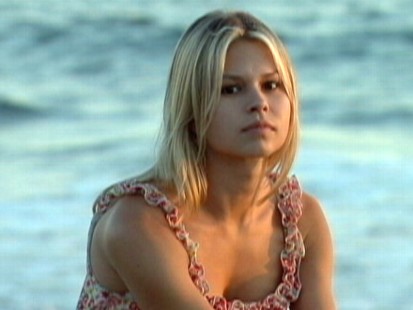 "It was always girls coming in and out, girls fitting," said fashion model Xenia Semias. "Even celebrities would come in there and hang out."
Jessie said Jon contacted her through MySpace. "He wrote me an e-mail, saying that, you know, he loved my look. ... It was, 'Can I set up a photo shoot with you?' And I said, 'Sure.' I had Googled him online and seen that he had worked with Paris Hilton and all of those celebrities."
Jessie, like most of the other girls Jon reached out to, was thrilled to be noticed -- especially by an up-and-coming designer like Jon.
In spring 2007, just as his new jeans line was about to be launched with millions in funding from Wall Street, Jon invited Jessie to fly to visit his Beverly Hills, Calif., apartment on his dime.
The aspiring model thought it was her big break. "As soon as I walked in the door, I realized this is not where I'm supposed to be. There was stuff all over the floor. It smelled bad," Jessie said.
Jessie told "20/20" that Jon instructed her to be quiet because his two assistants were asleep in their bedroom. She claimed he offered her an alcoholic beverage, which she declined. She said what happened next still haunts her to this day.
"He asked me to come back to the bedroom. So I did. At that point he had started kissing me. I was completely freaked out. He kept kissing my neck and my chest and he had tried to rip off ... my shirt at that time," she said. "And I was just, you know, 'No. What are you doing? You need to stop.' At that point he put his full body weight on top of me and suddenly he started to rape me."
When asked why she didn't yell, "rape," Jessie told "2020": "I didn't know what he was capable of doing."
While Jessie was cowering on the bed, she said Jon moved to the floor beside the air mattress and began to meditate as if nothing had happened. "I was looking at him, like, in terror," she said.
Exhausted, frightened and alone in Los Angeles, Jessie said she fell asleep -- only to be awakened the next morning by a commotion in the living room.
"He was swearing at [his assistants]," she said. "I was thinking to myself, 'Why would you let someone talk to you like that?'"
But Jessie was also afraid to anger him. "I was afraid. So I acted as normal as I possibly could until I got out of that house," she said.
When Jon's assistants left for lunch, Jessie revealed to them that Jon forced himself on her. "I've got to get out of here," she said she told them.
Click here for more on Anand Jon's fall from grace.
Jessie Tells Dad: 'I Was Raped'
"One of the girls said, 'Wow, that's not the first time I've heard of that happening.' And at that point I was like, 'Holy cow,'" Jessie recalled.
Jesse took a cab to the office of a friend of a friend -- and made the most difficult call of her life: She told her father she'd just been raped.
"He said, 'You need to go to the police.' And I said, 'I want to.' I said I wanted to calm down first. He goes, 'No, they need to see you just the way you are. They need to see you like this. And you need to go now.' So I said, 'OK, Dad, I will. I love you.'"
Beverly Hills Police sent Jessie to a hospital where a rape test was given. Tests confirmed that she had had sex with the man she claimed raped her. Within hours, Jon was arrested and charged with sexual assault.
Autumn's Story
But Jon's train wreck of a week was not over. Days before his arrest, Jon had singled out another girl, named Autumn, at a meet-and-greet for models in the Los Angeles suburbs.
"He talks you up really big, like I can see you, I will get you there, like I -- you will be like a star," she said. "He would use 'it girl' over and over, like 'You are the it girl.' I really had faith in him, like maybe he will get me -- like this is my chance, like my shot. I should take it."
Autumn's parents agreed to let the 15-year-old attend a celebrity party with Jon -- and stay overnight at his apartment.
"I was excited," Autumn said. "I met people that I didn't even know really existed but...they were supposedly famous."
When they returned to Jon's apartment around midnight, the designer instructed the one assistant still awake to go to her room.
"The first thing he tried doing was making me a drink. and I was just like, 'I'm too young for that,' like I'm not stupid," she said. "He was like, 'Come on, we'll record you. I want to see what you look like on camera.'"
"He said I have to say I'm 18. And I asked why, and he said, 'Everyone lies about their age in Hollywood, so it doesn't really matter.' And then he asked, 'OK, can I see like your body?'"
In a home video that Jon shot of Autumn, Jon told Autumn to "come into the light" and "take it off."
"I had underwear and bra on, so I'm OK with that," she said. "And then, then he tried saying like bend over and I kind of got like, 'No.'"
Jon asked Autumn to give him a show, but she refused.
"And then that's when he started talking to me about becoming the 'it girl' again," she said. "You have to sacrifice, you have to do things. After that, he put his hand on my chest."
"I tried pushing him off, and then all he did was just like when you try lifting up and you just get smacked back down, it was just like that," she continued. "He's holding me down, and the second he put his hand in my underwear ... I don't know, some force came over me like some strength I did not have like and I pushed him and I was -- like I just ran out."
Dozens of Models Claim Assault
With nowhere to go, Autumn slept on Jon's couch that night. When she returned home, she did not tell her parents -- or anyone -- what had happened.
"It takes a lot to tell somebody that. It's not something you want to tell your mom and it's definitely not something you want to tell your dad," she said. "It was only, I think, two days before I told them. And I was scared. That was like my dream and I knew it was gone."
The trigger for Autumn to come forward -- first to her parents and then to police -- was a phone call from Jon's assistant Holly, saying that another model, Jessie, had been raped and Jon had been arrested.
Autumn was the second girl to come forward and filed charges against Jon for sexual assault.
Over the next few months, dozens of models came forward -- all with similar stories.
Trial of Anand Jon
Jon's two-month trial began in September 2008. Model after model took the stand and broke down in tears -- each telling her own devastating and remarkably similar tale of being lured to Jon's studio apartment and within a short time, being assaulted.
Jon's defense claimed that the sex was consensual and driven by star-struck girls. Many of the alleged victims kept in touch with Jon after the alleged attacks. His team used many of the victim's own words and pictures against them, confronting some of the women with text messages and provocative poses sent to Jon before the alleged assaults.
Anand claimed that instead of a sexual predator, he was the victim of a sinister plot by disgruntled models -- fueled by jealousy and greed. The cornered fashion designer and his sister Sanjana Jon organized a cut-throat campaign against the models, painting them as escorts and drug-addicts.
"Even when they went home, and were hundreds and thousands of miles away, safe from any untold advances by him, they continued to communicate with him," said Leonard Levine, one of Jon's five-person defense team in the trial.
"There was one woman who was confronted with a phone bill in which she had text messaged Anand Jon I believe 58 times, in the hours or the day after her alleged assault," said Steven Mikulan, who covered the trial for LA Weekly.
The prosecution showed graphic video shot by Jon of a 17-year-old model being sexually assaulted on camera. Doctors who testified said that more than half of all sexual assault victims don't go to the police.
"The lure, the charm, the grooming -- whatever you want to call it -- is something that confuses them, and they don't report," said professor of psychiatric nursing Dr. Ann Burgess, who testified for the prosecution. "Many of them probably felt embarrassed, ashamed, how could this have happened, it's my fault."
Victims Confront Anand Jon
The doctor's words were echoed by the victims themselves. "At first, I thought that, that I should just, you know, let it go and maybe I will get something out of it. Like you know, bad things maybe turn out good," Autumn told "20/20."
According to Burgess, it's common for victims in multiple assault cases to remain silent until they hear that one victim has gone to police. In this case, she said, the nine victims in the case may never have come forward were it not for Jessie speaking out.
"Everybody's been questioning my character and, you know, my credibility; I was a rape victim, and something bad happened to me," Jessie said. "And I, not one, for not one minute was going to let this person take over my life and to try to prove me, like, try to prove me wrong. I didn't know that saving my own life was going to help so many other people."
At the time of the trial, Jon faced 25 criminal charges. In November 2008, the jury found Jon guilty of 14 felonies and two misdemeanors against seven of the nine women, including the forcible rape of Jessie, and multiple lewd acts upon a child for Autumn. He was acquitted on six counts and the jury deadlocked on three other charges.
On the day of his sentencing, Jon -- acting as his own attorney -- presented his argument for a new trial to the judge. Alternating between arrogance and anger, and at one point breaking down in tears, Jon detailed for six hours the reasons he believed he was wrongly convicted.
Jon talked about exculpatory evidence that had been withheld from his defense, including emails and internet chats with the models. He showed the judge a surveillance video of Jessie walking out the day she claimed she was raped, claiming it showed she was not in duress. And he mocked Jessie for trying on jeans in his apartment the morning after she says she was raped.
"Maybe I'm a jerk. Maybe I'm an ass. Come on. What are you changing me with? Forcible rape?" he asked incredulously. "Nine hours later, she thinks it's cool. 'Oh, oh, I'm confused. Oh, the pants don't fit, by the way. The buttons are off. Oh, I was raped.'"
But the judge wasn't convinced.
"You have from the beginning claimed that you are in court because of a nationwide conspiracy by the prosecution and young women all over this country that have made up stories and colluded with each other," said Judge David S. Wesley. "Just as you failed to convince them, you have failed to convince me. Your motion for a new trial is denied."
But before his sentencing, Jon's victims had the opportunity to confront their attacker in court for the first time.
"You took my adolescence, my trust, my dream and completely manipulated it for your sexual desires," Autumn said in court as Jon listened. "It sickens me that a grown man can do such a thing, not to a woman, not to an adult, a girl. I wish you knew how it felt to be held down, how it feels to be trapped."
"What he has done to me will be something I have to live with for the rest of my life, and I'm asking you to please give him the maximum sentence possible and hold him accountable for his actions that he will never be able to hurt anyone ever again," Jessie told the judge.
The judge sentenced Jon to 59-years to life in a California prison.
Jon, 37, is about to be extradited to stand trial on similar charges in New York state. He was also indicted in Texas.
A New Trial?
But after all the twists and turns in the case, there's a good chance Jon's conviction in Los Angeles could be overturned on appeal. During deliberations, when the jury was deadlocked, one of the jurors gave his phone number to Jon's sister Sanjana. He asked her to call him, and she did -- twice -- but refused to meet with him. The day after she turned him down, the juror -- who had been a hold out -- voted guilty.
"It's the most egregious case of juror misconduct I've ever seen," said Levine. "[Anand Jon} did not have the independent deliberations of 12 jurors. And this is clearly a case that we believe will be overturned on appeal."
But for Jessie, Autumn and all the other victims, a new trial would mean reliving the hurt and relearning the lessons they want other young girls with big dreams to never forget. "You need to be strong, and you need to believe in yourself," Jessie said.
"[Do] not let people walk all over you," Autumn told "20/20," "to stand up for yourself and not stay in the dark about it cause it's not okay."