For all that it can be (and is) a showcase for the world's most innovative designers, New York's Fashion Week can also feel repetitive and, by design, exclusive. There are a variety of bodies, income levels, and subcultures consistently overlooked and ignored by fashion's most celebrated design houses. But this doesn't mean there aren't labels that are keeping a more diverse crowd of fashionable people well dressed and on-trend. One of those labels is Marimacho, a line by Brooklyn-based duo Crystal González-Alé and Ivette González-Alé catering to the "unconventionally masculine."
On Saturday, Marimacho showcased its Spring/Summer 2014 collection, inspired, the designers shared, "by the ocean and its possibilities for renewal and reinvention."
"When we think of submerging into the ocean," they explained in an email exchange with Fusion, "we think of a baptism of sorts -- reemerging with a sense of hope and possibility. And that is what queer people do -- reinvent themselves and emerge transformed. The clothing itself draws from an ocean color story of corals, algae greens, sea foams and deep blues. The collection plays with opacity and transparency through sheer silks and mesh to show the fluidity of gender even within a masculine aesthetic."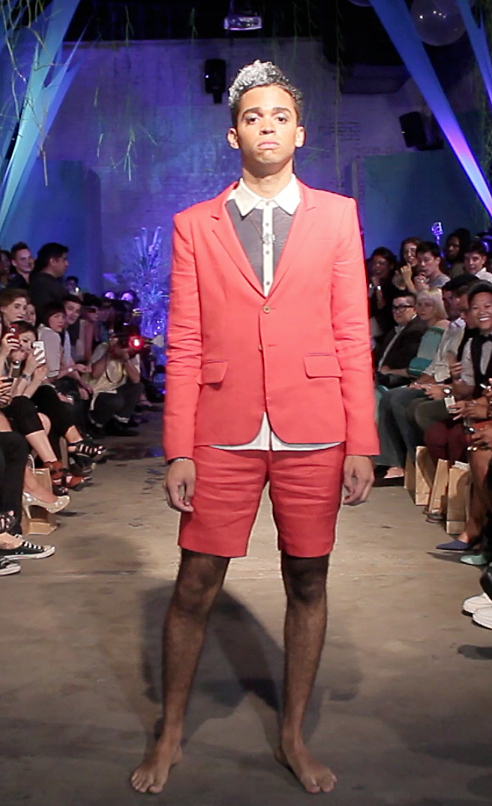 The collection presented light-weight suit jackets paired with shorts and trousers and crisp button-downs in shades of coral and navy, punctuated by bold stripes and a hint of sheer fabric. Models walked down the runway barefoot underneath installations of seaweed and balloon bubbles. Their unique looks -- white-accented, often asymmetric hairstyles coupled with glowing skin -- were the handiwork of Cesar Ramirez for Davines and Karlo Karlo for Emani Vegan Cosmetics. The models themselves offered a departure from the average Fashion Week runway -- they included people of different races and ethnicities, cis women and men, trans women and men, and genderqueer folks.
I asked Crystal and Ivette why, despite the diversity of body types, there was a conformity in body size. Their response gave much insight into how the call to include a broader spectrum of sizes isn't as simple as hosting a casting session:
"To understand the difficulty of including a variety of body sizes in a runway show," they explained, "it is helpful to have a bit of background on the garment development process. We typically start with a sketch, move to pattern development, and then sew a sample. After a handful of iterations, a final sample is made. Our sample size is approximately a women's 4-6 (we just call it a 'small'). This is a fairly typical sample size. Being somewhat in the middle of the size range allows for more accurate grading, which is the process by which a pattern is scaled up or down to create a range of sizes. If time and resources allow, we will create a size run---a sample of each size allows us to make adjustments to particular sizes where standard grading is not enough. Once final patterns are approved at each size, we can go to production."
"All of the items presented during our runway show are final samples in our sample size," they said. "There are two reasons for this 1) we did not have the time or resources to create a full size run of each garment (there are 30 pieces in the collection!) 2) we needed the flexibility of being able to place any garment on any model. While hair, makeup and styling concepts are discussed and tested before the show, changes are made the day of. Models that were supposed to wear one piece may end up in another. If models are different sizes, this cannot be done unless you have a full size run of each piece with you at the runway show."
"All that being said," they added, "Marimacho would like to get to a place where we can include a diversity of body sizes in our runway show. Getting there will involve additional planning and resources, but we feel this is important to fulfill our mission of 'designing for and fitting diverse bodies.'" And, indeed, the brand's website -- and the audience in attendance -- did represent a wide range of body types and sizes, all across the gender spectrum.
As for what else the future holds, Cystal and Ivette are busy fill out more orders than ever, something they attribute to the increased awareness and visibility of queer communities and their distinct, unique respective takes on fashion, style, and gender presentation. The duo says they draw inspiration from this very community. "Our muses," they told me, "are the genderqueer people we live and party with, not any one celebrity. Celebrities that adopt an androgynous aesthetic draw their inspiration from our community. We are their muses, they are not ours."
That said, when it comes to a famous name they would love to dress, their pick is Rita Indiana, lead vocalist for the Dominican Republic-based alt merengue band Rita Indiana y lost Misteriosos. And that's the beauty of Marimacho: We can absolutely see Rita rocking the hell out of next season's slouchy silhouette with the kind of swagger only select few stars can muster. But Marimacho's clothing is also grounded in reality, offering well-cut, impeccably-tailored items that look equally at home at a party in Brooklyn, at the office, out to a movie, and on the world's stage.
Check out the full collection in our gallery.