A 28-year-old school teacher has been identified as the second female suicide bomber who attacked Moscow's subway bombings last week.
The Federal Security Services confirmed to ABC News that Maryam Sharipova attacked the Lubyanka metro station next to the FSB headquarters in the first of two blasts that killed 40 people and injured more than 100.
Last week, they identified the Dzhennet Abdurakmanova as the other bomber, a 17-year-old widow who had been married to a local militant leader killed late last year by federal forces.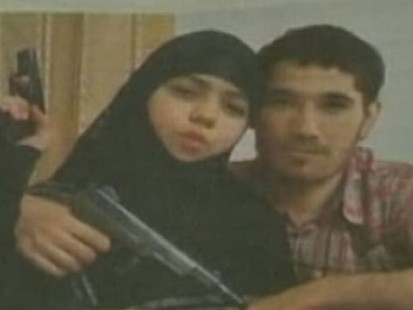 Both women were from Dagestan in the restive North Caucasus region where Russian forces have been battling an Islamist insurgency.
Sharipova's father, Rasul Magomedov told Russian media that he recognized his daughter after a friend sent him the grisly pictures of the bombers that have been circulating online.
"I have seen a photo of her head. It's my daughter. It's definite. There's no doubt about that," he told the Interfax news agency.
Magomedov says his daughter went to the market with her mother the day before the bombings. She then said she was going to visit a friend, but never came home.
Sharipova, who is from Dagestan, was married to a militant named Magomedali Vagabov, the Counter-Terrorism Committee told Interfax. Her father said that security forces had approached him about the marriage before but when he confronted her about it, she wouldn't confirm it.
"There are many questions about it, and there are no answers," he said. "She was raised as an ordinary mountain girl. My daughter was very religious, but I did not see any indications of radicalism in her."
Sharipova's father says once he alerted the security officials that he recognized his daughter, they came to take DNA from him and his wife.
The two bombers have been called "black widows," women from the North Caucasus who have carried out a number of suicide attacks usually to avenge the deaths of relatives at the hand of federal forces. Unlike Abdurakmanova, Sharipova's husband appears to still be alive.
Black widows carried out many attacks earlier this decade including the simultaneous bombings of two planes mid-flight that killed 90 people in the summer of 2004 and a Moscow metro bombing that killed 10 a week later.
Sharipova was a school teacher, like her parents, teaching computer science. She had studied at a Dagestani pedagogical university, focusing on math and psychology and graduating with honors in 2005, her father told the Novaya Gazeta newspaper.
"I completely exclude the possibility that somebody brainwashed her," he said. "She had a degree in psychology herself."
Her brother was arrested in 2008 for weapons charges, kidnapping and involvement with militant groups, but after several months in jail was acquitted and released.
Chechen Leader Says More Bombings to Come
Chechen militant leader Doku Umarov has claimed responsibility for the bombings and vowed more will follow.
"I promise you the war will come to your streets, and you will feel it in your own lives and on your own skin," he said in a video posted online two days after the attacks.
Umarov has proclaimed himself "Emir of the Caucasus Emirate," the head of a group fighting for an independent Muslim nation along Russia's southern flank.
Last Wednesday, two more suicide bombers killed 12 in Dagestan, including nine police officers. On Monday, a suicide bomber in neighboring Ingushetia killed two policemen who stopped him at the gates to the police station.
Human rights groups have long argued that Russian forces in the region have stoked the insurgency with kidnappings, torture and murder of suspected insurgents and their family members.
President Dmitry Medvedev has said the insurgents will be "destroyed" and that future attacks will be prevented with "brutal" tactics, echoing his powerful prime minister, Vladimir Putin, who made it his mission when he was president to bring stability to the North Caucasus.
At the same time, Medvedev has argued for using social and economic policies to encourage peace in the region, making it unclear which policy will prevail.