Billionaire banker 'Sir' Allen Stanford, accused of bilking his investors out of $8 billion, surrendered to the FBI in Virginia Thursday evening, according to his attorney Dick Deguerin. Deguerin told ABC News that Stanford is now in custody and that a hearing is expected Friday morning.
A grand jury investigating the Stanford Financial Group returned a sealed indictment Thursday, the Houston Chronicle reported.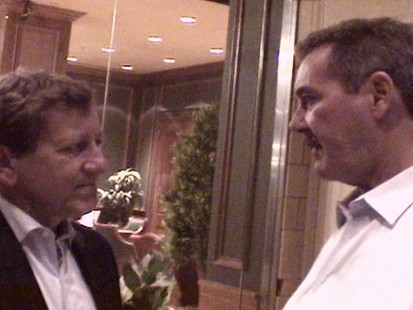 In April, Stanford told ABC News Chief Investigative Correspondent Brian Ross in an exclusive interview that he expected to be indicted soon. The Securities and Exchange Commission alleges Stanford ran a fraud promising investors impossible returns, much like Bernard Madoff's $65 billion alleged Ponzi scheme.
"I would die and go to hell if it's a Ponzi scheme," Stanford said in reaction to civil allegations from the Securities and Exchange Commission that he bilked thousands of customers in an $8 billion fraudulent scheme involving "self-styled certificates of deposits" with "improbable" rates of return.
"Baloney. Baloney," Stanford told ABC News. "It's not a Ponzi scheme . If it was a Ponzi scheme, why are they finding billions and billions of dollars all over the place?"
The SEC froze all of Stanford's assets it has found, including $4.6 billion which a federal judge recently "unfroze" so it could be distributed to his depositors and customers. According to SEC officials, only $500 million connected to the alleged fraud has been recovered so far.