In a new video released over the weekend, al Qaeda's American spokesman Adam Gadahn ridicules President Obama but offers him a peace deal if the U.S. leaves Iraq and Afghanistan and ends aid to Israel and those Muslim countries al Qaeda considers un-Islamic.
"You're no longer the popular man you once were, a year ago or so," says Gadahn in the recording. He says this is because Obama has become "nothing more than another treacherous, bloodthirsty and narrow-minded American war President."
Gadahn's offer is similar to a 2007 message to President George W. Bush. In the years prior to the September 11 attacks, al Qaeda peace deals often presaged an attack, a religious requirement for Islamic extremists that they give one last truce offer before attacking their enemy. Since then, al Qaeda's statements have largely amounted to propaganda.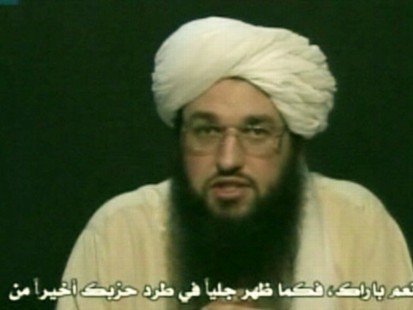 Over the years, Gadahn's videos and messages have been largely ineffective, according to ABC News consultant and former Counterterrorism Czar Richard Clarke. "No one is going to rise up because of what Adam Gadahn says."
Gadahn, spends 24 minutes on the video mocking Obama and noting his political setbacks. It's unclear when the video was recorded, but Gadahn does make reference to the January special election in which Republican Scott Brown took Ted Kennedy's senate seat in Massachusetts. He also refers to Obama "slithering snakelike" into the second year of his "reign."
In his speech, Gadahn threatens attacks on Americans and insists that "until now" al Qaeda has shown restraint in its violence.
"The relatively small number of Americans we have killed so far," Gadahn says, is "evidence that we haven't even begun to even the score."
Gadahn also makes mocking reference to the Salahis, the Washington couple that crashed Obama's first state dinner last fall. "Honestly, Barack," says Gadahn, "as a president who has proven himself to be incapable of keep intruders out of [the White House], do you really expect anyone to believe that you will be successful in your attempts to keep the mujahideen away from an entire continent?"
Gadahn Calls for End to Wars and Support of Israel
The truce Gadahn offered is similar to previous al Qaeda offers in the past, requiring the U.S. to pull out of Afghanistan and Iraq, end its support of Israel, and stop financial support of those Muslim governments that al Qaeda deems insufficiently Islamic. He also accuses the U.S. of creating "Muslim-only concentration camps" around the world.
Gadahn, 32, has been wanted by the U.S. government since 2004 when it placed a $1M bounty for his capture and conviction. He was the first major English-speaking al Qaeda figure to use the Internet and address Americans.
He released a video earlier this year praising the November massacre at the Army's Fort Hood base in Texas. Palestinian-American Army Major Nidal Hasan is charged with multiple counts of murder and attempted murder in the assault, which took the lives of 13.
"He has no impact," Clarke said of Gadahn. "His threats have no connection with anything happening in the real world."
CLICK HERE to follow the ABC News Investigative Team's coverage on Twitter.