James Stanford, father of accused billionaire fraudster R. Allen Stanford, met Tuesday with federal officials in Waco, Tex. who are probing his son's alleged multi-billion-dollar swindle.
Stanford, 81, responded to a subpoena from lawyers with the Securities and Exchange Commission. The SEC last week filed a civil complaint against his son, accusing him of bilking tens of thousands of investors out of roughly $8 billion. The elder Stanford is a member of the board of Allen's firm, Stanford Financial.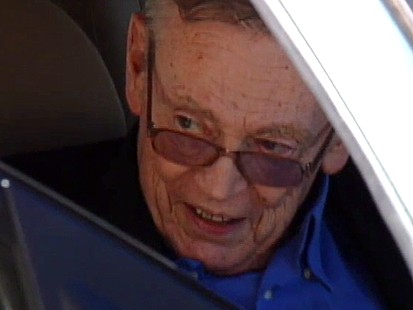 The meeting took place in the U.S. Attorney's office in the federal courthouse in Waco and lasted more than an hour. Emerging from the meeting, the senior Stanford declined to discuss the specifics of his conversation with the SEC. He told a reporter for ABC News affiliate KXXV that he believed the SEC's actions against his son amounted to "a witchhunt."
"I'm totally surprised," James Stanford said of the SEC's complaint against his son. "It's a rush to judgement on the part of the government."
Stanford came to the meeting without a lawyer. He said he had not spoken to his son since news of the SEC probe broke. A spokesperson for the SEC said the commission had no comment.
Stanford was accompanied by four women, including his wife, a granddaughter, and his secretary of 24 years, Charlotte Berry. Stanford and Berry are both employees of his son's firm, Stanford Financial Group.
Berry told the reporter she will "go to my grave knowing James had nothing to do with this." Of Allen, Berry said, "I can't believe he did any of this. . . Allen is not the type to lie."
The younger Stanford, in a brief conversation with ABC News, said he planned to speak about the case next week.
Stanford's Alleged Scam
The billionaire banker accused of scamming $8 billion, R. Allen Stanford, was located by FBI officials last week and served with civil papers by the SEC, putting an end to a nationwide search.
Stanford later turned in his passport to federal prosecutors, saying "he would not flee," according to one of Stanford's lobbyists, Ben Barnes.
Stanford is "very depressed," Barnes said, and sought to end a federal manhunt for him by directly approaching officials at the Justice Department, Barnes said.
Earlier last week, the SEC accused Stanford of defrauding 50,000 customers around the world by lying about the return rate on certificates of deposits offered by his firm, Stanford Financial.
U.S. Marshals seized his company and its assets, under an emergency federal court order sought by the SEC
Federal authorities told ABC News that in addition to the SEC complaint, Stanford is under investigation in connection with an alleged drug money laundering scheme for Mexico's Gulf Cartel.
In the meantime, the SEC has begun to seize an array of private property owned by Stanford and his firm.
Stanford's fleet of six private jets were recalled to the corporate hangar at Sugarland Airport outside Houston, including the Bombardier-700 luxury jet that was used exclusively by Stanford and considered the "Flagship of the Stanford Empire," according to aviation websites.
Life of Luxury in St. Croix
Stanford's 120 foot yacht, docked at a marina in St. Croix, is also likely to be seized, and SEC attorneys contacted marina owners in St. Croix to determine the precise location of the yacht.
Stanford also owns a huge mansion in St. Croix, located in the main city of Christiansted.