Disgraced billionaire financier 'Sir' Allen Stanford, who is behind bars awaiting trial on charges stemming from an alleged $7 billion Ponzi scheme, was taken by ambulance to a Texas hospital early this morning with a rapid heart rate of 300 beats per minutes, his attorney told ABCNews.com.
Stanford was set to appear in court today for a hearing on replacing his attorney, Dick DeGuerin, who has asked the court to recuse him from the case because he says he's been paid "zero, zip" and Stanford wants him out.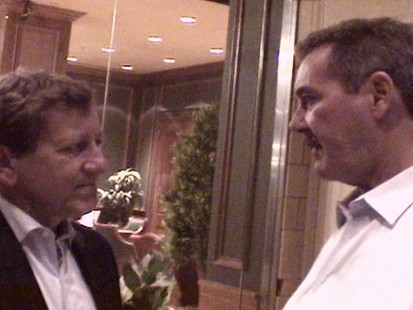 "I've been getting a lot of interference from other lawyers that are trying to horn in on the case," DeGuerin told ABCNews.com. "To the extent that they've undermined the confidence that Stanford had in me, the other lawyers I don't think have his best interests at heart and it's a shame."
DeGuerin said Stanford was taken from the Joe Corley Detention Facility in Conroe, TX to the nearby Conroe Regional Medical Center at 5:30am Thursday. Stanford's attorney has previously requested he be transferred from the jail because his cell is too crowded and lacks air conditioning.
"The conditions are awful, but in addition to that," DeGuerin said, "it's impossible to prepare a case like this with the amount of evidence and documents and complexity that it has with him being behind bars and unable to participate in the preparation of his own case."
Former CFO Pleads Guilty
Also this morning, Stanford's former chief financial officer James Davis pled guilty to conspiracy to commit mail, wire and securities fraud, mail fraud, and conspiracy to obstruct a SEC investigation, in relation to the alleged Ponzi scheme. Davis faces up to 30 years in prison when he's sentenced Nov. 20, although his attorney David Finn told the AP the sentencing may be delayed as Davis continues to help prosecutors. Finn said Davis has been cooperating for the last six months and has a deal with the Justice Department for a possible reduced sentence.
Davis' plea agreement brought forth bizarre new details about the case, including the allegation that Stanford entered into a "blood oath" with Antiguan bank officials.
The plea agreement, entered into court Thursday, alleges that Stanford and Leroy King, the former administrator and CEO of Antigua's Financial Services Authority, participated in the brotherhood ceremony together with another employees of the Financial Services Regulatory Commission.
"This brotherhood oath was undertaken in order to extract an agreement from both King and the other FSRC employee that they, in exchange for regular cash bribe payments by Stanford to King and the other FSRC employee, would ensure that the Antiguan bank regulators would not 'kill the business' of SIBL," the agreement reads. It also says that Sanford's alleged fraud dates back to 1990.
Allegations of Defrauding Investors
Stanford is charged with fraud, conspiracy and obstruction in a 21 count indictment handed down by the Department of Justice. If convicted, he faces a maximum sentence of 250 years. Stanford surrendered to the FBI in Virginia in June.
The indictment charges Stanford and his alleged co-conspirators with engaging in a scheme to defraud investors who purchased approximately $7 billion of CDs from the Stanford International Bank, an off-shore entity based in Antigua. Stanford and his co-defendants are accused of misusing and misappropriating most of their investment assets.
The indictment alleges that Stanford and his associates falsely claimed that the bank's assets had grown from $1.2 billion in 2001 to $8.5 billion by December 2008. The bank also allegedly made thousands of dollars in bribes to the former head of Antigua's Financial Services Authority to ensure the bank was not audited.
The Securities and Exchange Commission previously filed a civil complaint against alleging Stanford ran a fraud promising investors impossible returns, much like Bernard Madoff's $65 billion alleged Ponzi scheme.
Stanford Denies Charges to ABC News
In April, Stanford told ABC News Chief Investigative Correspondent Brian Ross in an exclusive interview that he expected to be indicted soon, but denied that he had run any sort of Ponzi scheme.
"I would die and go to hell if it's a Ponzi scheme," Stanford said in reaction to the civil allegations from the SEC that he bilked thousands of customers in a scheme involving "self-styled certificates of deposits" with "improbable" rates of return.
"Baloney. Baloney," Stanford told ABC News. "It's not a Ponzi scheme . If it was a Ponzi scheme, why are they finding billions and billions of dollars all over the place?"
Jason Ryan contributed to this report.