One of the signs of increasing al-Qaeda strength in Yemen, where U.S. cruise missiles hit al-Qaeda strongholds last week, was a Sept. 2008 attack on the U.S. embassy in Sana'a, Yemen's capital. al-Qaeda affiliated terrorists detonated car bombs and stormed the embassy grounds in an assault that claimed 19 lives, including one American.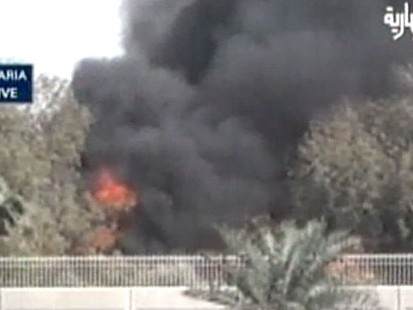 But the Yemen embassy raid was only among the most recent in a series of attacks on U.S. diplomatic installations in Africa and the
Middle East
, areas of the globe where working for the U.S. government carries significant personal risk. ABC News has aired exclusive surveillance video of several of those attacks.
WATCH EXCLUSIVE VIDEO OF THE 2004 ASSAULT ON THE U.S. CONSULATE IN SAUDI ARABIA HERE
WATCH EXCLUSIVE VIDEO OF THE 2006 ASSAULT ON THE U.S. EMBASSY IN SYRIA HERE
As retired Ambassador Ronald Neumann, a former deputy chief of mission in Yemen, testified in front of a
Senate
subcommittee earlier this month, "I have been under threat of assassination in Yemen, had my embassy stormed by mobs in Bahrain, traveled armed in Iran in the days of yearly terrorist assassinations of Americans, [and] been shot at... by small arms, rockets and mortars."
While the job description has long involved peril, Neumann told ABC News that the difference is that now the U.S. government tries to keep personnel in place under circumstances that once would have meant evacuation. This has required more stringent security procedures, a major expansion in security personnel and vehicles, and changes to the physical look and layout of embassies to make them less vulnerable.
Armored convoys, armed guards and fortress-like buildings make American diplomats safer, but also restrict their ability to conduct business. And would-be attackers eventually adapt to the heightened security.
"People find techniques," said Neumann. "In any war or terrorism there is always a cycle of learning better tactics and defenses, and the enemy finding ways to work around them. There is no end to the cycle."
Attacks on U.S. embassies
Neumann served in Algeria as ambassador during the mid-'90s, when Islamic militants were targeting journalists and foreigners, and faced the threat of assassination in Yemen – though, he said, those assassins "never showed up." On his final posting as ambassador to Afghanistan, his convoy was hit by a suicide bomber on its way to pick him up. A guard lost his leg.
"We have been living with this stuff for a while," said Neumann.
The 2008 attack on the U.S. embassy in Yemen is only the most recent significant assault on American diplomatic installations. Armed actions against U.S. facilities over the past 30 years, starting with the takeover of the American embassy in Iran, have taken more than 300 lives. Among the attacks:
Nov. 4, 1979 Students seize the U.S. embassy in Tehran, Iran and take 66 hostages.
April 18, 1983 A suicide car-bomb attack destroys the U.S. embassy in Beirut, Lebanon, leaving 63 dead, including 17 Americans.
Dec. 12, 1983 Truck bombers hit the U.S. embassy in Kuwait City, killing five and injuring 80. Separate attacks the same day targeted the French embassy, an oil refinery, the airport, a power center and an American corporate residence.
Sept. 20, 1984 In the second attack on the U.S. embassy in Beirut in less than two years, a truck bomb explodes near the embassy annex, killing 24, including two Americans.
Aug. 7, 1998 Simultaneous truck-bomb explosions outside the U.S. embassies in Nairobi, Kenya and Dar es Salaam, Tanzania killed 224 people. More than 5,000 people were injured. Among those indicted for the attacks was Osama bin Laden, who remains at large.
June 14, 2002 A fertilizer bomb in a truck driven by a suicide bomber exploded outside the U.S. consulate in Karachi, Pakistan, killing 12 and injuring more than 50.
Dec. 6, 2004 Gunmen attempted to storm the U.S. consulate in Jeddah, Saudi Arabia. They succeeded in entering the grounds but were unable to force their way into the building. Five staffers died. Watch video of the assault here.
Sept. 13, 2006 Four armed men are killed in a failed assault on the U.S. embassy in Damascus, Syria. Watch video of the attack here.
Jan. 12, 2007 Unknown assailants fired an antitank grenade into the U.S. embassy in Athens, Greece before 6 a.m. The building was empty and on one was hurt. The antitank round hit a bathroom on the embassy's third floor.
Sept. 16, 2008 Just after 9 a.m., attackers hit the U.S. embassy in Sana'a, Yemen with a car bomb, RPGs, grenades and rifles. Nineteen people, including one American, died.