The coronavirus pandemic has quickly evolved from a health care crisis to a financial one, shuttering businesses, upending industries and sending financial markets reeling.
Here's the latest news on how the COVID-19 crisis is affecting the economy. For more on financial resources available during the pandemic, click here.
Ruth's Chris Steakhouse, Sweetgreen to return government loans meant for small businesses
Ruth's Chris Steakhouse and fast-salad chain Sweetgreen announced Thursday they will both be returning the loans they received through the Small Business Association's Paycheck Protection Program.
Some 200,000 people signed a Change.org petition calling on Ruth's Chris Steakhouse to return their reportedly $20 million loan earlier this week.
Ruth's Hospitality Group, the chain's parent company, said their goal was to utilize the funds to keep workers employed as long as possible and cover health care benefits.
"We intended to repay this loan in adherence with government guidelines," the company said in a statement. "As we learned more about the funding limitations of the program and the unintended impact, we have decided to accelerate that repayment. We remain dedicated to protecting our hardworking team. It is our hope that these funds are loaned to another company to protect their employees, just as we intended."
Sweetgreen also announced Thursday it was returning its $10 million loan it received through the SBA's Paycheck Protection Program.
"At the end of last week, we were approved for a $10M loan through the program," the company said in a statement. "That same day, we learned that the money had run out and so many small businesses and friends in the industry who needed it most did not receive any funds. Knowing that, we quickly made the decision to return the loan."
The PPP has courted controversy for weeks, especially as reports emerged of larger businesses gaining access to the funds that were meant to go toward small businesses, and as the fund ran out of money late last week.
On Monday, burger chain Shake Shack announced they were returning their $10 million PPP loan.
Meanwhile, the Trump administration issued new guidance Thursday telling publicly traded companies to repay their coronavirus stimulus loans meant to help small businesses by May 7.
In updated guidance on the implementation of the CARES Act, the Treasury Department and Small Business Administration said "it is unlikely that a public company with substantial market value and access to capital markets will be able to make the required certification in good faith" -- attesting to its need for the loan.
Amtrak says it will likely sustain a loss of $700 million or 'greater'
Amtrak said Thursday that it will likely suffer a financial loss of $700 million but "it's possible losses could be greater" as a result of the pandemic.
Daily ridership has dropped 95% as fewer people are traveling and are being asked to stay at home.
The company announced it cut back routes to cut costs, adding that new CEO William Flynn will forgo his salary.
Flynn said Amtrak is following CDC guidelines, including not booking more than 50% capacity in cars to ensure social distancing. It is also requiring all customer-facing employees to wear a mask or face covering.
The company has received $1 billion in stimulus funds through the CARES Act.
China pledges $30 million in WHO funding
China will donate $30 million in funding to the World Health Organization to support its efforts to fight COVID-19 and the construction of public health systems in developing countries, according to its state-run news organization Xinhua.
Foreign Ministry spokesperson Geng Shuang said in a briefing Thursday that the WHO had actively fulfilled its duties and played an important role in assisting countries in responding to the outbreak and boosting international cooperation on COVID-19.
Xinhua also reported that China donated $20 million to the WHO to support the global fight against COVID-19 in March.
China's announcement comes as the Trump administration said it will pull funding from the WHO and blamed China for a delayed response to the virus.
4.4 million more people file for unemployment in coronavirus crisis
More than 4.4 million Americans filed for unemployment insurance last week, according to the Department of Labor.
This adds to the some 22 million people who have already lost their jobs and filed for unemployment since the COVID-19 crisis hit the U.S.
The pandemic has forced nonessential businesses across the country to shutter, hitting the restaurant and retail industries especially hard.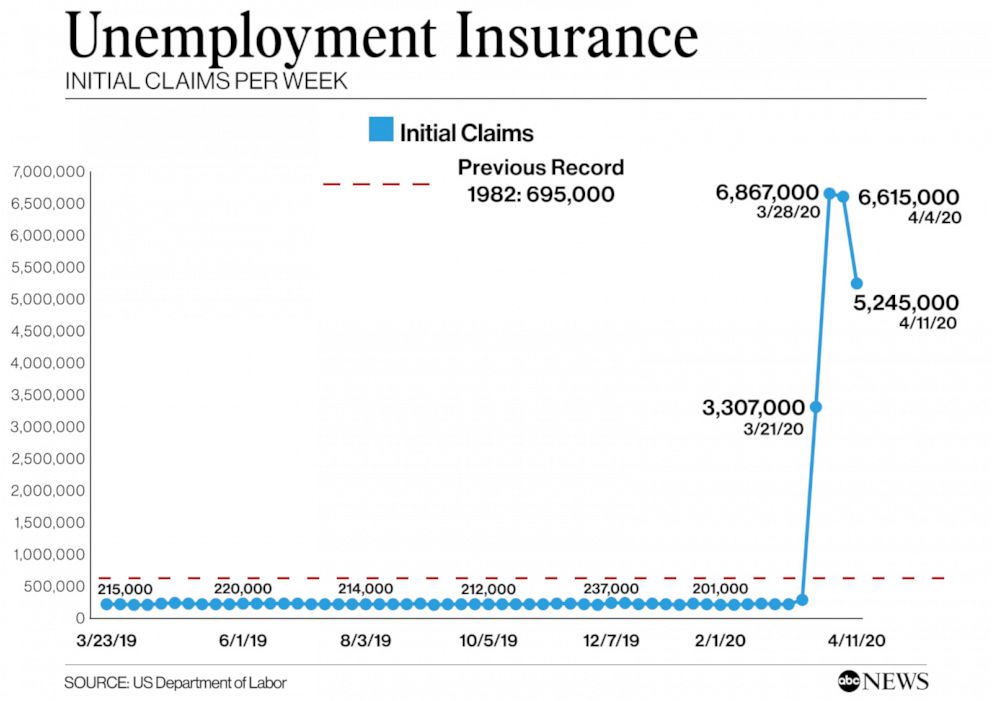 The seasonally adjusted unemployment rate was 11% for the week ending in April 11, the DOL said Thursday.
"For over a month now, new unemployment claims have served as the most important indicator of the economic destruction affecting the workforce caused by the coronavirus pandemic," Mark Hamrick, the senior economic analyst for Bankrate, said Thursday. "Americans' confidence related to health and financial stability have been dealt unprecedented blows by the outbreak. That damage will not be restored any time soon."
"The Federal Reserve and elected officials have responded with remarkable speed to the crises, but those responses are imperfect as we've seen, for example, with implementation of the Payroll Protection Plan," he added.
As millions apply for unemployment insurance, many processing offices have been inundated with claims. People across the country have reported weeks-long lags or not being able to receive benefits at all.
Less than 12% of Florida residents who filed for unemployment have received money, for example.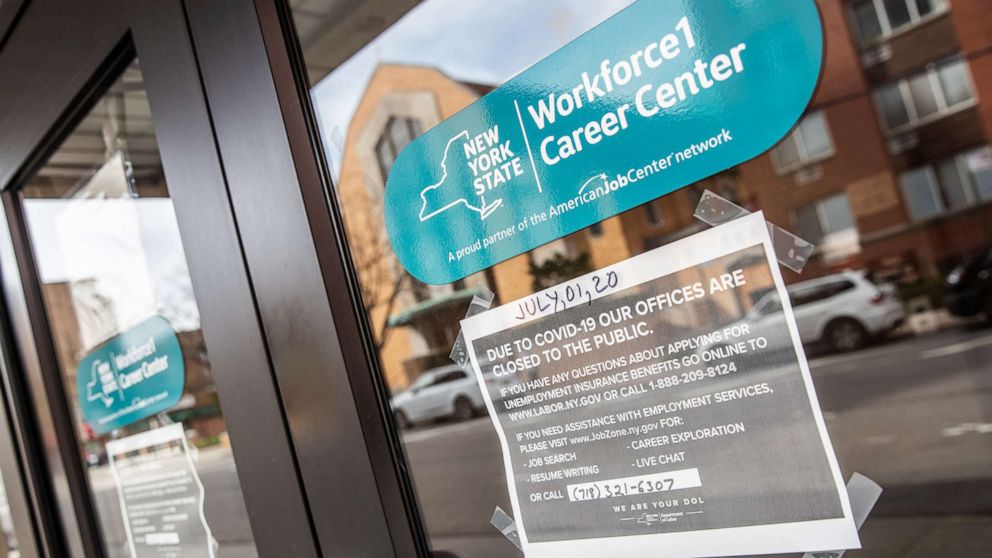 The DOL also released initial data by states on Thursday, saying that in the week ending April 4 the highest insured unemployment rates were in Michigan (17.4%), Rhode Island (15%) and Nevada (13.7%).
Meanwhile, the largest increases in initial claims last week were in Colorado, New York and Missouri.
Prior to the pandemic, the unemployment rate in the U.S. was at a historic low of 3.6%.
ABC News' Christine Theodorou, Amanda Maile, Mina Kaji and Ben Siegel contributed to this report.