The U.S. economy added a higher-than-expected 225,000 jobs in January, according to the latest report from the Bureau of Labor Statistics released Friday.
The unemployment rate rose by a fraction of a percentage point to 3.6%, above the former 50-year low of 3.5%.
"The inaugural report for the 2020s shows the U.S. economy came out swinging in January, with solid jobs gains across a variety of sectors," Daniel Zhao, the senior economist at jobs site Glassdoor, said in an analysis.
"Taken together, the first report of 2020 is a healthy one -- showing that a possible redux of the roaring twenties updated for the 21st Century isn't off the table yet," he added.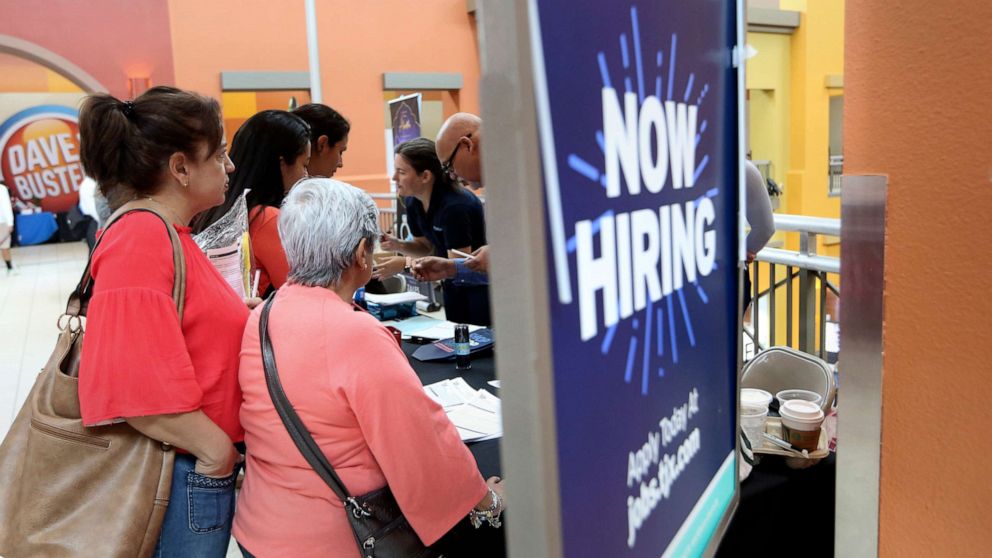 Notable job gains for January occurred in the fields of construction (which added 44,000 jobs), health care (which saw an increase of 36,000 jobs), transportation and warehousing (which saw an uptick in 28,000 jobs), according to the government data.
Meanwhile, manufacturing lost 12,000 jobs in January and motor vehicles and parts jobs lost 11,000.
The average hourly earnings rose by 7 cents to $28.44 last month, a 3.1% increase from this time last year.
Charlie Ripley, the senior investment strategist for Allianz Investment Management, said the data indicates that "momentum in the labor market remains."
"Wage increases were stronger than December's data with a 0.2% monthly gain and we suspect this will be a continuing theme throughout the year as employers attempt to attract workers within tight labor market conditions," Ripley noted. "Overall, the January employment report provided a clear indication we haven't reached the end of the current economic cycle.
The government agency also released its annual revisions to past data, correcting the employment level for March 2019 downward by 514,000 jobs. It also adjusted its total 2019 data, saying employers added 2,108,000 to 2,096,000 -- a downward revision of 12,000 jobs.
The 514,000 downward revision is the the largest since 2009, according to Zhao.
Elise Gould, a senior economist at the Economic Policy Institute, tweeted that the revision of 514,000 jobs "represents a meaningful slowdown from initially released data," noting that average monthly job growth was now "weaker than 2018's average growth rate."