As the country's largest automaker works to emerge from its newly-declared bankruptcy, it will aim to make money for the U.S. taxpayer, General Motors CEO Fritz Henderson told ABC News today.
Under an agreement reached with the Obama administration, the government will invest $30 billion to support the restructuring of GM, which filed for bankruptcy this morning. The move will give American taxpayers more than a 60 percent stake in the company.
"I want them to get a fantastic return on this investment," Henderson said in an interview this afternoon. "It's our job to deliver that."
Watch "World News" TONIGHT at 6:30 p.m. ET for more on GM.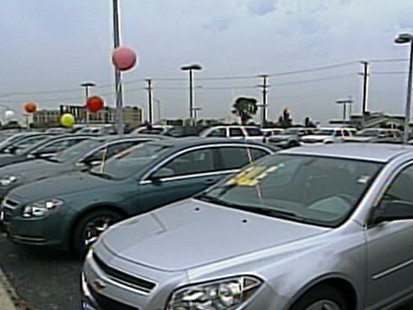 Henderson spoke just hours after GM, with the backing of the Obama administration and key stakeholders, filed for Chapter 11 bankruptcy protection.
The General Motors that will emerge after bankruptcy restructuring will be a leaner, more competitive company that will benefit from a $30 billion government investment but will not be subject to much in the way of government decision-making, President Obama said today.
Obama said that the government's goal will be to "get GM on its feet" through a "hands-off" approach.
"We are acting as reluctant shareholders because that is the only way to make GM succeed," the president said.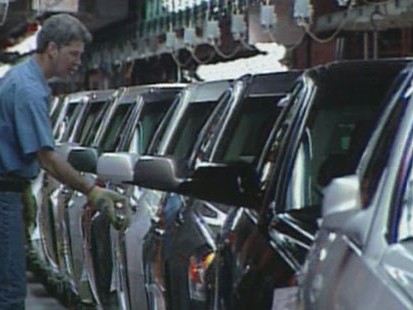 GM is now the second American car company, after
Chrysler
, to file for bankruptcy in just over a month.
Chrysler, which is entering into an alliance with Italian automaker Fiat, appears to be close to emerging from bankruptcy, less than five weeks after initially filing for bankruptcy protection.
Obama said that given GM's size and the complexity of the company, its bankruptcy proceedings would take longer than Chrysler's. But he suggested Chrysler's success was good news for GM nonetheless.
"Chrysler's extraordinary success reaffirms my confidence that GM will emerge from its bankruptcy quickly and as a stronger and more competitive company," he said.
Obama said a restructuring plan devised by the president's auto task force, GM and its stakeholders is "a viable, achievable plan that will give this iconic American company a chance to rise again."
Under the plan, a larger share of GM cars, including fuel-efficient cars, would be built in the United States instead of overseas, the president said.
"In fact, if all goes according to plan, the share of GM cars sold in the United States that are made here will actually grow for the first time in three decades," he said.
Obama: GM Employees Sacrifice for 'Next Generation'
But the president acknowledged the "painful toll" that the restructuring would take on GM workers and others who rely on the company. The company today announced that it would be cutting more jobs and named more than a dozen plants and parts distribution centers that are slated for closure. Thousands of dealerships are also expected to close.
Obama said that those who suffer are "making a sacrifice for the next generation" to ensure that "your children and all of our children can grow up in an America that still makes things, that still builds cars, that still strives for a better future."
Henderson also acknowledged the pain felt by GM employees as well as retirees, bondholders and others.
"The amount of sacrifice being born is immense and it's a terrible thing," he told ABC News. "I think it's our job to make sure that that sacrifice is worthwhile and that we do this once and that we do succeed."
Fritz said the company now has a chance to reinvent itself.
"We let people down," he said. "On the other hand, this gives us a chance to make it worthwhile and pay back."
Despite word of more job cuts and other concessions by GM's labor force, Mike Green, a third-generation GM auto worker and the president of UAW local 652 in Lansing, Mich., said he was reassured by the president's remarks.
He said he was pleased to hear that a larger share of GM cars would soon be made in the U.S. That, in combination with a recovery of the U.S. economy, he hopes, could help the company eventually bring back some laid-off workers.
"Hopefully we'll learn by our mistakes," he said. "We have a lot of good, quality products. We just have to do a better job of selling ourselves like other car companies do."
Billions in Federal Assistance for GM
The Obama administration has agreed to provide GM an additional $30.1 billion in federal assistance to support the company's restructuring. The administration announced the funding on Sunday night, on the eve of a 60-day period that the Obama administration gave GM to come up with a successful viability plan.
The administration said yesterday that it had accepted GM's viability plan, which includes entering into Chapter 11 bankruptcy protection. GM is expected to emerge as a new company in 60 to 90 days.
According to its bankruptcy filing, the automaker currently has $172.8 billion in debts and nearly $82.3 billion in assets.
"The U.S. Treasury does not believe or anticipate that any additional assistance to GM will be required," a senior administration official said. "We intend for this to be a permanent resolution of the GM situation and an ability for the company to go forward and be profitable."
GM revealed more details today about its plans to become profitable. Much of the company's plans entail transforming GM into a considerably leaner organization: The automaker, which has already announced more than 20,000 in layoffs for hourly employees, will further slash its North American payrolls by cutting its salaried workforce from 35,100 to roughly 27,200 and will reduce benefits for both salaried and non-union hourly retirees. GM also named 14 plants and three parts distribution centers that will close or be idled by 2014, including seven plants in Michigan.
Smaller GM, Smaller Cars
The job cuts and factory closures are part of GM's efforts to shrink operations to meet a car sales environment in which just 10 million cars are sold annually in the United States, down from a 15 to 17 million in early years.
The company will also discontinue four brands -- Saturn, Saab, Hummer and Pontiac -- and close approximately 2,600 dealerships.
But not all operations at GM are shrinking: The company also announced today that a "re-tooled" assembly plant staffed by UAW workers will produce a new, small GM car. The company said it has not yet decided which plant that will be.
"The economic crisis has caused enormous disruption in the auto industry, but with it has come the opportunity for us to reinvent our business," Henderson said. "We are going to do it once and do it right."
Playing a key role in GM's reorganization will be Albert Koch, who has been named the company's chief restructuring officer. Koch, a managing director at the turnaround firm AlixPartners, helped steer Kmart through its Chapter 11 restructuring in 2002.
Government Gets Majority GM Stake
Under GM's restructuring plan, the U.S. government will receive $8.8 billion in debt and preferred stock in the new company and nearly 60 percent equity in return for its $30 billion in funding.
In addition, the government will have the right to appoint initial directors to GM's board except for two members, one to be appointed by the Canadian government and the other selected by the trustees of the United Auto Workers union retiree health care fund.
The governments of Canada and Ontario will provide $9.5 billion to GM and will receive $1.7 billion in debt and preferred stock and 12 percent equity in the company.
The independent trust established for GM retiree health care benefits will receive $2.5 billion paid in three installments ending in 2017 as well as $6.5 billion in 9 percent preferred stock.
The trust -- referred to as the VEBA -- will also receive 17.5 percent equity in the new GM and the right to purchase an additional 2.5 percent stock.
Changes to GM's Labor Contracts
The UAW has agreed to significant changes to its existing labor contract and union retirees will see their health care cut.
Finally, bond holders representing nearly 54 percent of GM's $27 billion unsecured debt have agreed to swap out the debt for 10 percent equity in the new GM as well as the right to purchase an additional 15 percent equity in the new company.
"UAW members have once again stepped up to make necessary and painful sacrifices to preserve U.S. manufacturing jobs," UAW president Ron Gettelfinger said in a statement Friday. "This settlement agreement will give GM a chance to survive the worldwide collapse of industry sales and return as a viable company once the economy recovers and consumers begin purchasing vehicles again."
Speedy Bankruptcy Seen as Critical to GM's Survival
While the government will now be the majority shareholder in the new GM, senior administration officials stressed that the government will not interfere in the day-to-day operations of the new company.
As a shareholder, however, the administration said it would only vote on core government issues including selecting the board of directors and other major corporate issues in order to protect taxpayer dollars. No government employee will be allowed to serve on the board or work for the company.
"The equity ownership of the U.S. government is not something we sought or desired," a senior administration official said. "It was simply a necessary outcome of the restructuring process out of the desire to have GM with a substantially deleveraged balance sheet and able to be competitive."
"There are a number of principles that are going to govern our behavior as a shareholder in this company and others -- one of which is no involvement in day-to-day business matters and that will be a continuing principle for us," another official added, noting that "we certainly intend to maximize taxpayer proceeds ... but we also intend to exit as soon as possible."