Swedish company Ikea is famous for its do-it-yourself home furnishings and its Swedish meatballs. And now an ad agency has created a viral Internet sensation poking fun at its unpronounceable product names, quizzing visitors on whether a word is the name of furniture or a death metal band.
The website IkeaOrDeath.com launched this week by Pittsburgh ad agency Gatesman+Dave, Inc. Visitors are shown words like "VITTSJÖ" and asked, "Is it IKEA furniture or a death metal band? Choose one." (Spoiler alert: Vittsjö is the name for an IKEA shelving unit system.)
The site has about 2 million hits so far and averages about 15,000 visitors at once, the company says.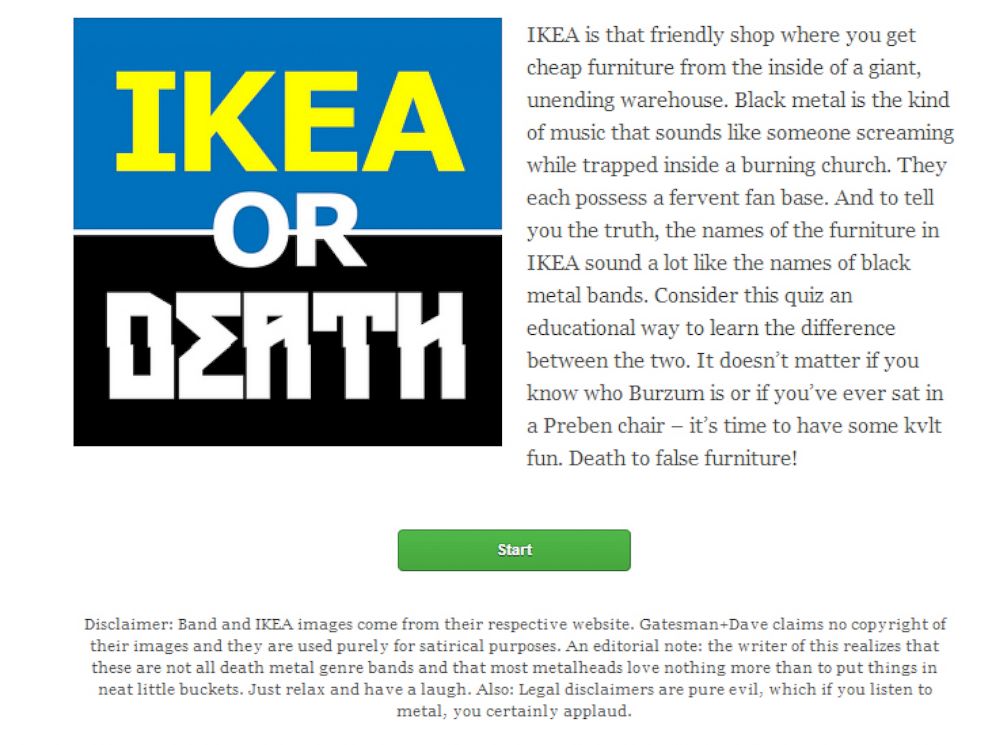 While the site is a great way to give the 42-person firm exposure for business, that wasn't the initial intent, explains Mike Wellman, senior multimedia programmer.
"We liked just the idea and shareability behind it and it's a fun way for people to engage," Wellman explained.
Jeff Barton, associate creative director, said it all started with a simple trip to Ikea last Friday to buy furniture for the company's war room, where brainstorming takes place. Barton explains that he brought along his colleague, Sam Panico, senior copywriter, who had never been to Ikea before.
"I was giving him the experience, but he is the metal head and got the idea," Barton said.
Many names of Ikea products don't really use the equivalent Swedish words for the furniture, TheWeek.com reported last month. For example, "strapats" describes one of Ikea's garbage cans, but the word is translated into "hardship."
Read More: Ikea to Sell Solar Panels to Heat Those Meatballs
Panico explains that heavy metal music and Ikea come from the same region of the world but have strong contrasts.
"Ikea is bright and everybody is smiling," Panico said. "Metal is dark and mean."
Panico adds that he enjoyed trying to sing the Ikea furniture names in a deep, screechy heavy metal style.
"The thing that everyone else misses from the site is me chasing Jeff around the store and saying furniture names in metal voice," Panico said. "Something that made us laugh on Friday has reached millions."
People from about 30 countries have visited the website, with help after it was posted on the social media site Reddit.
The company hopes the popularity of the site will encourage clients to allow the firm to create highly engaged campaigns for them.
Barton said the team is now trying to think of what it can do next, whether Ikea or Death 2.0 or another idea.
"I see advertising as a conversation. It inspires us to do more great work," said Panico, adding that he would "definitely" like the team to be hired by Ikea.
What does Ikea think of the site?
Mona Liss, a spokeswoman for Ikea, didn't respond to whether the company would hire Gatesman+Dave.
"IKEA has no involvement in the quiz created by Gatesman and Dave," she said in a statement. "The names of IKEA products are derived from Swedish words to reflect our heritage."