Apple exec Angela Ahrendts recalls telling Tim Cook, 'I'm not a techie,' in first meeting
Apple's SVP of Retail Angela Ahrendts discusses meeting Tim Cook.
— -- When Apple Senior Vice President of Retail Angela Ahrendts first met Tim Cook she wanted to make it clear she wasn't coming from a technology background.
"He was kind of talking to me about what the role was, and I said, 'I just want to be really honest with you, I'm not a techie.'"
Ahrendts came to Apple from her role as CEO of the global fashion house Burberry. On an episode of ABC Radio's "No Limits with Rebecca Jarvis," Ahrendts opened up about the power of taking on unexpected opportunities.
"It's incredible when things fall into place," Ahrendts said. "I think there's just lessons all along the way that you learn, and they make you stronger and better. And you have no idea that it was part of preparing you for what was next."
Long before Apple came calling, Ahrendts had her eye on the fashion industry. She began college with the hopes of one day becoming a fashion designer until a professor advised her otherwise.
"I had a professor my first year in say that I actually wasn't very talented from a design standpoint, but I had a pretty strong opinion, so she called me a merchant," Ahrendts said. "So that's how I kind of ended up in merchandising and marketing."
Ahrendts moved to New York the day after graduation and promptly began to learn the ropes at a menswear company. At 27, she became vice president of Donna Karan International, then became the executive vice president of Liz Claiborne Inc. In 2006, she became the CEO of Burberry and moved to London.
"You have to start somewhere. You know, I don't care if you're a great chef or a great musician, you don't fill a stadium overnight. You have to work your way up," she said.
Ahrendts added, "The more you work, you know I believe in the power of intention, I believe in dreaming and putting it out there, and then working so hard towards it."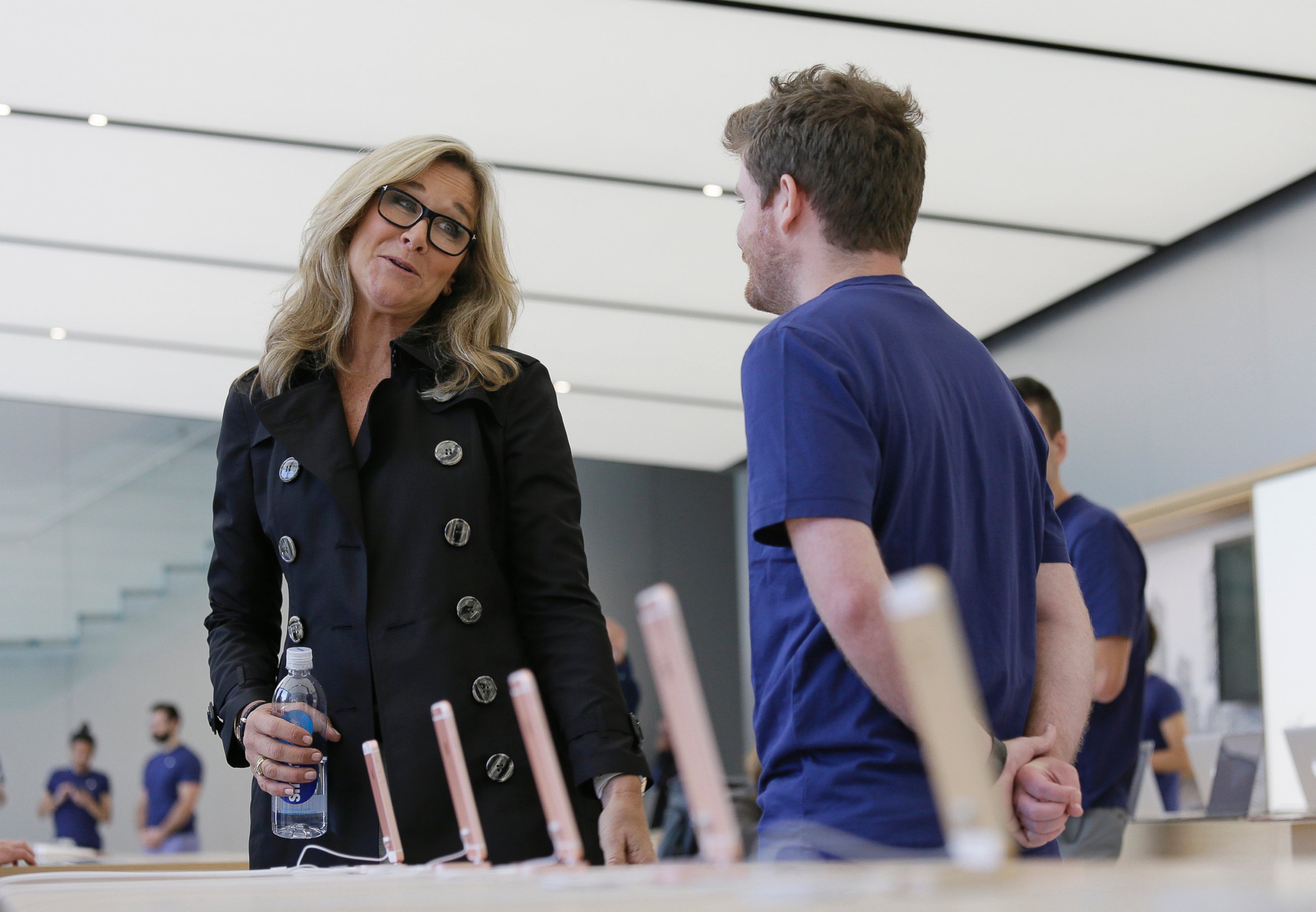 When Apple came calling, Ahrendts had several years in the fashion industry under her belt. But technology, not so much. What drew her to the tech giant was the opportunity to step into a new industry, but also Apple's strong emphasis on company values.
She recalled reading about Steve Jobs' early approach to opening the first retail stores saying, "When he was hiring teams for the very first retail store 16 years ago, he told them their job was to enrich lives and that has so stuck in retail all these years.
"It's business, but it's also business for purpose," she adds.
Hear more of Angela Ahrendts' interview on this week's episode of "No Limits With Rebecca Jarvis," available on Apple Podcasts, Stitcher, Google Play Music, Spotify, TuneIn and the ABC News app.