How bamboo and denim are becoming the 'new luxury' in automobiles
Rolls-Royce is experimenting with new materials in its vehicles.
Step inside the new electric Rolls-Royce Spectre and look closely at the vibrant black wood veneer.
The veneer, "obsidian ayous," was created by Rolls-Royce designers, not Mother Nature. The team took scraps of wood that would normally be discarded on the production floor and carefully stacked and colored them, inventing a new material that's eco-friendly and modern.
"It's a man-made wood that's more sustainable," Anders Warming, design director at Rolls-Royce, told ABC News. "We're trying to be mindful of the way we source materials. I am looking for things that aesthetically inspire but at the same time also do the right thing."
Spectre's aluminum wheels are also made of recycled metals. Mihiar Ayoubi, director of engineering at Rolls-Royce, said adding sustainable materials and fabrics into the marque's conveyances has become a collective company effort, noting that many customers are asking for greener vehicles.
"Sustainability is one of the targets we're trying to fulfill," he said. "We're experimenting a lot but these recycled materials have to fulfill all safety issues and 100% meet Rolls-Royce quality."
The rear seats in the Rolls-Royce Phantom Platino, which debuted last year, are made from fabric, not leather. The upholstered material contains bamboo fibers and silk, "making it wholly sustainable," said Warming.
"The experience is elevated luxury," Warming said. "Sustainability is the right thing."
Volvo's new electric vehicle, the EX30, has the highest recycled content of any Volvo to date. Nearly a quarter of the aluminum and 17% of the steel in the small SUV is recycled. About 17% of the plastic in the EX30 -- from the interior components to exterior bumpers -- also comes from recyclables.
Shredded denim fibers from recycled jeans, a common waste product, were twisted into a yarn and linked together, producing a stylish denim interior in the EX30. A flax and wool blend that contains recycled polyester was developed for the doors, dashboard and seats.
"A lot of the efforts we're making in this car will be carried over to other cars," Anders Kärrberg, Volvo's global head of sustainability, told ABC News. "We're now seeing a trend where consumers are asking, 'How do you source the material?' 'How do you put this together?'"
Kärrberg said Volvo's designers even worked with pine resin from forests in Sweden and Finland to produce the SUV's sustainable interiors. The goal: 95% of the EX30 can be recovered at the end of its life.
"We took a holistic approach in the development of the car, with ethical and responsible sourcing," Kärrberg said. "Climate is a huge thing in society today and governments are acting on it. It's a crisis we're entering."
Erik Gordon, a business professor at the University of Michigan, said harnessing sustainable materials has only recently become a priority for automakers.
"The industry has been about speed, cost, styling and comfort. Now comes the environment. It's the newest thing," he told ABC News. "I wonder if the focus is on interiors because it's easier for carmakers to stop using plastics versus the more expensive option: to build more efficient engines."
He added, "These efforts will make a difference to a small number of buyers. If [automakers] really want to help the environment, look at all levels of production."
Gernot Wagner, a Columbia Business School professor, argued that reducing the amount of steel in a vehicle would be even more substantial for the planet.
"Lowering a car's environmental footprint is important and less plastic in the car's interior is surely part of the equation," he told ABC News. "But I'm much more worried about the 1 or even 2 tons of steel used to produce the exterior, and especially the 4 or 5 tons of carbon dioxide the average car emits year after year. That's somewhere between 40, 50, or even 70 or more tons of CO2 over a typical car's lifespan."
Kärrberg said Volvo executives are searching for the right steel, battery and aluminum suppliers that meet the company's sustainable goals.
"Sustainability is ... also looking at the suppliers who are trying to deliver the materials. We're trying to minimize the footprint there too," Ayoubi said. "Suppliers all around the world are researching new approaches to recycled materials."
Frank Zambrelli, an ESG and sustainability expert and managing director at Accenture, noted that textile companies are looking at fruit, cactus and even mushrooms to replace leather and plastic. He argued that the chemicals in synthetic leather -- also referred to as "vegan leather" -- are actually worse for the environment and have serious health risks.
"A lot of 'vegan' materials are awful. They're carcinogenic for workers," he told ABC News. "The polymers are terrible for the environment and will be with us for eons."
Innovative materials like cactus leather will transform the textile industry and "meet changing consumer profiles and tastes," Zambrelli said. "Consumers are looking at companies' commitment to environmental practices."
Miles Nurnberger, design director at Aston Martin, said the high-quality leather found in the marque's grand tourers and SUVs is more friendly to the environment than alternatives on the market. Aston's longtime supplier Bridge and Weir, an independent automotive leather manufacturer in Scotland, says more than 98% of its rawhides are sourced locally from "responsible suppliers with 100% traceability, as certified by Leather Working Group." Moreover, there is zero risk of deforestation.
"Leather is a sustainable material in many respects," Nurnberger told ABC News. "There are all these non-leathers but when you look at the processes and the chemicals being used, and the amount of water being used and compare that to where modern leather production is, you discover modern leather production is sustainable. It's not just using recycled materials. It's the recyclability of the material."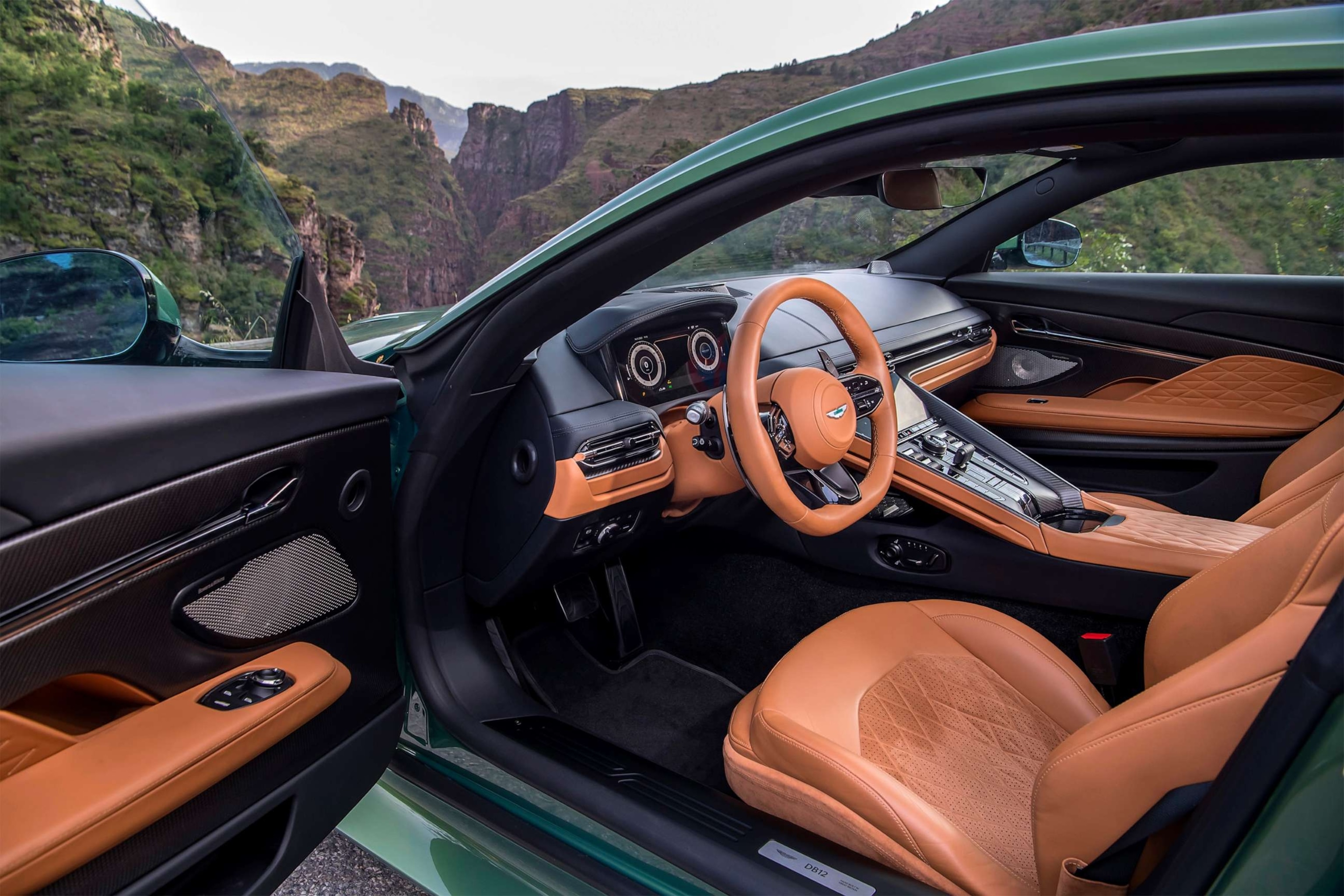 Rolls-Royce and Volvo have both pledged to become fully electric automakers by 2030. In addition to going electric, Ayoubi said Rolls-Royce has upgraded its facility in Goodwood, England, to showcase the environment. The plant coverage from the facility's "living roof" -- the largest in the U.K. -- improves installation and reduces rainwater runoff. The facility's exterior is also made from a mix of sustainable limestone and cedar wood.
"Even though sustainability is not a core value why you buy a Rolls-Royce, it's a kind of responsibility," Ayoubi said.
Kärrberg pointed out that these eco-friendly interiors are just one piece of Volvo's sustainability efforts, which the company has been devoting resources to for years. But the consumer and regulatory pressure has added a sense of urgency.
"We want to be ahead of regulations," said Kärrberg. "It's a good thing to be early and proactive when it comes to regulations. If you're late, it's too costly."