Surprise.
Last fall I came home dog-tired. Those of you who think advertising is all fun have it all wrong. Anyway, I changed into my sweats, plopped down on the couch with my favorite beverage (you're wrong again, it's diet root beer) and turned on the TV. There, in high-definition glory was Jay Leno starting his monologue.
Panicked, I looked at the clock. Wait a minute. It was just 10 p.m., but there he was anyway, before the news. I wasn't even in bed yet. This was weird … out of order … wrong! It might have been a little disconcerting to me but this heresy set in motion one of the more significant developments in late night for some time and ushers in changes that will affect viewership and advertising dollars across a number of networks.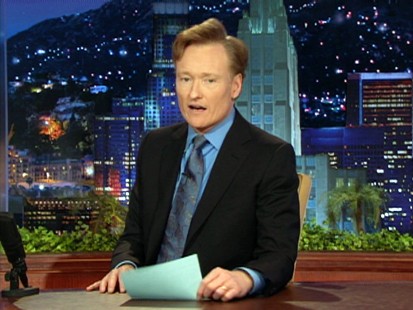 A Short History
It started out back in 2004 as a seemingly logical decision. NBC wanted to plan a peaceful transition between
Conan O'Brien
and Leno by announcing five years early that Leno would retire and O'Brien would seamlessly slip into the chair at the "Tonight Show."
Fast forward five years (they do move quickly, believe me) and Leno wasn't quite ready. Now the decision making gets a little "quigley" (don't bother trying to look it up, my 5-year-old niece invented the word -- it means the situation got a little uncomfortable) and NBC decides to move Leno into a prime-time talk show slot (10 p.m.) as O'Brien takes his seat at the "Tonight Show."
At this point they calculate they'll be fine. Leno is cheaper than scripted TV. They only need to pull a 1.5 (about 1.7 million viewers) to break even. Leno was pulling about 5.7 million viewers as host of the "Tonight Show," leading late night for 11 straight years.
What Happened
First, advertisers balked at paying prime-time prices for a late night show. Turns out they were right. Leno's prime-time show averages a 1.4 share or less. Secondly, affiliates complained the show is a poor lead-in to the local news, causing many of them to drop in the ratings.
Meanwhile, O'Brien was losing ground like the New York Giants lost field position this season (it hurt -- I've got to tell you). O'Brien lost a significant lead and was caught and passed in the ratings by David Letterman's "Late Show" by the late fall of 2009.
Conan vs. NBC: Now That's Entertainment
Now It's a Mess
O'Brien is getting out of his contract and away from NBC. Leno's reportedly moving back to the 11:35 p.m. slot. Late night hosts everywhere are having a field day. And by the way, this could not come at a worse time for the network.
The late-night talk show universe is expanding. George Lopez, Mo'Nique and Wanda Sykes have all launched talk shows aimed at a younger, more diverse audience and in the more important 18-34-year-old segment of the 18-49 demographic used to measure success, compare and set ad rates they are making progress.
Lopez and Sykes have posted respectable numbers. Lopez has pulled as high as 1.7 among 18-49-year-olds. The battle is being fought with skits and jokes, but make no mistake -- it's a war. The skirmish that started between Leno and O'Brien could change late night forever.
What the Future May Hold:
Smaller shares as consumers have more choices and the ratings show more parity. Younger audiences moving away from network TV. O'Brien's audience is eight years younger than Letterman's (46.9 to 55.5) Jimmy Kimmel's audience on ABC averages 52.2 years of age.
O'Brien, whose contract may sideline him for a while, may be inadvertently sending audience to cable, which for now is younger and more diverse. Advertisers are watching. Cable is working hard to beef up scripted dramas and diversify its offerings. There is a lot riding on network late night shows fixing the situation fast and getting it right.
The Rest Of The Story
Leno felt a little flat to me at 10 p.m., but the late-night wars made me watch more late-night TV. I watched a little bit of everyone -- Kimmel, Jimmy Fallon, Craig Ferguson and even some Lopez and Sykes.
Some seemed to be trying too hard, some seemed a little inconsistent.
Some of it was just too silly for me.
Most of it was derivative and none of it seemed to flow as easily as Johnny Carson did. But perhaps my dad would have said that about Carson, comparing him to earlier hosts Jack Paar or Steve Allen (the only other "Tonight Show" hosts before O'Brien and Leno).
The fact remains that late night is shifting and so will viewer loyalties and ad dollars.
The work is the opinion of the columnist and does not reflect the opinion of ABC News.
Larry D. Woodard is president and CEO of Vigilante, a New York-based advertising agency that develops consumer-centric advertising campaigns. He is also chairman of the American Association of Advertising Agencies New York Council and the recipient of many prestigious industry awards, including two O'Toole Awards for Agency of the Year, the London International Award, Gold Effie, Telly, Mobius, Addy's and the Cannes Gold Lion. A blogger and a frequent public speaker, Woodard enjoys discussing the intersection of media, politics, entertainment and technology.