— -- At least one female attorney is saying "I object" to two stylists in California who wrote an article critiquing what they described as the dreary fashion sense of women in the legal profession.
Jill Sperber and Susana Perczek, personal stylists in the San Francisco Bay Area, wrote a feature article in the June issue of "The Marin Lawyer," the newsletter of The Marin County Bar Association.
Titled, "Beyond Black: Revising the Lawyer Dress Code for Women," the two women behind the business Style Rescue wrote, "We heard that female lawyers in Marin are not winning their cases in the Style Department." The pair described in the article that they observed 20 female attorneys in the Marin County Superior Court on two mornings and found "only one was a style 'go.'"
The women wrote that their "one shining example jazzed up her basics (albeit all black) with visual interest (sparkly necklace, jeweled flats)," while the others "wore mostly nondescript black pants (we counted a few skirts) with button downs or blouses in white or muted tones. Some didn't bother with jackets. Few wore accessories."
In the issue, released on June 11, they offered several style tips to female attorneys, emphasizing that "personal image counts." The article was submitted by Sperber, who also happens to be a lawyer and former member of the local 641-member bar association, according to the organization.
"So, why should dress even matter in 2015? After all, women want to shine, not from bling, but for our competence and intelligence. We also want to be comfortable," the stylists wrote. "Dress is a visual shorthand for our confidence, credibility, relevance, and time management skills."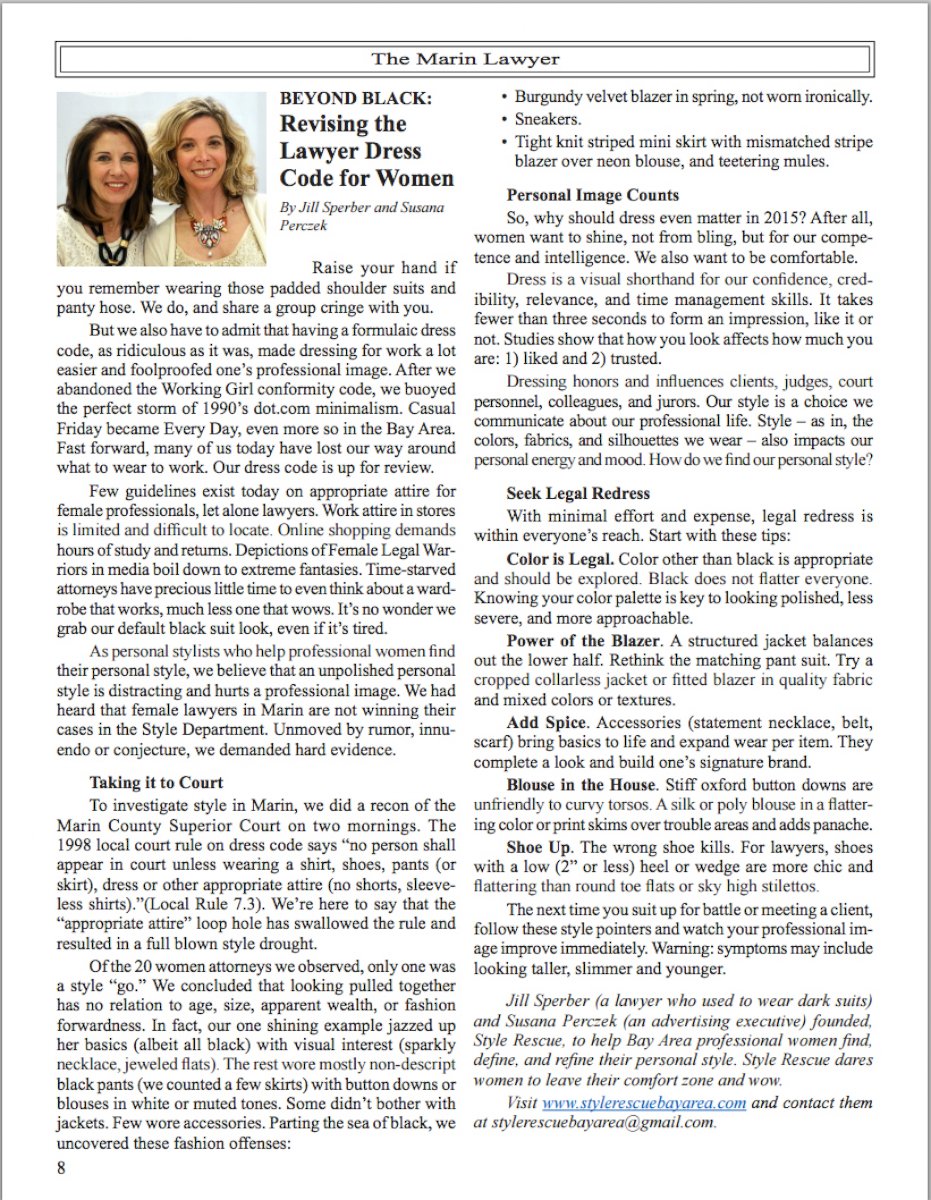 Yvette Martinez, a Marin County prosecutor, wrote a letter to the newsletter's editors and called it "blatantly sexist," for encouraging only women, not men, to pay more attention to their appearance.
"Consider for a brief moment an article written by men suggesting that male attorneys 'jazz up' their attire to 'watch (their) professional image improve immediately.' Come on, Men, switch up those navy and grey suits and try a spring color palette!" Martinez wrote, according to The San Jose Mercury News.
"That would be rather funny, but it would not be published," Martinez added. "Consider the same Dress Code for Women article written by a man. He would be ridiculed and publicly shamed. It would not happen, and again, it would not be published. But simply because this article was authored by two women, the same sexist message is somehow allowed."
"Our premise is that people in court do judge lawyers," Perczek said in a statement. "They do notice how we look. As such, our physical presentation is an essential, necessary ingredient for completing our professional image. We reported our observations of the courthouse, primarily out of a sense of dismay, not gender bashing: women lawyers we saw were either dressed way too casually and/or inappropriately, or wore cookie cutter black that did not invariably flatter the wearer."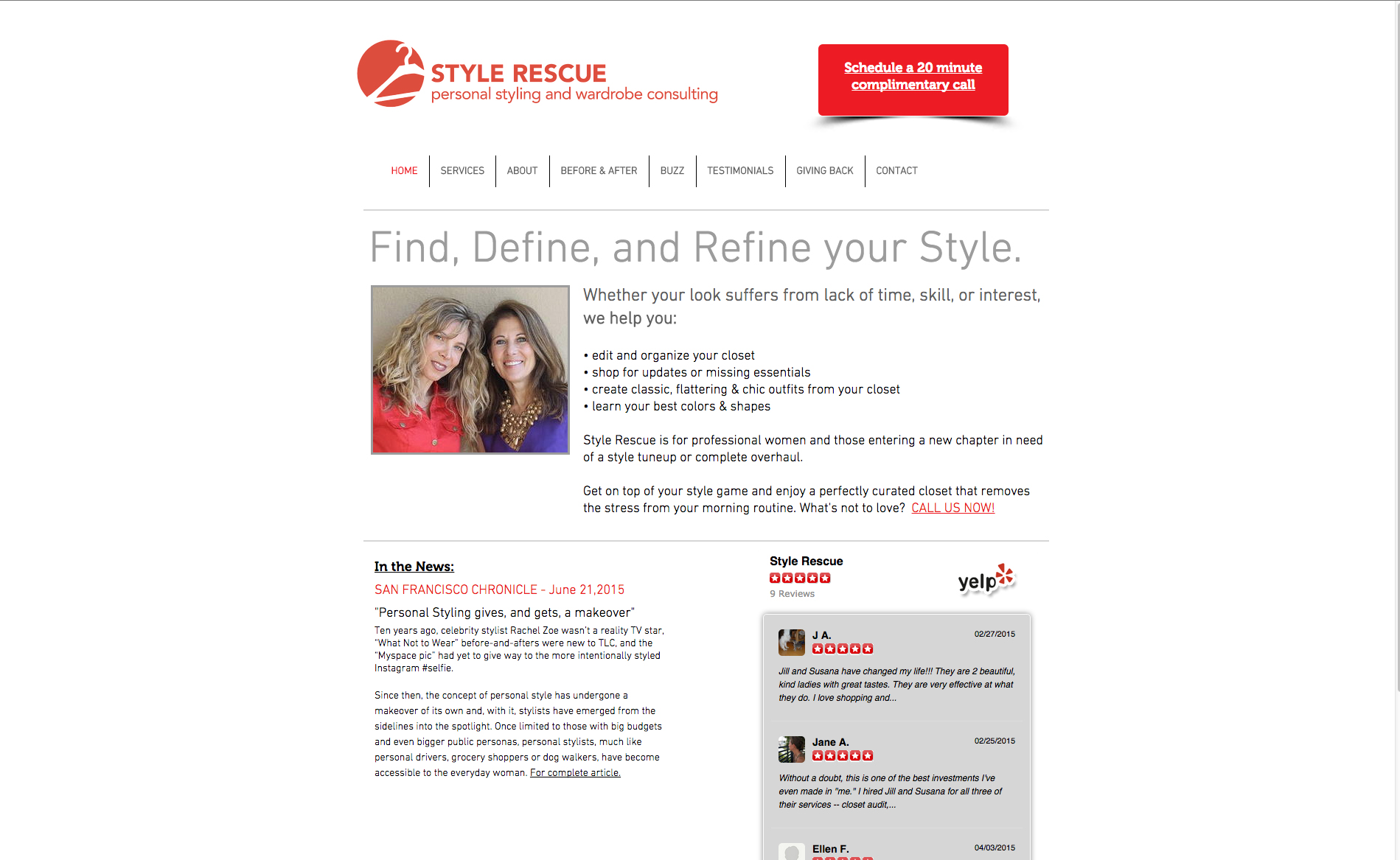 Mee Mee Wong, executive director of the Marin County Bar Association, said that Martinez's letter was the only formal complaint the association has received, though one of its board members also made a similar comment.
"MCBA never intended to publish anything to offend anyone," Wong said, adding that Martinez's letter will be published in its entirety in about a week in July's issue of "The Marin Lawyer."
Of the articles in last month's issue, Wong said this fashion article has received the biggest response, even more than an article about the controversial issue of assisted suicide.