Lamborghini's new Aventador S sets drivers back $421K, but cupholders still extra
Inside the Italian automaker's latest supercar.
— -- I've seen very few Lamborghinis in the wild. Spotting one is almost as rare as the total solar eclipse that will cross over the country in August — an occurrence Americans have been anticipating for nearly 100 years.
In northern New Jersey, where I live, Maseratis, Porsches and BMWs are as common as Honda Accords and Jeep Wranglers. Lamborghinis, however, are a special breed. In those extraordinary moments when one crosses your path, it's almost as if the world comes to a standstill. Exotic supercars are built to turn heads, but the Italian supercar's iconic countenance has always stretched that notion to the extreme. Laying eyes on one can be a titillating experience.
Take the Aventador S, which Italy's Lamborghini debuted earlier this year. For the uninitiated, it resembles a beetle (the insect, not the VW coupe) injected with steroids. It is wide, has an aggressive nose and boasts several vertical fins, which, I imagine, could help it escape a hungry great white shark. This model was designed to be more aerodynamic, more agile and more powerful.
I track-tested the Aventador S (starting price: $421,350) this month at the Pocono Raceway in Pennsylvania. Four Aventador S models awaited my arrival. I immediately sensed that these conveyances were eager to be unleashed. The 6.5-liter, 740 horsepower, V-12 engine propels the driver from zero to 62 mph in 2.9 seconds. Quite a remarkable feat, yet one that the original 2011 Aventador accomplished as well. Why had the engineers not boosted the acceleration?
When I posed that question to Alessandro Farmeschi, the chief operating officer of Automobili Lamborghini America, he smiled. In the real world, drivers seldom accelerate that quickly, he explained. And drivers invariably don't reach the top speed of 217 mph either.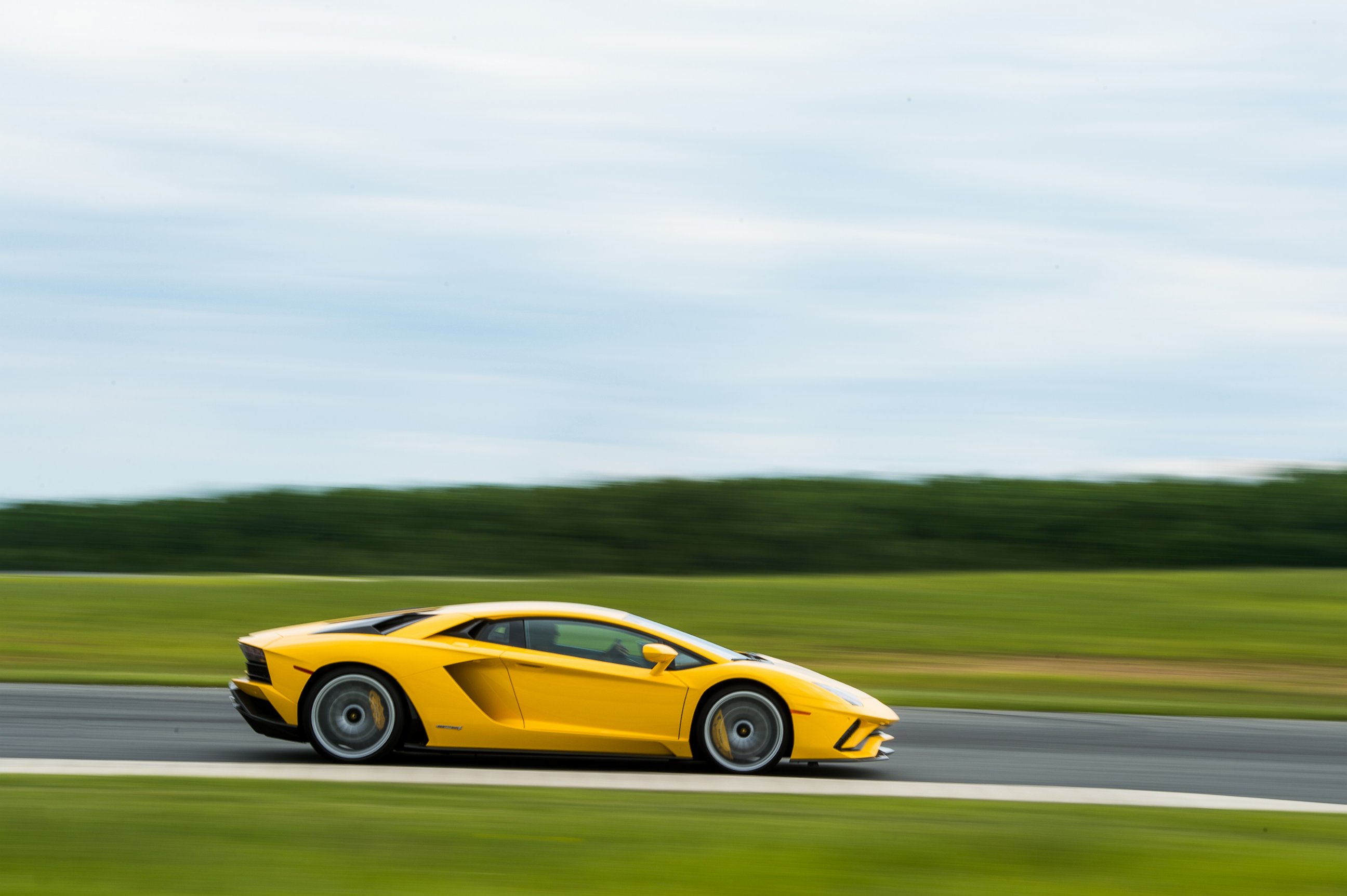 That's the one downside of owning such a rarefied — and painfully expensive — supercar like a Lamborghini: Its true potential cannot be realized. It's a preternatural specimen of craftsmanship and technology, and few drivers know how to handle that much power in a car. Sadly, the Aventador S would not make for a comfortable daily drive. Basic amenities that are commonplace in 99 percent of new vehicles (heated seats and cupholders, for example) cost extra; the low-slung seats require pants and practice; and visibility is crystal clear … when staring straight out the windshield, that is. With its 13 mpg for combined city and highway driving, Lamborghini estimates that drivers spend an estimated $3,250 on fuel a year. Pocket change for the 0.1 percent.
Michael Sexton, the Lamborghini sales manager at Manhattan Motorcars in New York City, told me that exiting a Lamborghini – whether an Aventador S or the more popular Huracan — "is like a golf swing. You create a memory."
Cupholders are superfluous because these "are not cars you sip coffee in and drive," he said in a matter-of-fact tone. But as a precaution, he orders cupholders in the models he sells at his Midtown Manhattan dealership.
Farmeschi assured me that the Aventador S could be driven every day.
"It's a car that expresses the highest performance on the racetrack … and you can enjoy it driving on the normal streets as well," he said. "If you drove it from New York City to Washington, D.C., you would feel quite relaxed when you got out."
I certainly hope so. To truly get an understanding of the car's handling and capabilities, I buckled myself into the passenger seat and let a pro Lamborghini driver take me for a spin. The Aventador S handled each curve and bend brilliantly and the new four-wheel steering system allowed it to maneuver easily and respond to the driver's movements more naturally. The sharp turns and unexpected shifting were second nature to the pro driver; after lap three my body was begging for the head bobbing to end. We pulled into the pit and I swung open the scissor door, making a mental note to call a chiropractor later. Race car drivers perform exercises to strengthen the muscles in their necks, I was informed. I'll have to remember that smart advice for next time.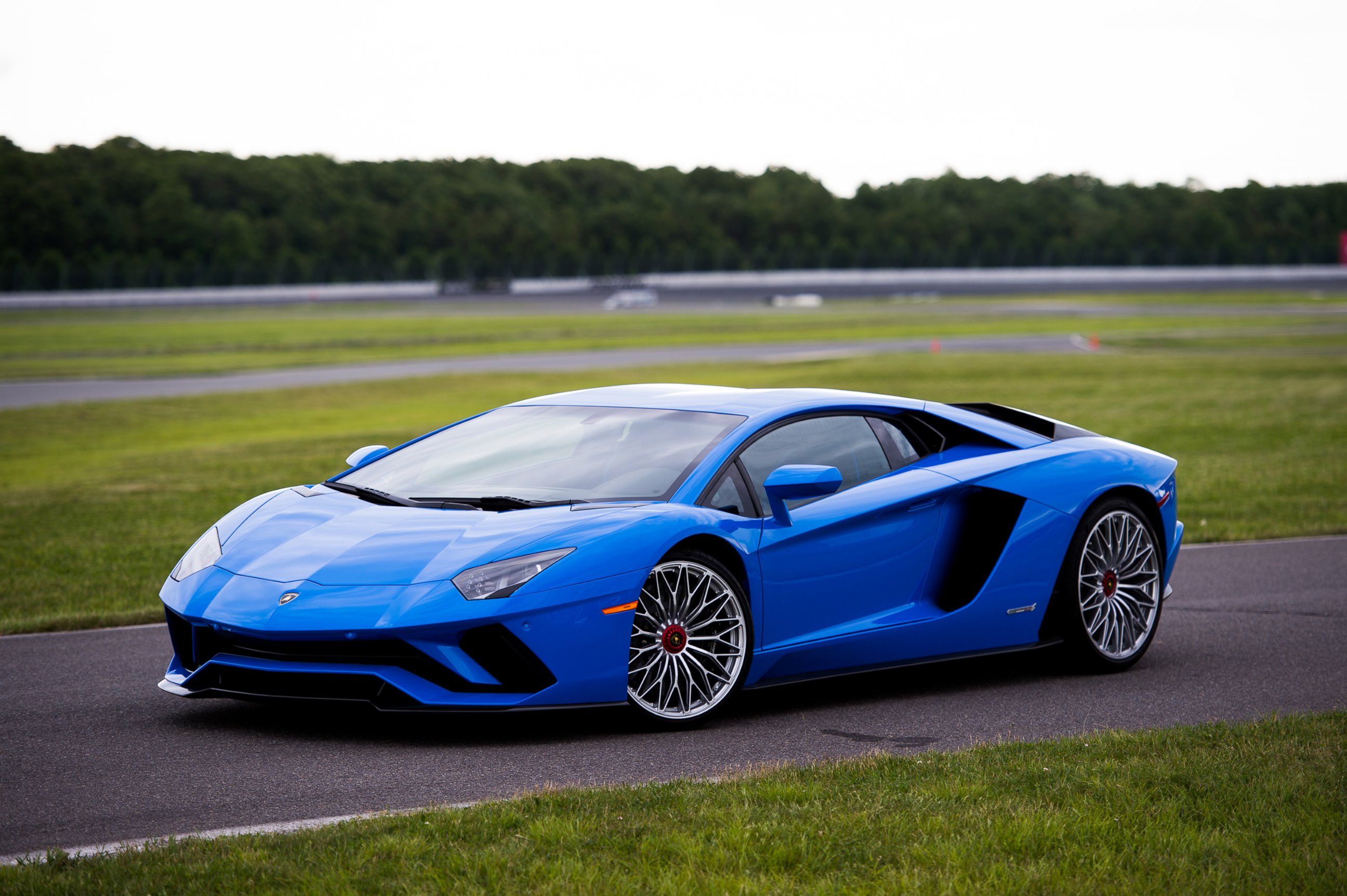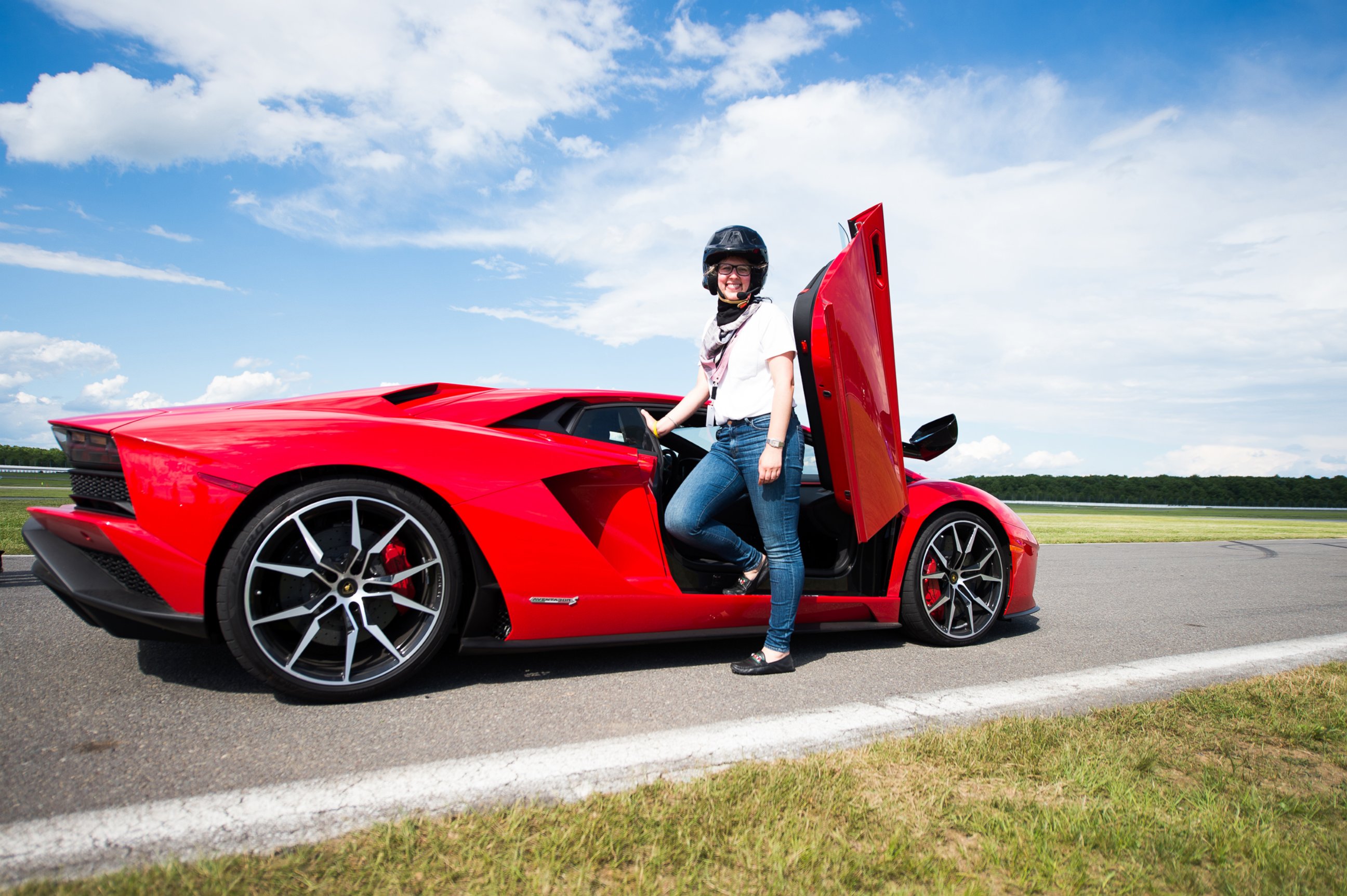 Lamborghinis have a surprisingly young customer base. Farmeschi told me the average buyer is 40 to 45 years old and the company has been making inroads with millennials, who are enticed by the car's "unmistakable design and sharp curves." Young people are just one segment the 53-year-old Lamborghini has been wooing; when the company launches its SUV later this year, it will be marketing itself to families. The company expects the gamble to pay off: It's doubling the number of employees and expanding its factory outside Bologna to accommodate anticipated demand.
Sexton said the Aventador S was a "night and day" experience from its predecessor the Aventador. This vehicle "feels lighter and more nimble" compared with the "beast" of the Aventador, he remarked. Four Aventador S models are being shipped from Italy to his dealership; all were presold.
Why would someone choose a Lamborghini over its main competitor, the inimitable Ferrari?
As Sexton put it, "Lamborghinis are easier to drive and not as finicky as a Ferrari. A first-time Ferrari buyer cannot go into a dealership and buy one. You have to be in a club. Lamborghini doesn't work that way. If it's available, you can have it."
Farmeschi said one of the biggest differences between the Italian rivals is Lamborghini's emphasis on customer satisfaction and accessibility. He attends functions all over the world, meeting and greeting Lambo buyers.
"We are a company that creates emotions," he remarked. "You cannot only be a product."
On that racetrack in Pennsylvania, I found myself dreaming of gunning the engine on a sleepy Tuscan road, surrounded only by olive trees and a warm Mediterranean breeze. I didn't need a cupholder in my reverie. My Aventador S was taking me to find the perfect cappuccino.