— -- Get ready, America: McDonald's new CEO is British and he's bringing his fast food turnaround experience from across the pond.
You're not likely to see McDonald's change French fries to "chips" stateside, but you may see a stronger emphasis on healthier, more fresh foods -- a direction in which McDonald's and other food brands are already heading.
Steve Easterbrook, an accountant by training, became chief executive of McDonald's U.K. in 2006, when the brand was struggling with the public's perception of unhealthy food and low-wage jobs. In the year that he was promoted as head of McDonald's in northern Europe in 2008, sales rose 10 percent at the 1,200 U.K. McDonald's.
The 48-year old now has the task of boosting McDonald's amid sagging sales in the U.S., as reported by its quarterly earnings announcement last Friday.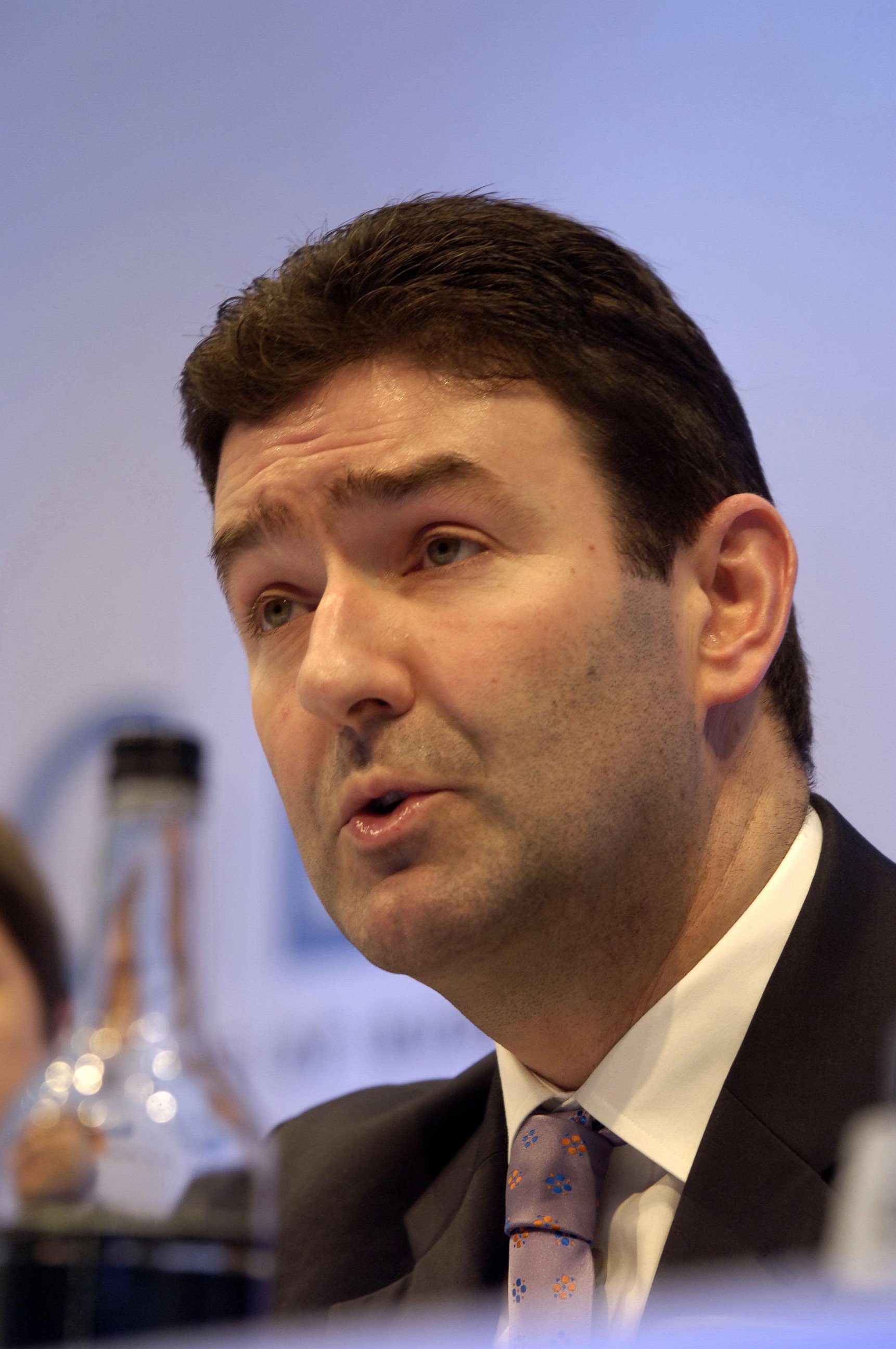 Here are some things that you can find at U.K. McDonald's that you may see more of in the U.S.:
1. Free Fruit Fridays
At McDonald's in the U.K., kids now get a free McDonald's "Apple and Grape Fruit Bag" when you buy a Happy Meal on the first Friday of every month. Since the program launched in March 2014, McDonald's says it gave away the equivalent of 173,000 whole pineapples, when that fruit was part of the giveaway.
By the end of this March, McDonald's says it will have given away the equivalent of 2.6 million apples and 17.6 million grapes, according to its U.K. website.
In the U.S., for the last few years, McDonald's has offered as Happy Meal side options apples, previously with caramel dipping sauce that can be found in some locations like Canada, and "Go-gurt" yogurt. Last month, McDonald's said it is offering "Cuties" California clementines until March in Happy Meals.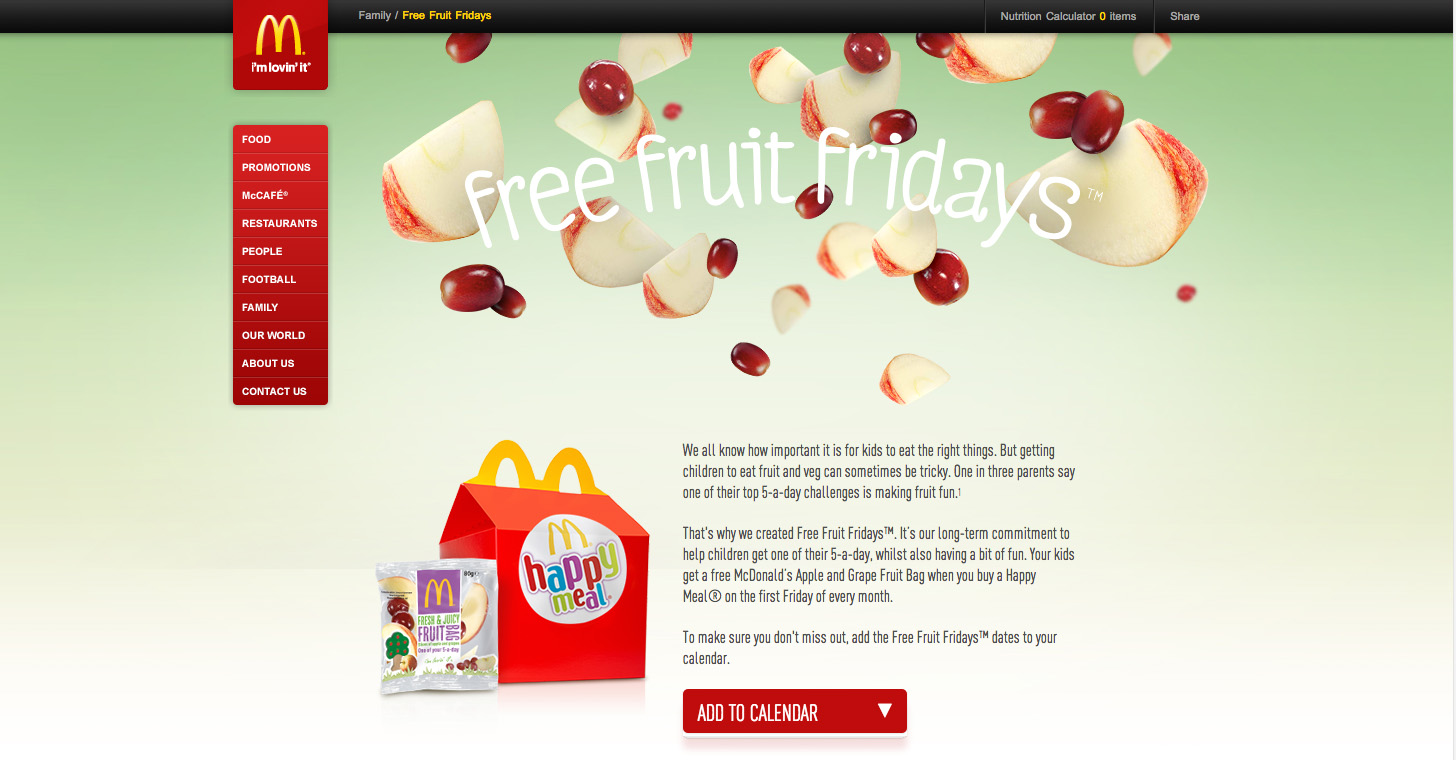 2. More Nutritional Labels?
Among the changes that Easterbrook oversaw at McDonald's in the U.K. were nutritional labels on table mats, according to the Financial Times.
3. More "Football"
An entire section of the McDonald's website, one out of 10 categories in the U.K. site, is devoted to "football" (or, "soccer" for people in the U.S.). In that section, McDonald's emphasizes awards and corporate sponsorship of youth playing and teams.
Besides devotion to soccer, one of the biggest global differences is how the British often refer to McDonald's: "MacDonald's," "Maccies," and "Maccy D's" are common nicknames for the Golden Arches over there. Similarly, French customers refer to the company as "McDo" while Australians often call it "Macca's."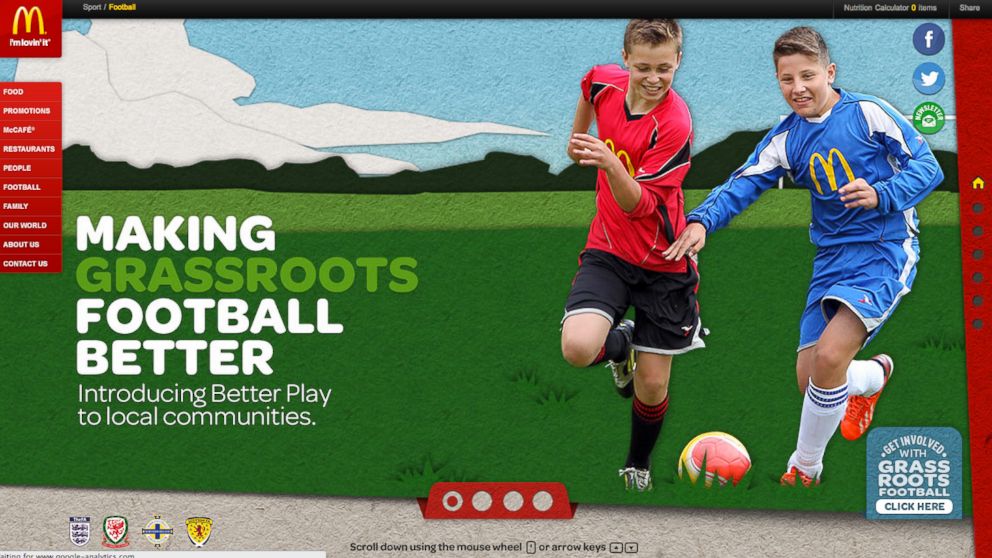 4. Composting
Another change that McDonald's in the U.K. implemented under Easterbrook was composting at some locations, the Financial Times reported.
Some McDonald's locations have recycling and composting programs, such as in California, but the company website emphasizes the former rather than the latter.
5. Food Sourcing
Under Easterbrook, McDonald's introduced organic British milk and coffee certified by the Rainforest Alliance, the Financial Times reported.
All of the eggs across the entire British menu are free-range and have been for 10 years, McDonald's U.K. website states.
McDonald's corporate website states that it hopes to begin purchasing verified sustainable beef in 2016 worldwide.
With different meat sourcing standards in the U.K., McDonald's website states that it uses only 100 percent British and Irish beef burger patties and 100 percent British pork.
The British McDonald's has used sustainably-sourced fish since 2001 and carry the Marine Sewardship Council (MSC) eco-label. In 2013, McDonald's in the U.S. said it would carry the MSC eco-label.
6. Delicious "British" Desserts
Want a Smarties or Cadbury's Crunchie McFlurry? Or an ice cream cone with Cadbury "99 Flake" chocolate? That's only available if you're at a McDonald's in the U.K. Other items found in British locations: "Toffee and Honeycomb" McFlurry, "Chocolatey Donut" and "Mixed Berry and Custard Pie." While you're at it, wash it all down with a McDonald's Toffee Latte.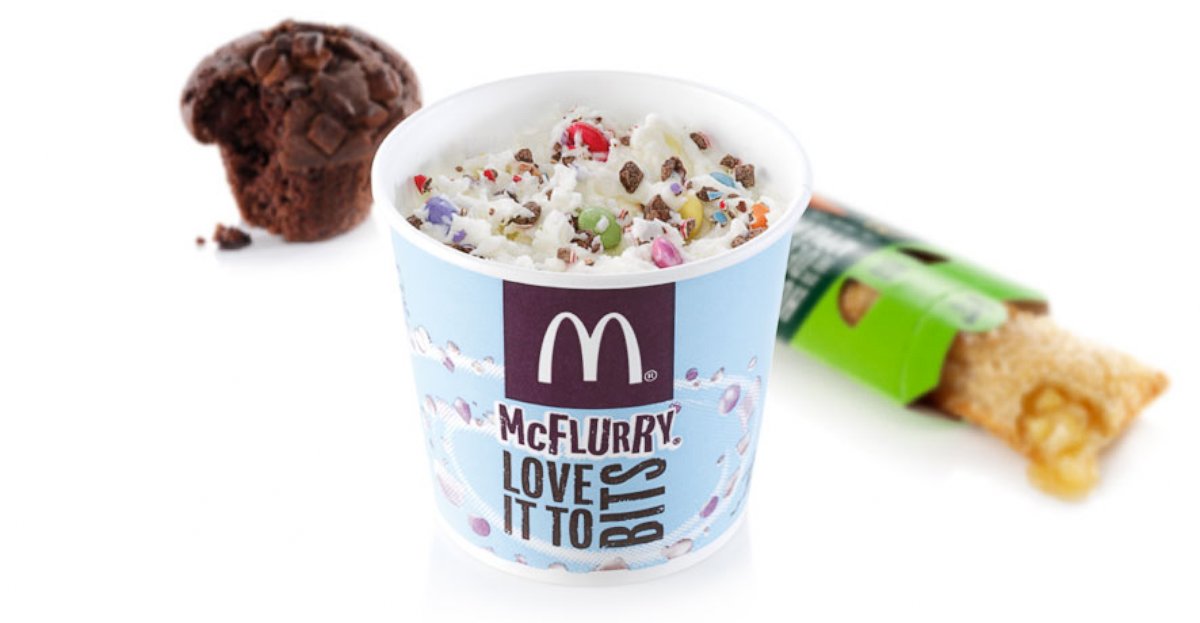 7. Fish Fingers
In addition to the classic Filet-O-Fish, McDonald's U.K. offers fish fingers, described as three "lightly-breaded fingers of tender filleted Hoki."