— -- About 17 million Netflix customers are about to pay more for the streaming service.
Starting in May, customers who currently pay $7.99 for high-definition streaming will have to pay an additional $2 per month for the same service.
Here's what customers should know about the price increase:
How to check
A Netflix account user's billing page should indicate when the price increase will take effect, such as, "Your plan price is guaranteed through at least May 9, 2016."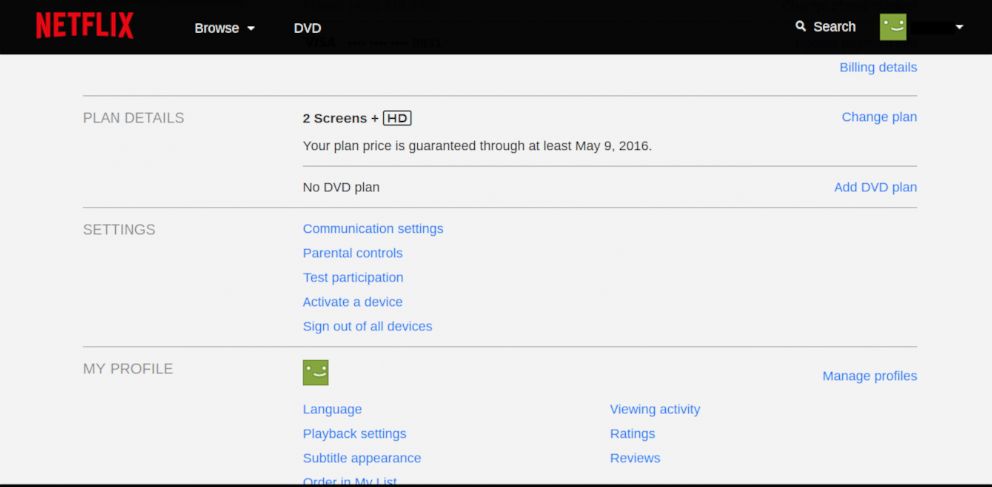 Subscribers will be notified by email
"Beginning in May, the price update is rolling out elsewhere based on member billing periods," Netflix told ABC News in a statement. "Impacted members will be clearly notified by email and within the service so that they have time to decide which plan/price point works best for them."
British customers have a different timeline
Later this month, Netflix customers in the U.K. will begin to be "ungrandfathered," the company said.
Not many people will cancel their plans
UBS estimates that the price increase in May will affect about 17 million users, or 37 percent of Netflix's subscriber base. But not many people will jump ship, according to UBS. Only 3 to 4 percent of the affected users will cancel, UBS estimates. The investment bank attributes that to Netflix's pricing power, "strong brand affinity and high user satisfaction regarding ease of use and content selection," according to a survey UBS conducted in November.
Netflix even said in January it doesn't expect to lose many of its customers, which the company refers to as "churn."
"Given these members have been with us at least two years, we expect only slightly elevated churn," the company when it reported fourth-quarter earnings in January.
It's been two years in the making
Netflix first announced the price change in May 2014, and said customers at the time were grandfathered into their pricing plan for two years.
Price hike coming later for some
Netflix raised prices last October on its most popular streaming plan that allows customers to watch media on two screens at the same time.
"Last October's price increase for newer members included a one-year hold and will go into effect in October of this year," the company said.
Those customers will have the option of continuing at $7.99 per month on the standard definition plan or at $9.99 on the HD plan, the company said.