— -- A North Carolina woman was presented today with one of three winning tickets for one of the biggest Powerball lottery drawings.
Marie Holmes, 26, a single mother of four children ages 9 months to 7-years old, is the state's biggest Powerball winner.
The $564.1 million jackpot, which has a cash value of $381 million, is the fifth largest lottery prize in U.S. history. The jackpot had increased over two months without a winner, starting at $40 million.
"This is going to make a huge difference for them," Holmes said of her children. "They are going to be able to go to school and not worry about paying for it. They are going to live a comfortable life without struggling."
Holmes, who said she is a "full-time mother," said she's planning to continue her education in the nursing field while caring for her children. From Shallotte, North Carolina, she previously supported her children while working at Walmart, Food Lion, KFC, McDonald's and Subway restaurants.
"It was seven of us living in one home," she told reporters at a news conference. "It wasn't comfortable but we made do. Everybody in that household will have their own place, because I don't plan on staying there."
The occasional lottery player said the farthest she has traveled in the U.S. is Seattle and New York, but she's never left the country. She also said she is speaking with a financial adviser about the money, but she hopes to travel and give some money to a church, which she declined to name. She also hopes to give to an organization dedicated to cerebral palsy, because one of her children has the neurological disorder that affects muscle movement.
The Brunswick County resident presented one of the three winning tickets for the $564.1 million jackpot, the third-largest Powerball jackpot ever.
The largest Powerball jackpot was recorded on May 18, 2013, ultimately awarded to Gloria Mackenzie of Zephyrills, Florida.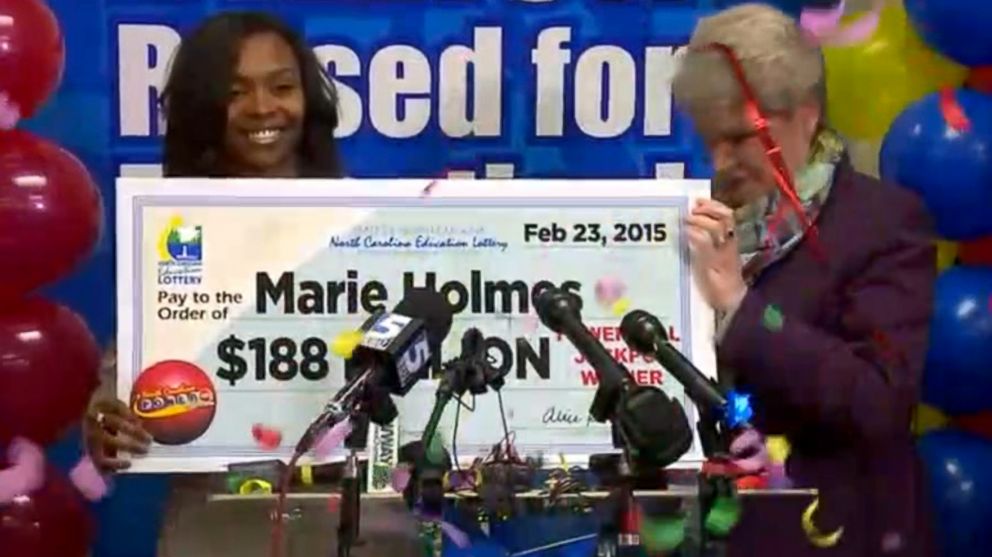 North Carolina's largest jackpot winner matched all five white balls in the Feb. 11 Powerball drawing, giving her one-third of the prize.
The annuity payment provides $188 million, but she is choosing the $127 million lump sum.
Powerball is played in 44 states, Washington, D.C., Puerto Rico and the U.S. Virgin Islands.
The three tickets matched the numbers 25, 11, 54, 13 and 39, with a Powerball of 19. The odds of winning were about 175 million to one.