— -- Weight Watchers may be Oprah Winfrey's newest "favorite thing." Shares of Weight Watchers skyrocketed by as much as 90 percent with today's news that Winfrey bought a 10 percent stake in the company and has joined its board.
The media mogul, 61, bought 6.4 million shares of Weight Watchers at Friday's closing price of $6.49. The deal was worth more than $43 million.
Winfrey said in a statement, "Weight Watchers has given me the tools to begin to make the lasting shift that I and so many of us who are struggling with weight have longed for. I believe in the program so much I decided to invest in the company and partner in its evolution."
"Through our conversations, it became clear that there is tremendous alignment between Oprah's intention and our mission," said Jim Chambers, Weight Watchers president and CEO, said in a statement. "We believe that her remarkable ability to connect and inspire people to realize their full potential is uniquely complementary to our powerful community, extraordinary coaches and proven approach."
Alex Fuhrman, senior research analyst with investment firm Craig-Hallum, said Winfrey's stake could influence consumers, and ultimately, Weight Watchers' bottom line.
"Oprah is considered a very trusted name and brand advocate by consumers and she has a reputation by consumers who would only endorse a product if she really believed in it," Fuhrman said. "In that sense, it could bring a lot of interest to Weight Watchers. She has a tremendous fan following."
Fuhrman points out that any $43 million investment in Weight Watchers, regardless if it came from Winfrey or another investor, would have sent the stock higher. Weight Watchers has been struggling with declining sales and a looming debt of $144 million.
"Definitely bringing on Oprah as a spokesperson of sorts with $43 million of cash puts to bed concern that it can pay its April 2016 debt," Fuhrman said.
Winfrey has had a strong influence on consumer products with her book club and former television feature "Oprah's favorite things." And now, she will be endorsing weight loss.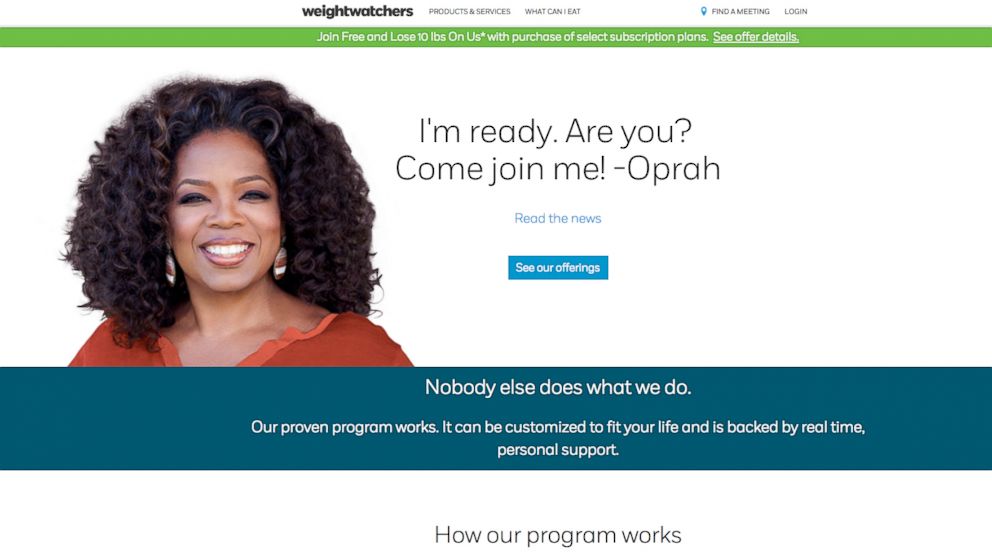 Weight Watchers hasn't secured "an effective spokesperson ever since it hit a homerun with Jennifer Hudson back in late 2010," J.P. Morgan analyst John Faucher wrote in a research note. Hudson, the former "American Idol" finalist, parted ways with the company last year.
Morningstar analyst RJ Hottovy said he was "intrigued" by the potential marketing opportunities with Winfrey's various television, print, and digital properties, but is waiting to hear more from the New York-based company.
While Winfrey's involvement "is likely to resonate with Weight Watchers' traditional over-50 female demographic, it's unclear how the company plans to bolster its brand positioning with a younger audience," he wrote in a research note.