Why People Are So Obsessed With Wawa
It's the store people can't get enough of.
April 17, 2014— -- Not too many convenience stores are popular enough to have their own fan clubs, but Wawa is.
Most people from Philadelphia, where Wawa originated, will argue that it's more than a place to buy a pack of gum or get gas -- Wawa is a one-stop shop for made-to-order meals, gourmet coffee and clean bathrooms.
Why are people so fanatical about what appears, to the rest of the country, to be a glorified service station?
Regional Restaurants You Wish Were Bigger National Chains
"We take a lot of pride in it because it's ours," Chris, a 27-year-old from Philadelphia and self-described "Wawa defender" told ABCNews.com.
"I see things at Wawa I don't see at other places," he added. "Everyone will hold the door for you. You'll have random conversations with people. We'll be waiting for our sandwiches, and we start talking about baseball or football. It's almost like I've known them my entire life! In a lot of ways, it's a meeting place."
Fans brag that the brand is family-owned and began as a dairy business in Wawa, Pennsylvania. Wawa's Facebook page has more than 1 million likes with countless comments from customers begging it to expand beyond current locations in Pennsylvania, New Jersey, Delaware, Maryland, Virginia and central Florida.
Today Wawa is offering free coffee at all of its 645 locations in honor of its 50th birthday. One customer promised he would stop by on the way to his wedding. Dozens posted grateful thank you notes.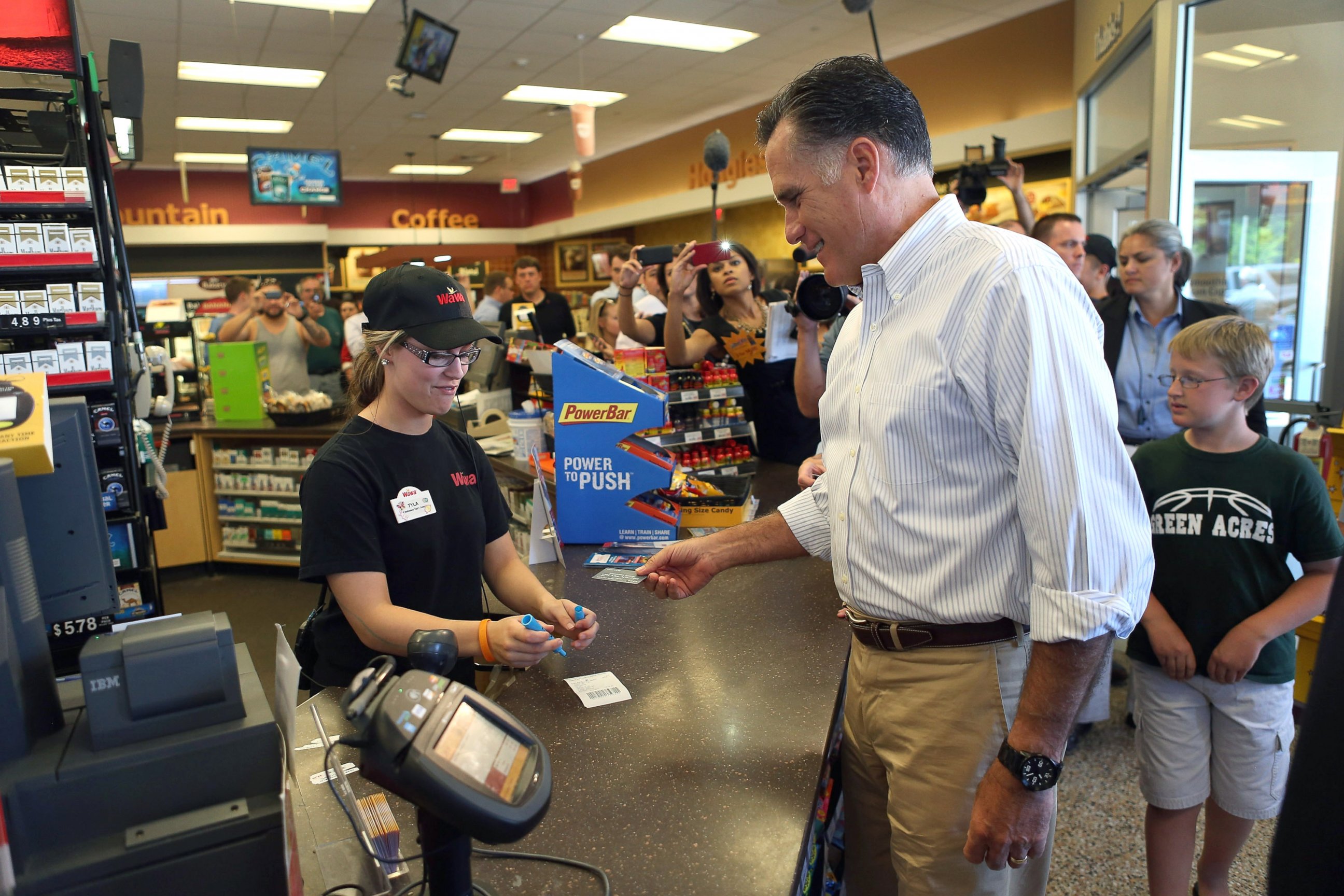 Even Mitt Romney has chowed down on a hoagie from Wawa.
Chris, who asked that his last name not be published, blogged about his city's obsession with Wawa in 2011 and once created a Myspace page for Wawa fans.
"Within two days, we had over 3,000 friends and people sharing stories or favorite items and recipes," he said.
Here's what he and others love most about Wawa:
It's Clean!
The floors are sparkling, the bathrooms are tidy and stocked with toilet paper and soap. Yelp reviewers rave about the squeaky clean bathrooms – a pleasant surprise after a road trip of grimy rest stop toilets.
And if you're ordering food, doesn't it make you feel better when the place is clean?
Made-to-Order Sandwiches
Do you want double meat and extra cheese on that breakfast sandwich? No one has to know if you're using Wawa's touch-screen computers, where you can discreetly enter your order – whatever you want.
There are even healthy toppings like spinach, guacamole and roasted red peppers. Let's be clear: That's fresh spinach … at a gas station.
Wawa should probably steal the "Have it your way" slogan from Burger King.
Coffee Options Galore
Craving a vanilla chai tea latte? Skip Starbucks and head to Wawa. This isn't your average gas station coffee. Most Wawas have an impressive row of coffee dispensers in several flavors.
There are frozen coffees and sugar-free options, too.