Back in December, I wrote in this column about Pepsi's earth-tilting decision to pull out of the Super Bowl and put the money into a social-media project called the Pepsi Refresh Project. After all, the Super Bowl has more than 100 million viewers. Now can we take it up a notch?
The World Cup is happening later this year in South Africa. Soccer is the most played and watched sport, claiming more than 3.3 billion spectators (sorry Mr. Goodell). The list of sponsors reads like a random selection of the Fortune 500: Visa, Sony and McDonald's; Coke is there, so, of course, Pepsi is not.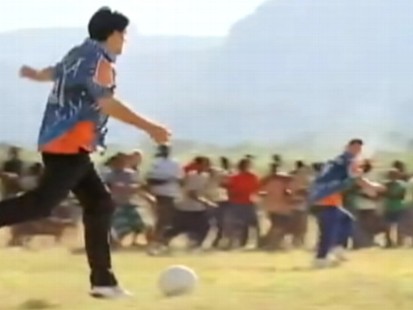 So imagine Coke's surprise when a huge Pepsi haymaker landed just below the company's jaw line, coming not from TV but rather from social media. Last month's
viral video
featuring music by
Akon
is one of the most popular on the Internet.
Pepsi pledged to spend about a third of its budget on social media and its Refresh Project in 2010 and it seems to be learning quickly, choosing multiple points of contact within social media and impressing with high-production values and star power. The spot, featuring a number of the world's top soccer stars, including Thierry Henry (Barcelona), Lionel Messi (Barcelona), Ricardo Kaká (Real Madrid), Didier Drogba (Chelsea) and others, is set in a field in South Africa.
A group of kids ask to play the stars and lead them to a field whose boundaries are formed by the villagers. The rest of the engaging 2:30 spot I'll let you watch for yourself. (I want to discuss the social media aspects.) The soundtrack was recorded by Akon along with the award-winning Soweto Gospel Choir and singers selected from around the world. Proceeds from the download of the song go to underprivileged African youth. The song will also be on Akon's new album. And, of course, there is a Pepsi "Oh Africa" Facebook page.
Power of the Internet
Pepsi's first strike illustrates beautifully the power of engagement advantage of the Internet and social media. Like all sports fans, soccer fans are insatiable when it comes to their heroes. They also can't wait for the World Cup to come. Pepsi has given them a good glimpse of their heroes, already in South Africa (albeit just to shoot a video) and cleverly attired in Pepsi logo reminiscent shirts. They can share the video, download the music, make comments, support a charity. And should consumers ask for more, the cost of further engagement is just a fraction of a TV buy.
Coke is working hard to leverage its official sponsorship of the World Cup. It has many events planned. It is touring the world with the World Cup trophy and in Africa it funding a powerful project called RAIN (Replenish Africa Initiative), which along with the Water for Schools project, will pump more than $30 million in six years into more than 100 projects in 50 countries, giving much-needed help to community water challenges.
It also has a soundtrack that features Somalian recording star K'Naan singing the tournaments theme song "Wavin' Flag." And much more, yet they have underutilized the power of the Internet. In fact, a recent Internet industry report writes, "The top sponsors of the World Cup have forgotten something important: The Internet." The article talks about how none of the top sponsors are using fundamentals such as search to their advantage.
History May Be a Guide
Coke would do well to remember history. Chevrolet, small by comparison to Ford, invested heavily in the new medium of radio advertising, increasing its budget even through the Great Depression. By 1931, Chevrolets outsold Fords. The Internet, with its immediacy and ability to allow for engagement, has already earned a seat at the table. I'll continue to watch and report as these giants experiment with mobile apps and other emerging new media.
This work is the opinion of the columnist and in no way reflects the opinion of ABC News.
Larry D. Woodard is president and CEO of Graham Stanley Advertising, a full-service advertising agency based in New York City. He is also chairman of the American Association of Advertising Agencies New York Council and the recipient of many prestigious industry awards, including two O'Toole Awards for Agency of the Year, the London International Award, Gold Effie, Telly, Mobius, Addy's and the Cannes Gold Lion. A blogger and a frequent public speaker, Woodard enjoys discussing the intersection of media, politics, entertainment and technology.