As the deadline looms for first-time home buyers to take advantage of the government's $8,000 tax credit, struggling real estate markets around the country are in the throes of a phenomenon they haven't experienced in years: bidding wars.
Lower-priced homes on the market in many once-beleaguered areas from Portland, Ore., to Brookline, Mass., are seeing a flood of offers, say real estate brokers. Though the tax credit is good on homes sales completed by Nov. 30, because home deals can take months to complete, new buyers are rushing to sign contracts so they don't miss out on the credit.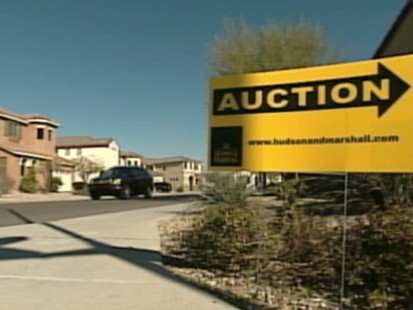 "It's a welcome change from the way things have been around here," says Carrie Novotny, a realtor in Edina, Minn., outside
Minneapolis
. She says a recent open house for a two bedroom, craftsman style home listed at $213,000 drew several dozen prospective buyers and more than five serious bidders.
The home eventually went into contract for $217,000, Novotny says. "It's been a bit crazy," she says. "People really want to nail down a sale to cash in on the tax break."
The tax credit, part of the $787 billion economic stimulus bill passed in February, allows first-time homebuyers to reduce their federal income taxes by 10 percent of the price of a home, up to a maximum of $8,000. The credit is set to expire Dec. 1.
The National Association of Realtors, along with the Mortgage Bankers Association, estimates that home sales to first-time buyers have increased by 25 percent in 2009 and now account for 50 percent of all sales.
The groups say that first-time buyers are often at the lower end of the market and that the tax credit is helping to reduce the inventory of foreclosures.
Lawmakers in Washington are currently trying to extend and expand the tax break that real estate professionals and economists regard as an important prop for the struggling economy.
A Senate proposal lead by Sens. Johnny Isakson, R-Ga., and Christopher Dodd, D-Conn., chairman of the Senate's banking committee, would not only extend the credit to June 30, 2010, but would remove the first-time homebuyer requirement.
Many Support Extending the Government Tax Break
It would also raise the eligibility income limit to $150,000, or $300,000 for a couple. That's double the current phase-out limits.
Though critics have questioned whether an extension is needed, the National Association of Home Builders estimates that extending the program would create more than 347,000 jobs, generate $16.1 billion in wages and salaries, and $12.1 billion in business income.
"Now is the time for Congress to keep this recovery going by extending the tax credit through 2010 and making it available to more homebuyers," says National Association of Realtors President Charles McMillan. "We have all seen how the credit has been a spur to bring homebuyers into the market, and have seen the beginnings of a real recovery in the housing market."
Victoria Caldwell, a real estate broker who sells bank-owned properties in Edmond, Okla., says business is booming in her area as a flood of first-time buyers try to scoop up homes ahead of the deadline. Caldwell says because there is a shortage of affordable homes in the area, buyers are streaming in to bid on lower cost homes on the market.
"I listed a two-family home last week and got nearly 100 potential buyers," she said. "Let me tell you, that's a heck of a lot of people in this economy."
Caldwell says she eventually fielded about 20 offers for the home, including a few that came in well above the $207,000 asking price.
The tax credit isn't the only reason more prospective buyers are flooding the market. Near record low mortgage rates and dropping home values in many places are also luring buyers, experts say.
The average rate on 30-year fixed-rate mortgages remained under 5 percent for the third consecutive week, according to Freddie Mac's (FRE) weekly survey of mortgage rates. The 30-year fixed-rate mortgage averaged 4.92 percent for the week ended October 15, up from last week's 4.87 percent average but down from 6.46 percent a year ago. Rates on 15-year fixed-rate mortgages were 4.37 percent, up from a record low of 4.33 percent last week but down from 6.14 percent a year earlier.
Meantime, the S&P/Case-Shiller Home Price Indices, a national index that measures repeat sales in residential markets, shows price declines in a number of big city markets. In the Boston area, homes have dropped about 15 percent since their 2005 peak, according to the index. Similar price drops were reported in Las Vegas and Seattle. But the index suggests bargains may soon be harder to come by, thus spurring more people to cash in now.
That's what sparked Julian Vasquez and his wife, Martha, to take the plunge. The couple recently closed on a three-bedroom Victorian in the Boston suburb of Brookline.
Factors Spurring Home Sales; Lower Prices, Better Mortgage Rates
First-time buyers are cautious but don't want to pass up a good opportunity.
"We had been looking to buy a home for several years, but prices weren't really reasonable for us," Julian Vasquez says. "But now prices are a lot better, and the mortgage rates are as low as they'll ever be."
The couple's first offer of $298,000 was too low, he recalls. But their offer of $306,000 was accepted.
"This was a real opportunity," Julian Vasquez added. "We really didn't want to miss out."