— -- The real-life husband and wife featured in Allstate's viral marketing campaign during Thursday night's Sugar Bowl readily confess to the risky habit oversharing personal information through social media.
"We just got back from our honeymoon a couple months ago," Shannon Moskal told ABC News today of their trip to Puerto Rico and other parts of the Caribbean. "We were posting messages and videos from our honeymoon in real-time when we clearly weren't home."
Matt and Shannon Moskal of Illinois, both 25, were discovered by Allstate Insurance through market research several months ago as the company designed the campaign as a warning to customers about the potential perils of sharing too much information on the Internet.
Shannon Moskal, a regulatory compliance consultant, said they are perpetual oversharers, including during their wedding events from November.
The couple continued to share their personal information through a series of market research interviews and were told only about two months ago that Allstate was the company interested in their online behavior.
"We were told that they were filming our possessions and hoped to see how we would interact with our brands on social media," she said.
Allstate aired a series of ads during the Alabama-Ohio State Sugar Bowl matchup that explained a couple left their home for the weekend and posted pictures from Thursday's game, thereby allowing someone to "burglarize" their house and sell items online.
"Buy Matt & Shannon's stuff now at MayhemSale.com," the campaign stated.
The 300 items for sale were replicas of the couple's real-life possessions, Allstate told ABC News. Allstate even built a replica of their home for the campaign.
"It was disconcerting to know our car could be sold for $200 or that this could really happen as a result of oversharing on social media," Shannon told ABC News.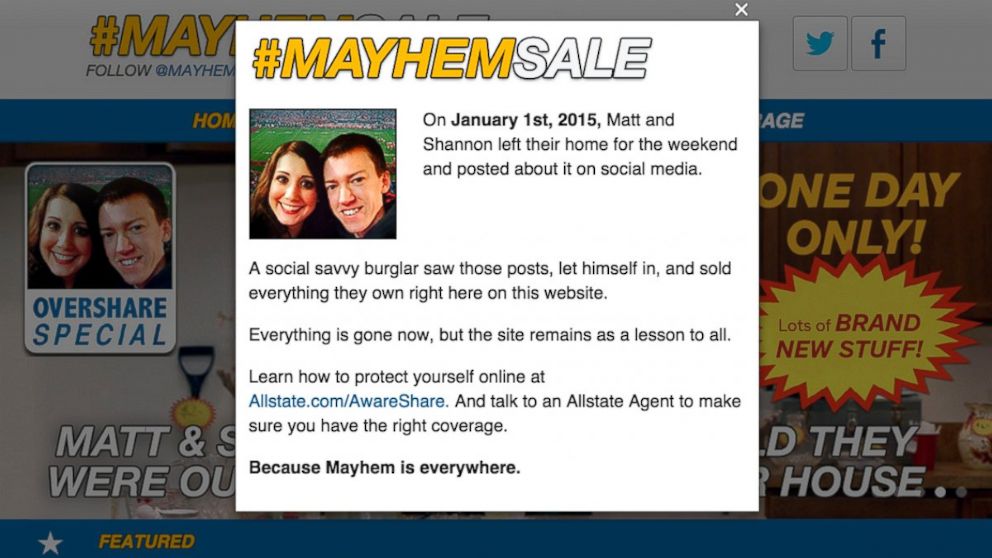 The ad campaign has received over 20 million impressions on Facebook in less than a day. The couple also got a free trip to the Sugar Bowl in New Orleans.
"When we were sitting there watching the game, we were on our phones getting texts, Facebook messages and posts from friends and family," Matt, an engineer, said. "We had to borrow a remote phone charger to keep our phones powered. Everyone is excited for us."
MayhemSale.com gained a ton of publicity as it urged visitors to "learn how to protect yourself online at Allstate.com/AwareShare."
The experience hasn't changed what the couple posts on social media, but they are more cautious. They have adjusted their Facebook and Twitter privacy settings.
"We are definitely posting the same ways we did before -- that's not the message of this campaign," Shannon told ABC News. "It's not about us. It's about the fact that you need to be careful when you share."