A radio personality who covers the University of Arkansas Razorbacks says she was fired for wearing a ball cap carrying a rival team's logo to a press conference held by Arkansas' head football coach.
Renee Gork, 31, announced on Twitter, via that station's official account, that she had been fired from her job at KAKS, a sports radio station that calls itself Hog Sports Radio for wearing a University of Florida hat to an Arkansas news conference following a practice.
Gork wore the hat to a press conference Saturday held by Arkansas coach Bobby Petrino. Petrino, whose Razorbacks, lost to the Gators last season 23-20, made sure to comment on the reporter's hat.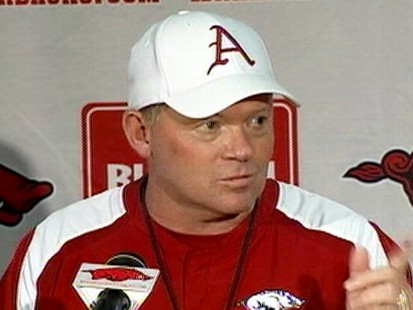 After answering a question from Gork, Petrino said: "And that will be the last question I answer with that hat on."
Gork, a graduate of the University of Florida and an admitted fan, said she grabbed the hat out of the trunk of her car without thinking about it, because it was raining.
In an interview with radio station ESPN 92.1, "It wasn't any stunt I was trying to pull. I wasn't trying to get attention. It was just a dumb mistake."
Gork said she though Petrino's comment was a joke, but was later told by a member of his staff that he was angry that she wore the cap.
On Monday, when she arrived at work she learned that she was no longer permitted to attend Arkansas practices and had been fired.
"I was hoping to publicly apologize to coach Petrino and UA fans on the show today ... but I won't get that chance," Gork wrote on KAKS' Twitter account. "I've been fired."
Gork's boss at KAKS confirmed she had been fired, but would not discuss the details, because it was a personnel issue.
"This is a personnel issue that goes beyond one issue on Saturday. As an on air personality, she had certain obligations and those obligations were not being met," the station's general manager Dan Storrs told ABC News.com.
Storrs said Petrino and the University of Arkansas played no role in his decision to fire Gork.
Gork said she lost her job because she was no longer able to attend the team's practices.
"In all fairness I was hired to be a Razorback correspondent for the station I was working for. If I'm limited on whether I can go to practice they can't have me employed," Gork told ESPN 92.1.
She said she had received death threats from angry fans, but believed it was not the fans who contributed to her termination.
"I have since sent an apology letter to coach Petrino from me, myself, not a person employed in the media. I certainly wouldn't have done anything maliciously or to disrespect coach Petrino," she said.