Restaurants are slowly beginning to welcome back diners after putting new social distancing rules in place due to the coronavirus pandemic. And many eateries, as well as other brands and businesses, have come up with bizarre, but effective ways to keep people at least six feet apart.
Some businesses are forgoing tape and colorful sidewalk chalk and swapping it out for more inventive modes of measurement.
Other brands have launched inventive new products to alleviate any worries of exactly how far six feet is.
Check out some of the unique tactics we've seen around the globe as guests go back to in-person dining and more.
An extra long "seis feet cooler"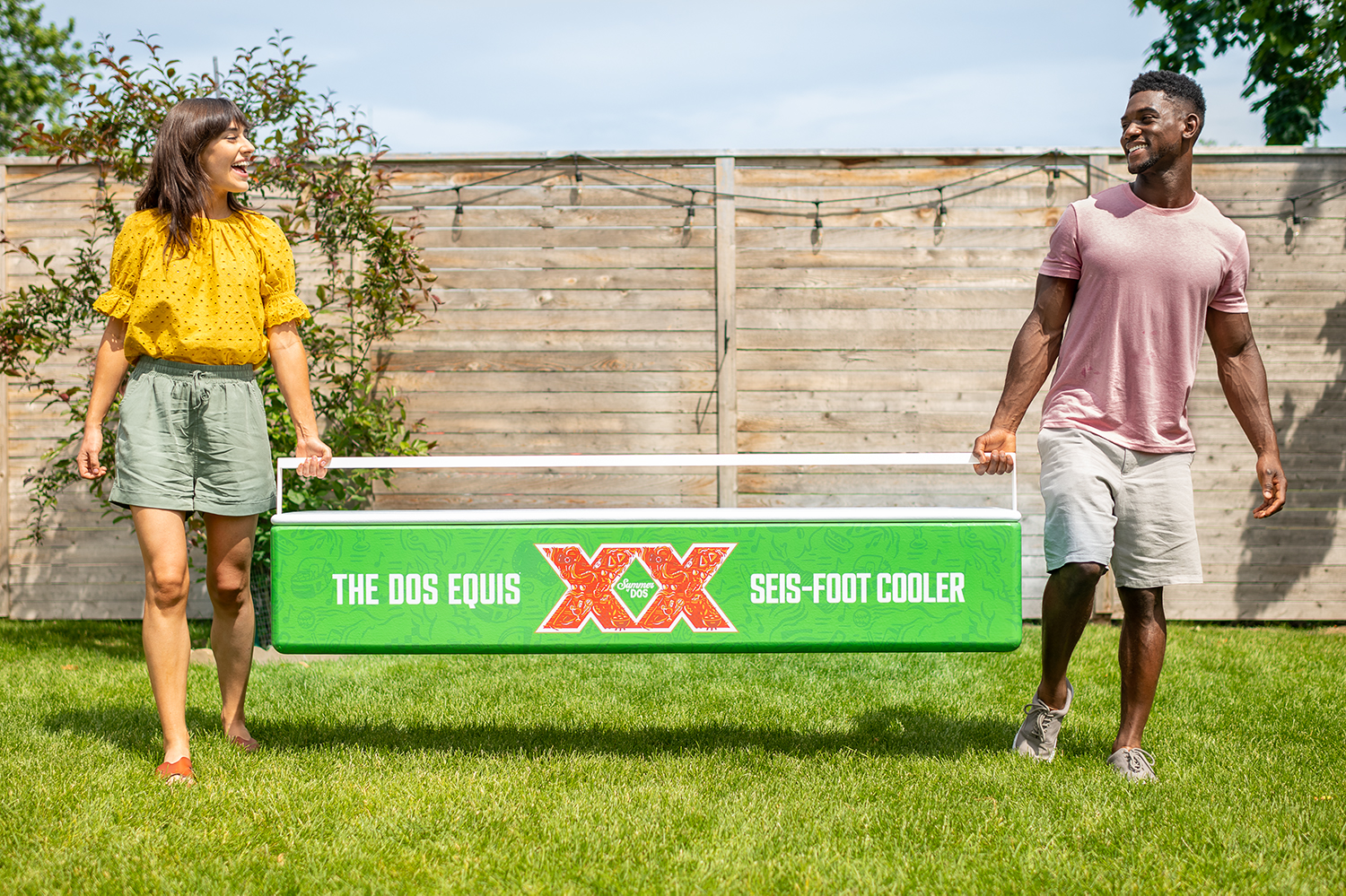 Before you get together with friends outside this summer -- in states where socially distant hang outs in small numbers that comply with public health measures -- there's a new product that makes keeping a safe distance a breeze.
Dos Equis created a six foot long cooler to help optimize the enjoyment of a cold beverage without worry.
The bright green coolers were a limited run and as of the time of publication have completely "sold out," the brand announced Friday.
Plastic Lampshade-Like Shields in France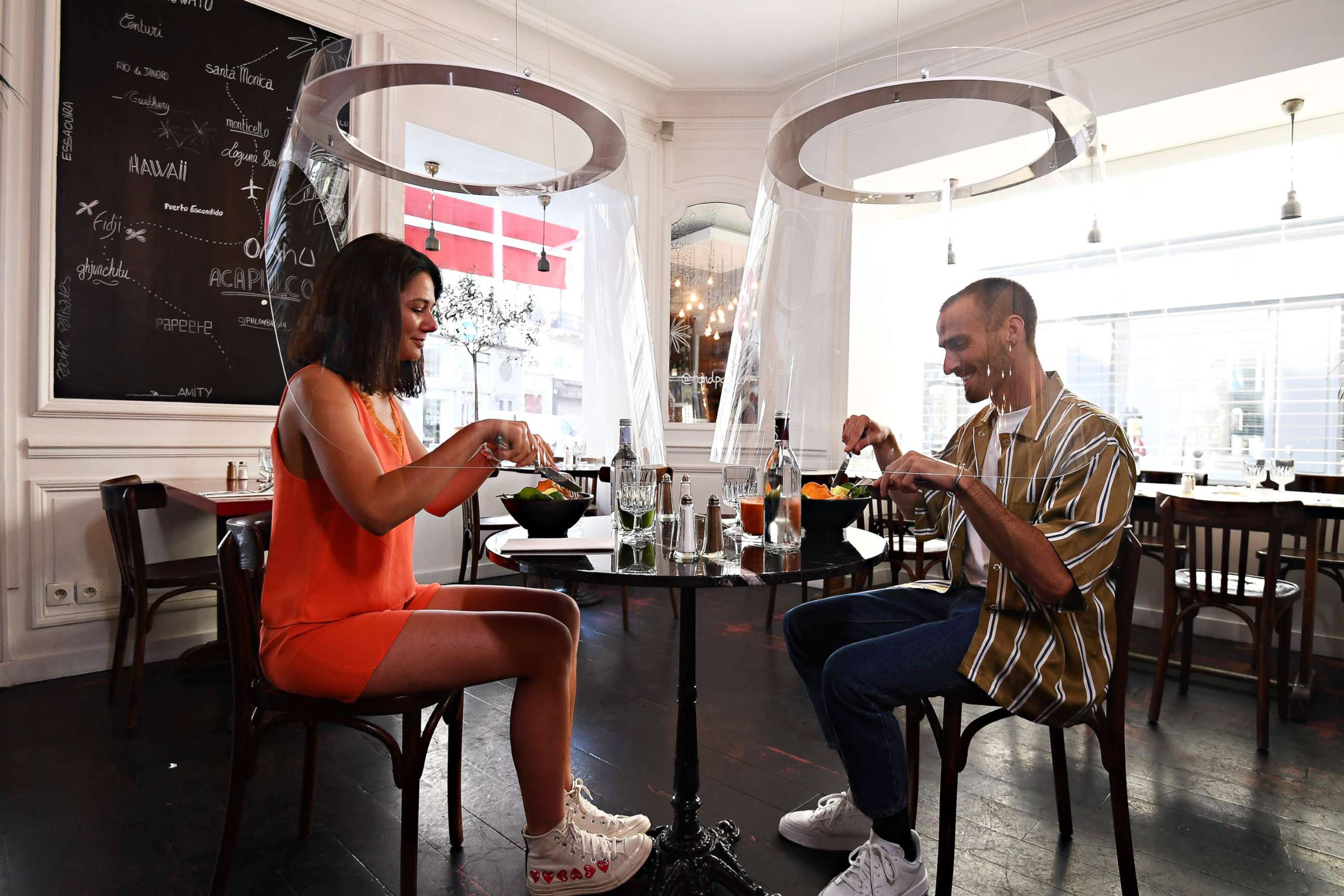 H.A.N.D. restaurant in Paris has installed plastic shields, designed by Christophe Gernigon, as the city of lights begins to ease restrictions and plans to welcome diners coming out of lockdown due to the coronavirus pandemic.
Oversized Sombreros at Burger King
The Burger King may wear a crown, but his subjects in Germany sported some supersized sombreros to ensure they were at least six feet apart while enjoying their Whoppers.
Individual Glass Dining Pods in Europe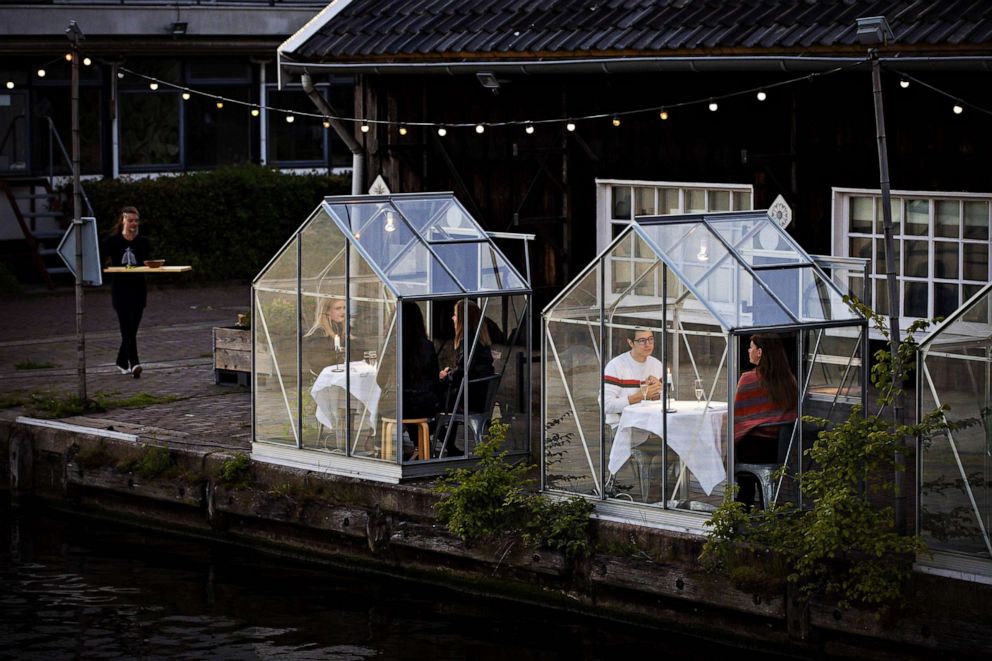 Mediamatic ETEN, a waterfront restaurant and bar in Amsterdam, has evolved its greenhouse model to outdoor pods for individual parties of up to three diners. The restaurant has started to test the new experience using glass chambers shaped like small houses. And, according to the restaurant's Facebook page, servers are wearing 3D printed clear PPE face masks to ensure the health and safety of diners and staff.
As of Wednesday, Mediamatic ETEN's pop-up constructions were completely booked and diners interested in making a reservation can subscribe to a mailing list for updates on future availabilities.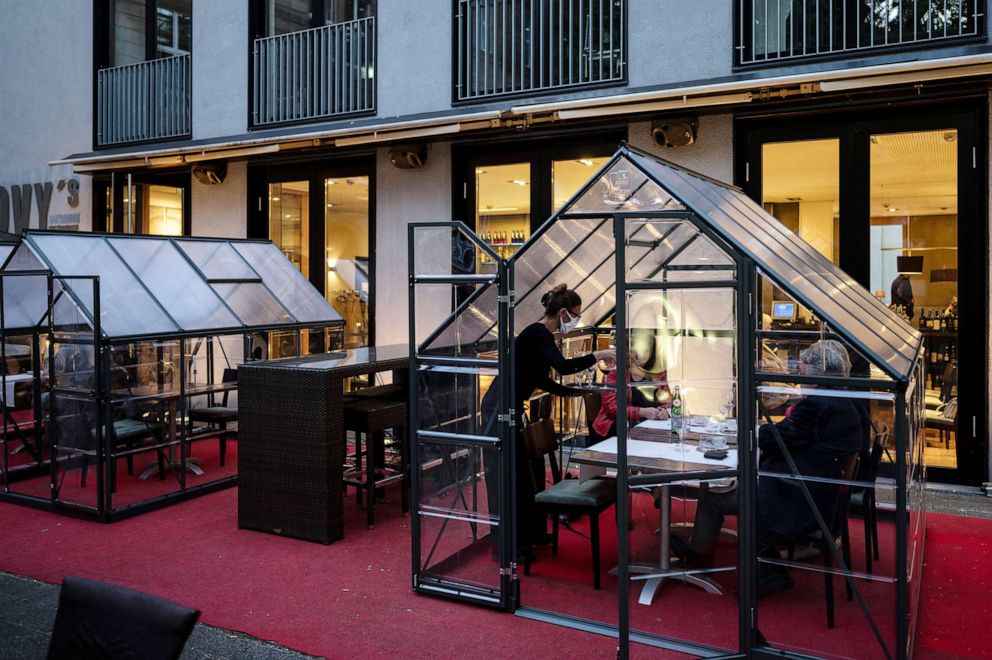 In Hagen, Germany, Novy's Brasserie has also implemented serving people inside of small glass greenhouses. Thomas Bielefeld built the small pods with a table in front of his restaurant so that he can serve his guests outside and at a safe distance, regardless of the weather.
Inner Tube Tables in Maryland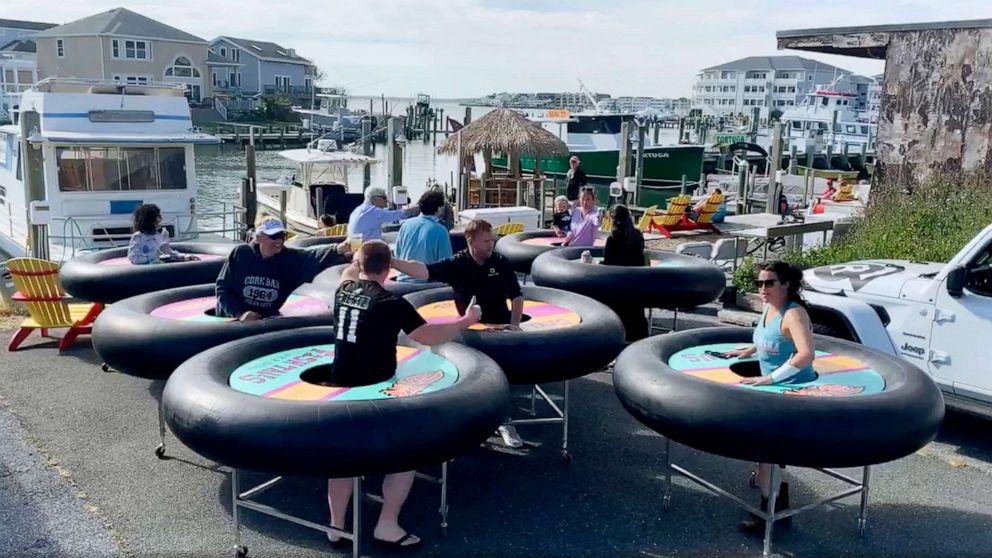 No, these people aren't headed to a lazy river, just a popular waterfront bar and restaurant.
"It's like a bumper boat but it's actually a table," owner Shawn Harman said in a video on the restaurant's Facebook page. "This is for when we're allowed to come out here and serve alcohol again on premise. This allows you to be six feet apart by virtue of the bumper."
Harman said the restaurant currently only has 10 of the social distancing tables and will "adhere to the protocols of the state and the county" once they reopen.
The family-friendly bayfront seafood spot thanked Revolution Event Design and Production, in Baltimore, on social media for building the innovative tables.
Pool Float Hats in Germany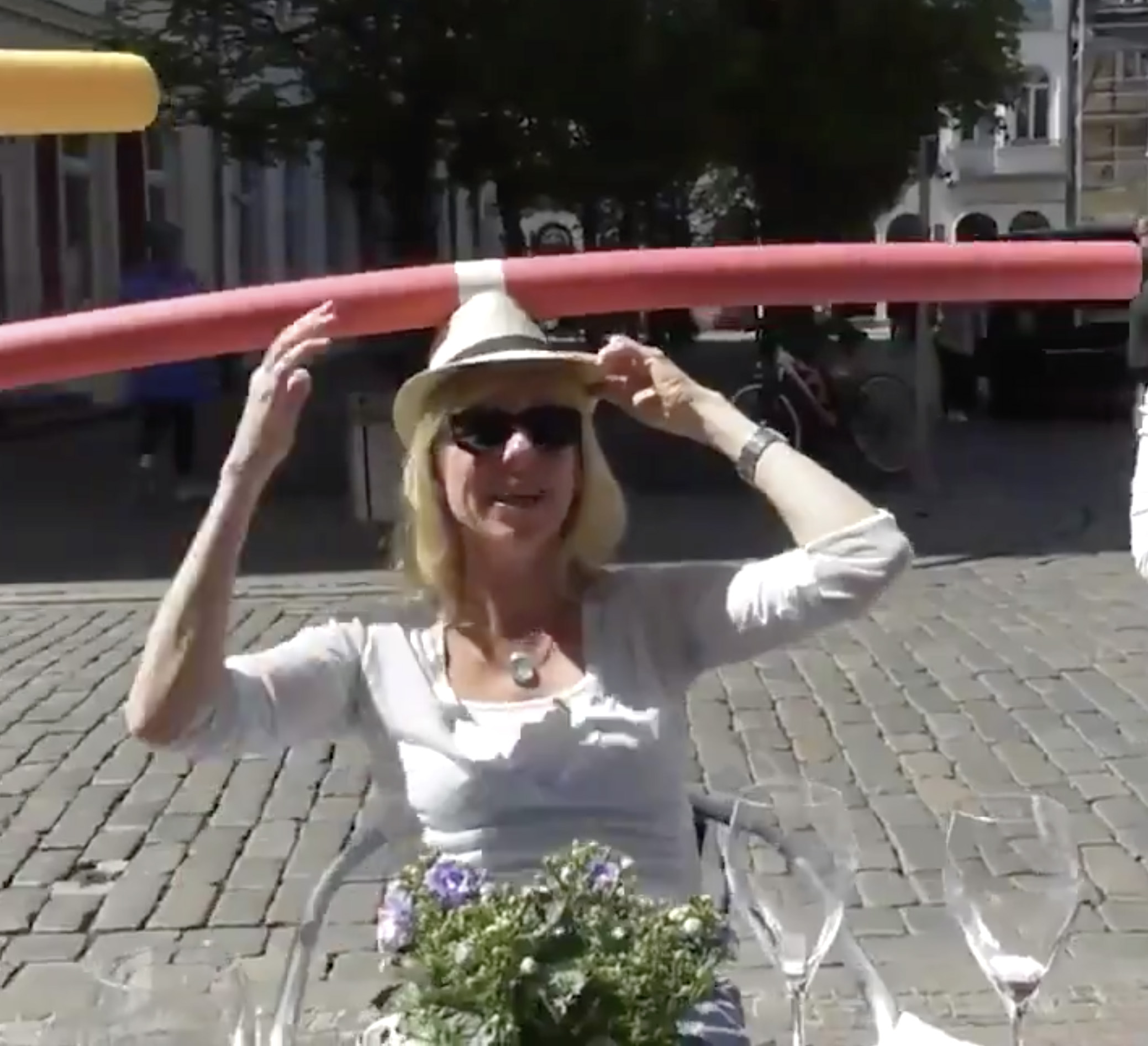 Jaqueline Rothe, the owner of the pastry shop and cafe in Schwerin, Germany, is really using her noodle when it comes to making it easy for customers to know how far apart they should be while dining. Cafe Rothe shared a photo of its first customers after Germany loosened its restrictions for restaurants over the weekend.