St. Patrick's Day: 5 Spots for a 'Pot of Gold'
You don't need four-leaf clovers, leprechauns or even the luck of the Irish.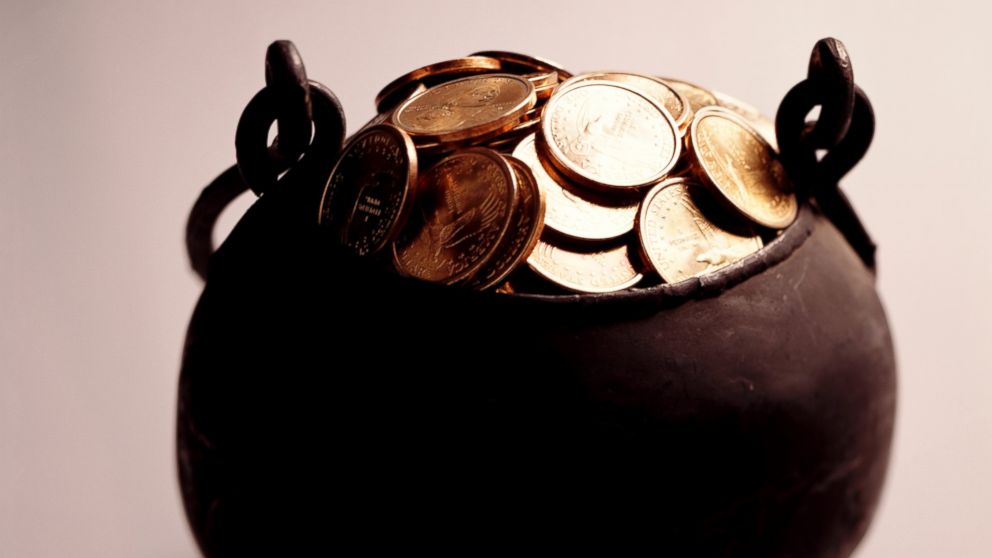 Mar. 17, 2014 — -- intro:
Want to put a little more green in your life?
You don't need four-leaf clovers, leprechauns or even the luck of the Irish. With a little patience and planning, you can create your own windfall.
Here are five ways to find your own pot of gold on St. Patrick's Day (or any other day of the year).
quicklist:title: Monetize a favorite hobby.text: Whether you love to knit, build birdhouses or bake cookies, that skill could earn you some extra money.
"There are a lot of different ways you can monetize your hobby," says Nancy Collamer, author of "Second-Act Careers" and founder of MyLifestyleCareer.com.
First, if you can teach the skills involved in the hobby, you may find there's a market for how-tos and instructional information, she says.
Read More From Bankrate: Finding money to save
One retired marketing executive capitalized on his hobby -- magic -- by schooling magicians in the business side of their profession, Collamer says. Through his website, he sells materials to help magicians market themselves.
Second, since many people enjoy hobbies in isolation, creating a community for enthusiasts can be another moneymaking strategy, she says. Two examples: Starting a blog or organizing events for hobbyists.
Or third, you can sell the items you create, says Collamer. "This is where the Internet has completely revolutionized business."
Sites like CafePress and Etsy allow budding entrepreneurs "to test the market and see what sells," she says.
quicklist:title: Sell Unwanted Itemstext: You know that suit you never wear anymore? It might be a pot of gold in disguise.The resale industry -- the segment of retailers that include consignment shops, stores that buy outright and not-for-profit shops -- generates $16 billion annually, says Adele Meyer, executive director of the Association of Resale Professionals.
The key to snagging a windfall: Know what you have -- and know its relative value, says Meyer. Then, scope out a store that specializes in your items, she says. Some stores sell family clothing, while others will specialize in children's, teenage or designer apparel and accessories, she says.
Read More From Bankrate: Find forgotten, unclaimed money
Often, stores have online guidelines that spell it all out, she adds.
Does the store buy outright, take consignment or both? With consignment, you'll usually get 40 percent to 50 percent of the final price when the item sells -- and possibly as much as 60 percent for some very high-end items, Meyer says. Sell it outright and you usually get a bit less, she says.
With consignment, read and understand your contract, Meyer says. Look for what you're paid, when you get paid, and what happens if your item doesn't sell. Also, since you're banking on a percentage, how low can that price go?
quicklist:title: Find Lost Cashtext: Forget tossing the couch cushions for coins. There could be some real money out there with your name on it.
Ever paid a security or utility deposit, opened and closed a bank account, banked some long-forgotten retirement money through an old employer, or registered a gift card that you never used?
Welcome to the world of "unclaimed money."
Luckily, "there are a lot of resources out there to help people find this," says Linda Sherry, director of national priorities for Consumer Action.
And "it's something everyone should definitely look into every so often," she says.
One good place to start: the unclaimed property department in your state -- or any other state where you've lived, says Sherry.
Also, two more sites that she suggests:
• MissingMoney.com.
• Unclaimed.org (The National Association of Unclaimed Property Administrators).If you find some cash that's yours, you'll likely have to submit a copy of your ID along with why you believe this money is yours, Sherry says.
Whether it's a few dollars or a few thousand, "I just think that people need to be aware that this exists," says Sherry. "Go in there and search and see what happens."
quicklist:title: Trim expenses, not servicestext: You can cut expenses without cutting services -- which gives you a little extra cash without having to cut back on lattes or lunches.
"Companies that offer phone, cable, TV or wireless are continually having new promotions," Sherry says. "So it's very likely that, if you've been a customer for a number of years, you can switch over into something cheaper."
Read More From Bankrate: 10 ways to find money
While in some cases you "might only get the deal for a year or two," during that period "you're saving," she says.
Another way to cut costs without scrimping: Check for coupons while shopping online.Before you click "buy," just remember to open a tab on your browser and put "coupons" plus the name of the store in the search engine. Often you'll find coupons for 10 percent to 15 percent off what you were already buying, Sherry says.
Also, before you start shopping, review the store's home page for current deals, she says.A third way to save money on what you're already buying: Using shopping portals offered by banks and credit cards. Some issuers and institutions offer discounts or cash back if you start your shopping through their sites, Sherry says.
quicklist:title: Leverage your "found money"text:
Want to make that little pot of gold produce more gold?Use it to pay off a high-interest debt and you create an even larger windfall every month.Thanks to the Credit CARD Act, consumers get a look at what those interest rates translate to in cold hard cash every month, says Sherry. "It's quite an eye-opener for them to see."So if you take a bill with a 25 percent penalty APR and pay it off or pay it down, says Sherry, you recoup "an immediate savings."
Read this story on Bankrate.com.
Any opinions expressed in this column are solely those of the author.