With global stock markets plummeting, leaving millions worldwide to fret over their jobs and financial futures, news out of a London auction house this week proved there are a choice few who are still financially flush enough to spend outlandishly.
The global financial crisis apparently did nothing to dampen the enthusiasm for British artist Damien Hirst's latest collection. In a record-breaking two-day event at Sotheby's in London, Hirst convinced buyers to buck the economic times -- to the tune of nearly $200 million.
His show, titled "Beautiful Inside My Head Forever," included an outlandish collection of quirky animals soaked and displayed in formaldehyde -- a natural progression for a man who previously made millions on the sale of a life-size cast of a human skull in platinum and covered in diamonds.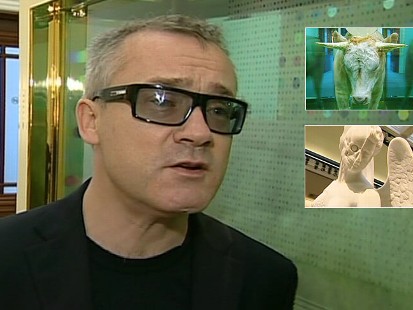 Hirst's decision to bypass the normal avenue of using a dealer to promote his work and take his show straight to auction at Sotheby's was at first deemed a risky proposition by some.
Many of the pieces in this week's show were estimated to be worth millions before the sale started yesterday. But concerns about the iffy economic times and the massive lot put up for sale at once -- the show included 223 original pieces -- had some observers concerned that the auction might bring lowball offers.
But not to worry. In the first day alone, Hirst's works netted an unprecedented $126 million on the way to a two-day total of $198 million.
The "sum not only exceeded the high estimate for the evening sale (which was projected to be around £43.2-62.3 million), but also topping the low estimate for the entire two-day sale," Sotheby's said of the first day's sale in a statement to ABCNews.com.
That haul included $18.3 million that Sotheby's called a record for a piece called "The Golden Calf" -- a bull with 18-karat gold horns standing in a glass case and preserved in formaldehyde.
But really, what's a measly $18 million in exchange for the chance to display a formaldehyde-soaked bull in your living room?
Other notable pieces included "The Kingdom," a tiger shark in formaldehyde that sold for $17.2 million, and "Fragments of Paradise," a stainless steel cabinet with manufactured diamonds that went for a cool $9.4 million.
So why are individuals buying these pieces, and how are they able to make such purchases in such challenging economic times?
Peter Aspden, an arts writer for the Financial Times, said the exhibition sales are "evidence that there are those who are insulated from the real world." The superwealthy buyers who are attracted to a sale are not likely to be affected by the fiscal circumstances of the past few months, he said.
There had even been concern in the days leading up to the event that the auction house itself was on thin ice. Sotheby's, a publicly held company that trades on the New York Stock Exchange, saw it's stock price slip last week. The Financial Times reported on Saturday that Sotheby's shares on the New York Stock Exchange "fell as much as 36 cents to $22.67," amid meager expectations for the sale.
And some in the art world murmured that the risky, massive Hirst auction had investors concerned.
Aspden's analysis, however, pointed to the general turbulence of the stock market rather than the risky nature of the Hirst sale.
So while things may not be moving smoothly in the financial world Hirst's big pay day and his bull with the golden horns may have taken the spotlight off of Wall Street at least for a day or two. For a few lucky superwealthy buyers, that is.