The sheer volume of out-of-work Americans was already staggering, and unemployment numbers have jumped again, with another 651,000 jobs lost last month alone, according to data released this morning by the Bureau of Labor Statistics.
The unemployment rate rose from 7.6 to 8.1percent, the highest level since January 1984. There have been 4.4 million jobs cut since January 2008.
The people on the front lines of the job search know firsthand just how bad it really is.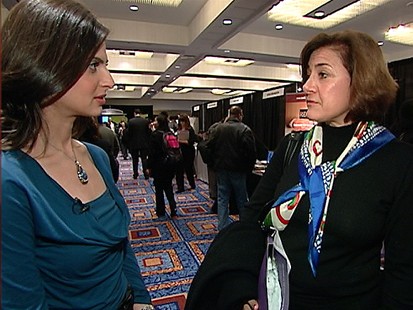 In New York City, where 6.6 percent of the workforce is unemployed, nearly 4,000 people lined up for a job fair this week.
"I work on it every day," job seeker Juliet Giamartino said. "My husband works on it every day. You got to put in to get out."
Giamartino said they've had to sell their house and file for bankruptcy. She and her daughter have moved in with family while her husband looks for work in another city.
"We didn't really have a choice," she said.
Economists have predicted that the country, stuck in a recession since December 2007, will continue to bleed jobs well into the second half of next year.
Michael Braten made a six-figure salary in the financial services industry. Now he's competing for a job with people half his age.
"I'm confident, but I'm realistic," he said. "It's a very thin line."
In Denver, where the unemployment rate is 6.3 percent, Dustin Waite said he put in an application for a janitor position recently and then saw there were about 200 applicants.
Waite has a bachelor's degree in geology. But he's now raking in $10 an hour. Waite is part of a rising trend of adults angling for jobs usually taken by teenagers.
"You got to be humble," he said. "If you are embarrassed by this then you're just not willing to do what it takes."
Some Cities Hammered, Some Spared
Some areas of the country have been hit harder than others. El Centro, Calif., struggling with a drought right now, lists 22.6 percent of its residents as being out of work. It's no surprise that Detroit also ranks high at 10.6 percent after massive layoffs seen at GM and other car manufacturers.
But other places are doing well, especially those with ties to health care and government. Washington, D.C., for example, has an unemployment rate of just 4.7 percent.
"All the leading labor market indicators are pointing to a pretty sharp decline. Economic activity is declining at a pretty rapid rate, similar to what we saw in the fourth quarter of last year," Bob DiClemente, chief economist at Citigroup in New York, told the Associated Press.
In the final three months of last year, the economy shrank at an annual rate of 6.2 percent, its sharpest contraction since the first quarter of 1982.
"Companies are acting to reduce costs to protect themselves as the level of business activity declines and that has meant large widespread job losses. It's symptomatic of a very, very severe recession," DiClemente said.
The Associate Press contributed to this story.