Just when you thought the worst of the foreclosure bloodbath was over, banks and mortgage lenders are increasingly filing to force people out of their homes, says RealtyTrac, a firm that follows foreclosure trends.
RealtyTrac reported a record level of foreclosure filings for the month of March, up 17 percent from February and 46 percent from a year ago. Foreclosure numbers were the highest since the firm began keeping numbers in 2005.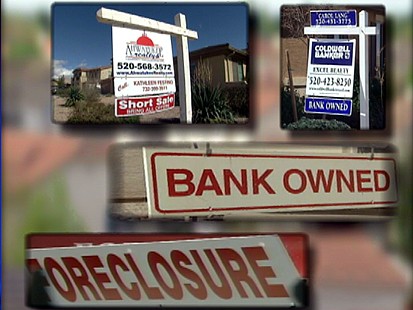 "What you had were a couple of months where the numbers were artificially low," said Rick Sharga, a senior vice president of RealtyTrac, in an interview with ABC News. He said lenders held off on foreclosure actions because of promises of help from Washington and state governments. "Now we're seeing the pressure that built up behind the dam."
Are You Looking to Buy a Home or Worried About Losing Your Home? Share Your Story With ABC News
But that does not mean it is impossible to avoid foreclosure. Financial advisors remind homeowners that a foreclosure filing does not automatically mean you will lose your house. The Obama administration has announced a plan to help up to 9 million borrowers but, even without a White House rescue, advocacy groups say there is help for people in trouble, and much of it is free.
Staying Home
"The good news is that there is a way to help people," said Bruce Marks, CEO of the Neighborhood Assistance Corporation of America, or NACA, a nonprofit organization for homeowners. "Make it affordable, make it permanent, end of story."
Marks and others say more than half the people threatened with foreclosure end up staying in their homes.
Boston-based NACA steps in to negotiate settlements between cash-strapped homeowners and troubled lenders. It has been known for in-your-face tactics, such as demonstrations outside bank executives' homes. But they and other advocates say they often get results for people.
"We determine their net income and what their expenses are, to come out with a mortgage payment that you can afford, and then we restructure that loan to make it affordable forever," Marks said.
HOPE NOW, a Washington-based foundation, is one of the largest agencies offering help for worried homeowners, and operates a 24-hour hotline: 888-995-HOPE. The service, which is backed by mortgage companies and advocacy groups, and recommended by the Federal Trade Commission, is free.
Hope Now said today its call volume is up, but calls are being answered within a minute and a half. "When people call, they're not going into a black hole," said Kara Ross, a spokesperson for Hope Now. She said people can also go to the organization's website, HopeNow.com.
The U.S. Department of Housing and Urban Development can recommend other services. It has an automated toll-free number: 800-569-4287
Why do lenders go along? Because their little secret is that, as much as they want you to pay what you owe, it is worse for them to foreclose, throw you out -- and be stuck with your house.
Avoiding Foreclosures
"It's expensive for them to go through the process of foreclosure and then try to sell your house," said Faith Schwartz, executive director of HOPE NOW. "Lenders don't like people to have to leave their homes. It also ravages a community, and drives down the value of other homes."
That doesn't mean you can get out of paying, but you may be able to negotiate a more favorable deal. Perhaps you can get more time to pay off the mortgage or a lower interest rate. If your financial problems are not getting better, you may have to sell your house and rent a place to live, but even that is better than foreclosure.
"What doesn't work are payment plans where people pay more every month to make up for what they missed," Marks said. "If you couldn't afford your existing payment, you can't afford a higher one.
"What does work is restructuring -- changing the terms of your existing loan," he said. "In virtually every case it's better to restructure than foreclose."
It is important to call your mortgage company promptly if you realize you are in trouble, say counselors. Depending on state laws, a delay of 90 to 120 days -- three to four missed payments -- can lead to a "foreclosure start," the legal notification that your lender has begun foreclosure proceedings against you.
"If you don't reach out, you will go to foreclosure," Schwartz said. But she says her group has found that if people do call their lenders, and can demonstrate they're facing financial hardship, fewer than half end up losing their homes.
"It sounds easy, doesn't it?" she said. "But it's amazing how many people are afraid to pick up that phone."
Counseling Services for Struggling Homeowners
Counseling services, especially those with agents approved by the Department of Housing and Urban Development, can help people get organized before they make that daunting first call.
Organizations reached by ABC News said to be suspicious, though, of scam artists who charge upfront fees or trick people into signing over the deeds to their houses. "Some of these companies even use names with the word HOPE or HOPE NOW in them to confuse borrowers," the Federal Trade Commission warned.
Avoiding Foreclosures
Yes, says RealtyTrac, the numbers sound scary; foreclosure filings were reported on 341,180 properties in March.
Sharga said rising unemployment numbers explained some of the increase. "For every six to 10 jobs lost, you'll see a new foreclosure action," he said.
He said that in fairness to the Obama administration, the White House foreclosure-aid program was only announced March 6, and is not likely to affect total numbers for several months.
"We do think this year is probably going to be the peak," said Sharga.
Meanwhile, help does exist, and need not cost anything. "While it's not perfect, there's a lot of reason for hope," Schwartz of HOPE NOW said. "A lot of people, in the end, are relieved."