Pete Peterson, who rose from humble origins in Kearney, Neb., to become a billionaire New York power broker, is certainly living the American dream. But it's a dream that Peterson says has fallen into peril. So now the 83-year-old is focusing his vast fortune on finding solutions to the fiscal imprudence he believes is jeopardizing the country.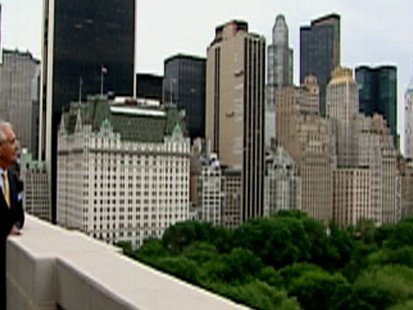 In his new book, "The Education of an American Dreamer," Peterson unfolds his rags-to-riches story, from his childhood as the son of Greek immigrants running a 24-hour diner in Nebraska to his life as a billionaire Wall Street tycoon. Recently he sat down with "Nightline's" Cynthia McFadden to talk about his book, his life and his outlook.
Watch the full story on "Nightline" Wednesday at 11:35 p.m. ET
Peterson credits much of his success to his upbringing. His parents moved to the United States when they were both 17. His father took a job on the railroad and saved money to open a 24-hour Greek diner. Peterson, who began working at the diner at the tender age of 8, said his father was the hardest-working man he's ever seen.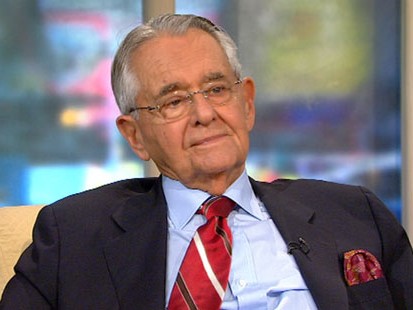 "I got a tradition out of him, unconsciously maybe, of a work ethic," said Peterson. "[Another] thing I loved about him: he believed in the American dream, not just for himself, but for his kids."
And with that background, Peterson excelled. He left Kearney to study at Northwestern University and the University of Chicago Graduate School of Business. By the age of 34 he was the youngest CEO of a Fortune 300 Company, president of Bell & Howell. While there, he spurred innovation, including the creation of the boom box.
At age 45, Peterson was tapped by President Richard Nixon to be Secretary of Commerce, becoming the first Greek-American ever appointed to a Cabinet post. Peterson left the administration just before Watergate.
"I didn't get along very well with the White House staff," Peterson said, echoing his public statements at the time. "The next thing you know, I am this courageous, far-seeing, prescient person who anticipated what they were. I got fired is what the truth was."
American Dreamer: 'My Father's Lesson'
Where one door closed, others opened, and by 1985 Peterson had founded his own company, the Blackstone Group. Blackstone would become one of the most successful private-equity firms in history. But success for Peterson has never been measured in dollars and cents.
"[Money was] not nearly as important as achievement. No question about it," he said. "I've never been overly money-hungry because my father's lesson would stick in my head."
And when Blackstone went public two years ago, Pete Peterson, then 81, became an instant billionaire. His windfall: $1.8 billion.
"It was such an amount of money that I wanted to confirm it was true," he recalled. "I had my assistant call the bank and ask, 'Did you really get a check for this much money?'" Indeed, the bank had.
No stranger to fiscal policy, Peterson said the nation's current economic difficulties require more than a quick fix. And he does not believe that fix is contained in the Obama administration's policies.
"They're dealing with an unprecedented situation due to a bad habit this country has gotten into," said Peterson. "We spend far too much, we borrow too much, and we save too little.
"I've gotten so much out of this country. ... And as I get older, I think, how much have I given back? I've taken out a hell of a lot more than I've given back, so I'm trying to make up for that."
To do that, Peterson has put a billion dollars of his own money into his new venture, the Peter G. Peterson Foundation. The foundation's stated mission is to increase public awareness of the nature and urgency of key economic challenges facing the country, and to accelerate action to meet those challenges. Peterson warns that the United States is in much deeper debt than the $10 trillion it carries in public debt. His foundation also seeks sustainable solutions to runaway spending in government.
"The dirty, big secret we are keeping from the American public," Peterson told McFadden, "is we don't tell people that there is another $45 trillion that are promises that we have made for Social Security, Medicare, Medicaid."
American Dreamer: Fixing Social Security
The entitlement programs have no money allocated to fund them, he said, and there is no end in sight for the swelling national debt. He is fearful, he said, that the American dream, which he has lived, may not be available to future generations. His foundation is working to turn that tide.
One of the first issues Peterson's foundation is tackling is Social Security. While labeled by some as the man who wants to kill Social Security, he says he has a plan to reform it so that it works for those who need it.
"The Social Security trust fund is one of the ultimate oxymorons. It shouldn't be trusted and it's not funded," he said. "What I want is for Social Security to be there for the people that need it. I have advocated reducing benefits for the well off for 25 years."
By reforming Social Security and other programs, Peterson believes he can make the programs solvent for the people who depend on them.
When asked whether his billion-dollar plan may not be enough to achieve his lofty goals, Peterson said he's considered the possibility.
"But then you have to confront the alternative," he said. "Suppose I were on my death bed 10 years from now, and bad things had happened, which I think they will if we don't reform our ways. This great country has been marvelous to me. And I did nothing. How would I feel if I didn't try?"
And there's no debate that he's trying. He knows that his father would be proud of all he is doing to maintain the ideals of the American dream passed down to him.
"My story couldn't happen in most countries, in most families. It wouldn't have been possible," Peterson said. "[I] decided to give back to his country that has given [me] this much, and to remember [my] father's lesson, which is, 'I want you kids to do better than I do.'"