Mortgage servicers accused of not doing nearly enough to stem the nation's foreclosure crisis will sit down with the Obama administration tomorrow to tell their side of the story.
The meeting, the results of which are not expected to be made public until early next month, comes amid escalating criticism that both mortgage servicers and the government are ill-equipped to carry out Obama administration programs designed to help keep people in their homes.
Homeowners such as Pedro and Lucy Gomez are among the many disappointed with loan modification efforts.
The couple are fighting foreclosure on their Elgin, Ill., home. Pedro Gomez, 43, said they fell behind on mortgage payments after his wife was laid off last year. They sought help from their mortgage servicer, he said, but the company only offered a loan modification plan that didn't actually reduce the monthly mortgage payment.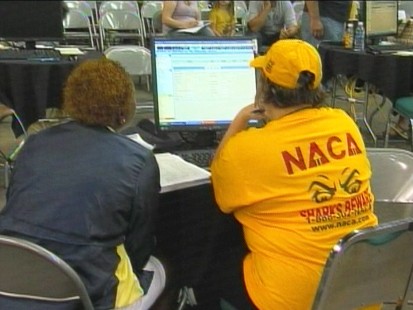 "We continue to call them and try to work with them and they refused," he said. "They kept on giving us the brushoff."
The National Consumer Law Center, which presented testimony to the Senate earlier this month, has identified dozens of ways in which some mortgage servicers have failed to follow guidelines set by the Home Affordable Modification Program (HAMP), a five-month-old Obama administration program that pays servicers at least $1,000 for each loan modification. The Government Accountability Office, meanwhile, issued a report last week concluding that there are "gaps" in the Treasury Department's oversight of the program.
Sen. Chris Dodd, D-Conn., has asked the administration to investigate alleged abuses of the program. The alleged violations by mortgage servicers include:
Charging advance fees for loan modifications.
Telling homeowners they must be in default before becoming eligible for loan modifications.
Starting foreclosure proceedings even while a homeowner is under consideration for a loan modification.
"If true and widespread, abuses of this kind threaten to undermine the effectiveness of the HAMP program and deny the relief on which so many Americans are depending for their financial stability," Dodd, the chairman of the Senate Banking Committee, wrote in a July 23 letter to Treasury Secretary Tim Geithner and Housing Secretary Shaun Donovan.
'Inconsistent Results' From Mortgage Companies
The administration announced earlier this year that more than 55,000 borrowers have been offered loan modifications under HAMP. But that figure pales in comparison to the number of homeowners facing foreclosure -- more than 2 million as of the first three months of the year.
"HAMP, despite its lofty goals, has not yet been able to contain the foreclosure tsunami," the National Consumer Law Center's Diane E. Thompson said in written testimony presented to the Senate Banking Committee.
The Obama administration has acknowledged some of the criticism.
"There appears to be substantial variation among servicers in performance and borrower experience, as well as inconsistent results in converting trial modification offers into actual trial modifications," Geithner and Donovan wrote in a letter earlier this month inviting mortgage servicers to meet with the administration. "We believe there is a general need for servicers to devote substantially more resources to this program for it to fully succeed and achieve the objectives we all share."
A report earlier this month indicated that the Obama administration may be considering new efforts to help borrowers stay in their homes. Under one proposed solution, borrowers would surrender ownership of their properties but would be allowed to remain living there for several years through a rental agreement, Reuters has reported. Another idea is to have the government make mortgage payments on behalf of struggling borrowers; for unemployed borrowers that could include receiving a housing stipend along with unemployment benefits, sources told Reuters.
When asked about the reported proposals, an Obama administration official told ABC News that that the administration "is considering many ideas as part of our ongoing efforts to serve taxpayers by stabilizing the economy."
"We are still in the early stages of discussion and no decisions have been made on this matter," the official said.
The servicers, meanwhile, contend that they are doing their part.
"The servicers that have signed up to participate in the program are taking their obligations very seriously," said Jeannine Bruin, a spokeswoman for GMAC, one of more than two dozen mortgage servicers, including Bank of America, CitiMortgage and Wells Fargo, that take part in the program.
Bruin told ABCNews.com that GMAC had beefed up staff and staff training to address homeowner requests for help. GMAC officials, she said, were working "nights and weekends" on loan modifications.
"Can the program be improved and enhanced? I'm sure it can be," she said, "but it's not for any lack of effort for our part."
For now, homeowners like the Gomezes are turning to third parties for help.
The couple attended a workshop Friday held by the Neighborhood Assistance Corporation of America, a group that helps homeowners obtain loan modifications from mortgage servicers. The group recently kicked off a 10-city tour to meet with and counsel local homeowners. (Watch coverage of its first stop, a workshop in Cleveland, here.)
The Gomezes hope that NACA will help them work out an agreement with their mortgage servicer, GMAC. Pedro Gomez said he had no luck appealing to the company directly.
GMAC said that while the company could not comment on specific customer cases, there could be "a logical explanation for why" Gomez didn't qualify for the modification he wanted.
Criticism of the Government
Bruce Marks, the head of the Neighborhood Assistance Corporation of America, said the association has successfully achieved loan modifications for homeowners by putting together modification agreements and sending them electronically to mortgage servicers for their approval.
But the government, he said, should be requiring servicers to do that work for themselves. "It is really outrageous that a nonprofit has to step into to fill the void," he said.
The GAO, in its report last week, said it's unclear when the government will have a system in place to address "noncompliance" by mortgage servicers.
The report prompted more government criticism, this time by Sen. Chuck Grassley, R-Iowa.
"This report heightens my fear that Treasury will give out billions of dollars without ensuring the spending will work as intended," Grassley said in a written statement. "There's real doubt that this money will prevent foreclosures in the long term and help legitimately struggling homeowners. Once this money is spent, it will be gone. Unfortunately, Treasury isn't ready."
With reports from ABC News' Matthew Jaffe.